The FFXIV 6.4 release date is official, and we've got tons more in-depth detail for you on the next major FFXIV patch courtesy of game director Naoki Yoshida and community producer Toshio Murouchi. Final Fantasy 14 Live Letter 77 is packed with details on the new quests, dungeons, trials, balance changes, and other updates coming to the critically acclaimed MMORPG, and we've summarised all the details for you below.
The pair, otherwise known as 'Yoshi-P' and 'Morbol,' take us through the many, many features coming in the next Final Fantasy XIV patch in their own inimitable, laid-back style. Because we're on the fourth post-Endwalker update, we're now starting to angle more than ever before towards the story we can expect in the next full expansion. FFXIV 7.0, and Yoshida remarks that the team had to very carefully pick scenes for the trailer without giving too much away about the story direction.
FFXIV patch 6.4 release date
The FFXIV 6.4 release date is May 23. The update is titled 'The Dark Throne.' This includes new main story content, dungeons, trials, raids, and even more as the MMO sets up its narrative for the next full expansion. There will also be class balance changes including an expansion of the Blue Mage job.
You can watch the trailer for FFXIV patch 6.4 below:
FFXIV Live Letter 77 recap
With the release date out of the way, Yoshida and Murouchi dig into all the details about the upcoming FFXIV The Dark Throne patch. If you want a quick list of what to expect, I laid out all the bullet points as part of the Live Letter 76 overview, but for more thorough details stick right here.
FFXIV 6.4 story quests and duties
The main scenario quest and Tataru's Grande Endeavour will both continue apace, of course. Yoshida takes a moment to request that anyone who hasn't done the Sorrow of Werlyt quest series from Shadowbringers yet does so, emphasising that it's "packed with our love for mecha anime" and perhaps implying that it might tie into upcoming content. I'll also add that its climactic trial is one of my personal favourites, so don't miss out on that.
The ever-lovable gentleman inspector Hildibrand returns once again, of course, although you'll have to wait until patch 6.45 for this one. Yoshida notes that this questline "might lead to some unexpected discoveries," although says the upgrade methods for both the Manderville weapons and Splendorous Tools will not change dramatically.
Next up is the new dungeon, The Aetherfont, and the new trail, The Voidcast Dais, with Yoshida commenting how "some scenes seen in the trailer for the dungeon might remind players of Heavensward." Of the new Unreal Trial against Zurvan in Containment Bay Z1T9, Yoshida remarks that he thinks many players didn't do the original fights and laughs, "This is gonna be fun."
Jumping into The Voidcast Dais trial, Yoshida finds his tiny Lalafellian Black Mage on a giant, purple-edged cube floating in space. He comments that the cube was created just for this fight, "and it surely wasn't the Warrior of Light who created it." He also chuckles at the livestream chat's suggestions that the cube may shift or transform. They're playing very coy about this trial and yet showing an awful lot, so I suspect there may be a twist on the cards.
Pandaemonium: Anabaseios brings a close to the Pandaemonium raid series story. Yoshida talks about how many characters have become tied into the narrative for this raid set, and says he's excited to see it conclude. As with the previous instalment, the team will be releasing the savage raid one week after the patch to give players time to enjoy patch 6.4 at a more leisurely pace, placing the Pandaemonium: Anabaseios (savage) release on May 30.
Yoshida shows off a little of P9, against the previously seen white-faced boss Cocytus. Yoshi-P comments again how it resembles a Kamen Rider character, and says they can't show further into the raid series but that the arenas and boss directions are very different with each floor. He adds that the fourth floor is a personal favourite, but that "I think it might be a little difficult even in normal mode." Time will tell there, I suppose.
Duty support rolls out for Stormblood dungeons The Sirensong Sea, Bardam's Mettle, Doma Castle, Castrum Abania, and Ala Mhigo, letting you play through the game with NPC companions from the story instead of a human team. The developers are working hard to try and round out duty support for the rest of the Stormblood dungeons in the next patch, although Yoshida emphasises that this isn't set in stone yet.
FFXIV 6.4 job adjustments and balance
There's also job adjustments on the cards including the long-awaited Blue Mage update. There won't be any large-scale changes for the standard jobs, with adjustments mostly made to damage balance. Yoshida notes that a lot of feedback has come in on Dark Knight, and that the other three tanks will get some buffs. You'll have to wait for the patch notes for the full details on those and the other classes, however.
Several party buff abilities have had their range extended to 30 yalms – meaning they'll cover most arenas for boss fights. Yoshida notes that this change doesn't extend to the likes of heal range, and is focused specifically on part buffs. "No, chat, [Black Mage's] Ley Lines won't get a 30 metre radius," he laughs.
Some job actions are getting tweaks to improve usability. Paladin's Execution of Atonement will no longer interrupt your combos, while Dragoon's Jump and High Jump abilities will no longer affect your character's position on the server, meaning they can also now be performed while bound. Yoshida explains that while it'll still look like you're jumping, you won't accidentally leap into any dangerous AoEs any more. I can already hear my fellow Dragoon fans breathing a deep sigh of relief.
FFXIV 6.4 loot drop changes
In a typically Yoshi-P move, FFXIV's drops from its high-end content are changing with a goal to force less time spent grinding by players. Pandaemonium: Anabaseios (savage) will no longer reward duplicate armour pieces for the same slot, and body gear can be earned from The Eleventh Circle of Anabaseios.
Gear has been consolidated into a single coffer rather than two, although Yoshida emphasises that the amount of drops hasn't changed. Books can be exchanged between floors, with the fourth floor able to be turned into any of the other three at a one-to-one exchange rate.
"Since I want everyone to tackle a lot of content and play other games too I didn't want this to feel like it will take forever and you're bound to raiding in FFXIV," Yoshida says. "There are so many other games coming out in May and June." In response to the chat asking if this change has been made for the Final Fantasy 16 release date, which Yoshida is directing, he says that the plan is to keep this model for the future as well.
FFXIV 6.4 Island Sanctuary updates
Next up is FFXIV Island Sanctuary, which is getting some very welcome additions with patch 6.4. There's new sanctuary ranks and visions, a gathering area in the wilds, additional construction plots for the hideaway, fresh item rewards, materials, craftable items, crops, animals, isleworks handicrafts, and structures.
As teased previously, you can now place outdoor furnishings near structures in your Island Sanctuary hideaway. As you progress, you'll unlock up to a maximum of 90 slots for this, although certain special furnishings such as striking dummies and gardens won't be supported. Yoshida confirms that furnishings in your inventory can be placed as glamours, and a single item can be reused for this process as many times as you want.
Yoshida gives us a look at this feature in action, placing down furnishings within a zone marked by a blue outline. You can also dye your furnishing glams to change their colour, and use Island prisms to register furnishings, which will let you place them even when they're not held in your inventory. A footnote adds that a future update will increase the number of Island prisms yielded from crafting.
FFXIV 6.4 Variant and Criterion dungeon
The Variant and Criterion dungeon for patch 6.4 is Mount Rokkon. This second instalment of the new branching mode operates pretty much as the first such dungeon, The Sil'dihn Subterrane. You won't need to complete that one before jumping into Mount Rokkon, but if you have you'll already know roughly what to expect.
The initial Variant dungeon mode is described as "Level 90 casual play for 1-4 players," with no role restrictions and difficulty scaling based on your party size. You'll be joined by Kugane man and friend of the Scions Hancock and pick your route through the dungeon, encountering different fights and story beats depending upon your chosen path. You'll also be handed special 'Duty actions' that should compensate for any role imbalances in your team composition, allowing you to heal, taunt, revive, deal damage, or buff your party's defence.
The Criterion dungeon, Another Mount Rokkon (and its savage variant), demands a full four-person team – in fact, you won't even be able to matchmake for savage and will have to compose your party ahead of time. On savage there's no resurrections allowed, all defeated enemies will revive if your party wipes, and there's an enrage timer – making this some of the toughest content in the game.
FFXIV 6.4 mounts and minions
We get a brief glimpse at some of the mounts coming in the new patch. These include a bed you can lie on as it soars about, a cute axolotl, a personal flying propeller plane, and a terrifying red, one-eyed Cacodemon-style creature with a long tongue whose mouth your character sits inside. There's also an adorable monkey minion, a rather terrifying alien statue, a cute otter, and perhaps the cutest puppy I've ever seen in the MMO.
FFXIV 6.4 PvP and Frontline changes
PvP series four kicks off in patch 6.4, along with season seven of Crystalline Conflict. Frontline gets a bit of an overhaul, with new UI to display the match time and score, updates to the in-game map to make the terrain a little easier to navigate, and adjustments made to damage dealt and taken along with the limit gauge fill rate on a per-job basis. Full details on that will be included in the full patch notes, if you're a Frontline fan. Yoshida also jokes that the new triangular map is being connected to today's release for The Legend of Zelda: Tears of the Kingdom.
FFXIV 6.4 miscellaneous updates
Just for additional clarity, here's everything else of note coming in FFXIV patch 6.4 that was only mentioned in passing during this Live Letter:
Allagan tomestones of comedy will be added.
Faerie glamours for Scholars (Eos, Selene, and Carbuncle).
Max gear sets increased by 100 for all characters, regardless of quest progression.
Job icons will now be displayed in the chat log and on player nameplates.
Market board transaction fees can now be incorporated into their price.
Glasses and wing fashion accessories will now display when in battle.
Items stored in locations including the glamour dresser and armoire can now be selected when casting glamours in an inn room.
And that's everything for now. Phew. Hopefully this article has helped you navigate the mammoth livestream. If you want to watch the presentation in full, you can do so below, but please note that the audio is in Japanese, with English text on the slides. A huge thanks as always to the wonderful 'Miuna' and 'iluna minori' on the FFXIV Discord (invite opens in a new window) for their incredible live translation work.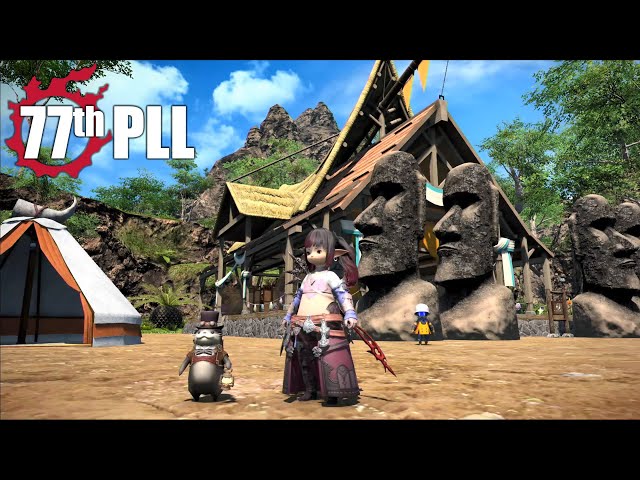 Check in with the FFXIV 6.38 patch notes to get up to date ahead of the next patch, and make sure you've completed your FFXIV Island Sanctuary animals collection before 6.4 drops so that you're ready to leap into the new content. If that's, somehow, still not enough for you, we've picked out the best single-player MMOs for you to try.