Wondering where to search in Neo Tilted for Fortbyte 100? Fortnite's computer chip hunt continues today with a Fortbyte that's hidden on the highest floor of the tallest building in Neo Tilted. Figuring out which of the buildings in Neo Tilted is the tallest isn't easy as there are several skyscrapers of similar heights, and when you notice the countless other elimination-hungry players dropping in around you picking a spot to land is pretty daunting.
Fear not though, as we've already gone through the gauntlet of death and soccer skins that is Neo Tilted, so we can show you exactly where to find Fortnite Fortbyte 100. Our first bit of advice though is to jump into a game of Team Rumble rather than standard battle royale, as if you die you'll just respawn rather than having to load into a whole new game.
There's plenty of reason to be hunting these Fortbytes down, too, as if you get all of them it will help you along with your Battle Pass progress, helping you get as much value out of your Fortnite V-Bucks as possible. Join us as we drop into the futuristic Fortnite city.
Where is Fortnite Fortbyte 100?
The building you should keep your eyes peeled for is in the northeastern corner of Neo Tilted and has a slanted metal roof with an air vent on it. Pop your glider nice and early so you are high up in the air as you approach it and aim for any spot on the roof that's not the air vents. To get Fortbyte 100 you'll want to dig your way through the roof and drop onto the floor below. Nestled in the corner of the highest part of the staircase – adjacent to an open wall – you'll see the Fortbyte. Now, just walk up to it and hold E to claim it. Below is a map showing you where the building is.
Pull up your map as you're boarding the Battlebus and mark this spot to make finding the skyscraper as easy as possible. We've also got a video guide of the exact spot where you can get Fortbyte 100 below.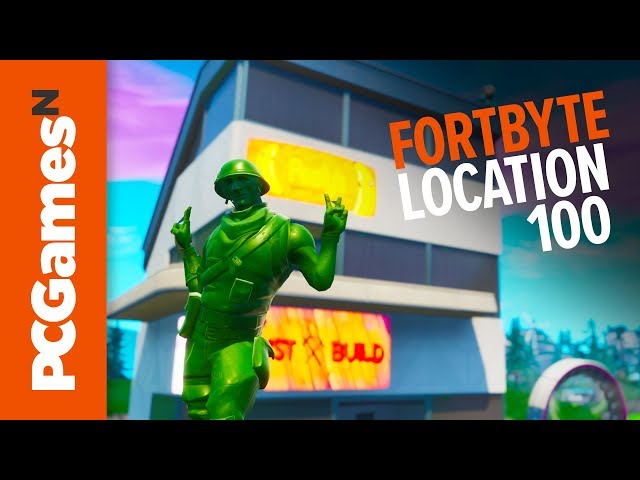 Just watch out as there are a couple of weapon spawns nearby that some players may exploit to get an easy elimination as you arrive.
Another one Fortbytes the dust:
All Fortnite Fortbytes locations
Fortnite 14 Days of Summer challenges
Fortnite Island codes
And there you have it, another precious Fortbyte to add to your collection. That gallery of Jonesy is probably looking very complete right now, so hopefully the story of season 9 is becoming clear.