Where is Fortbyte 69 in Fortnite? First of all, you need to know where the Fortnite stone pig building is. Just in case you don't know the map like the back of your hand, we've prepared this quick guide to help you find the next piece of the puzzle.
Now we're always completely honest with our guides, you can trust them. We wouldn't lie to you, not by a hair on our chinny chin chins. This is the latest chapter of the incredibly exciting Fortnite Fortbytes locations challenges, and getting all 99 will reward you with a new Fortnite skin, and some information surrounding the events of the season 9 story.
But you probably know that by now, so let's get on to where you can find Fortnite Fortbyte 69. You'll be heading over to the south side this time, so we hope you've packed some sun cream and your nicest swimmies. And then, without further ado, here's where to find Fortnite Fortbyte 69 in a stone pig building.
Fortnite Fortbyte 69: stone pig building location
The Fortnite stone pig can be found looking thoughtfully over the south coast of the map, right to the east of the named area of Lucky Landing. When you're in the vicinity, you can't miss it. How many buildings do you see shaped like actual swine, nowadays?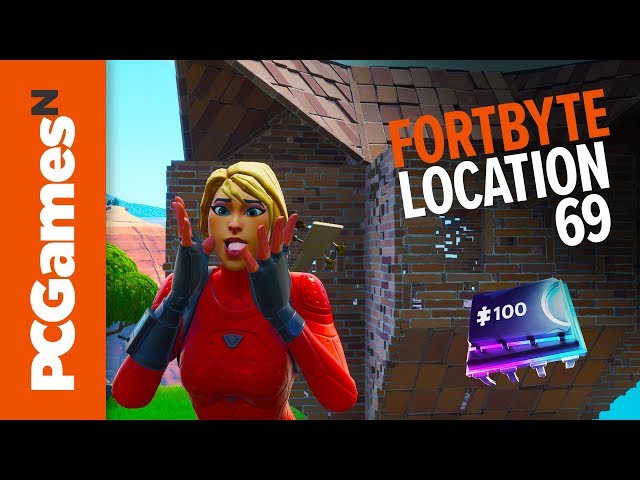 In the video above you can see where you need to get to specifically. Fortnite Fortbyte 69 is located in the pig's snout – make sure you don't tickle the inside of it, however, being sneezed out by a pig is not something you want to experience. Trust us.
Fortbytes, Fortbytes, and more Fortbytes:
Fortnite Fortbyte 76
Fortnite Fortbyte 68
Fortnite Fortbyte 91
And there you have it, that's where to find Fortnite Fortbyte 69 in a stone pig building. We hope you enjoyed your stay, but you've got plenty more hidden computer chips so keep an eye on PCGN for more. In the meantime, sit back and relax, safe in the knowledge that you're one more byte down in finding out the mysterious of Fortnite season 9.