Where is Fortbyte 40 in Fortnite? The ninth chapter in the game's giant puzzle is nearing its end, but there are still some left to find. We're going to show you exactly where to find today's chip, and more importantly, the outfit you'll need to be wearing.
Unfortunately, you'll need to have made significant progress on the Season 9 Battle Pass to grab this one. Today's challenge requires the use of the Demi Outfit, which will require you to be at least tier 87.
Given that the season is nearly over, Epic is betting most regular players will be at this point. You'll have to have picked up the pass for 950 V-Bucks, and been doing your weekly challenges to ensure you can complete all of these Fortnite Fortbyte locations challenges.
As most of you will know, this is the latest development in the Battle Royale's mammoth daily puzzle challenge. There are a total of 100 collectibles, with the promise of a prize for finding them all.
Fortnite Fortbyte 40: Accessible With the Demi Outfit On a Sundial in the Desert
With that out of the way, you'll want to head to desert biome to find Fornite Forbyte 40. As the tip suggests, you'll want to find the sundial for this one, which thankfully isn't too hard. It's been around for a couple of seasons now and is right on the border of the desert biome. More specifically, you're looking for that little circle on the map east of Fatal Fields.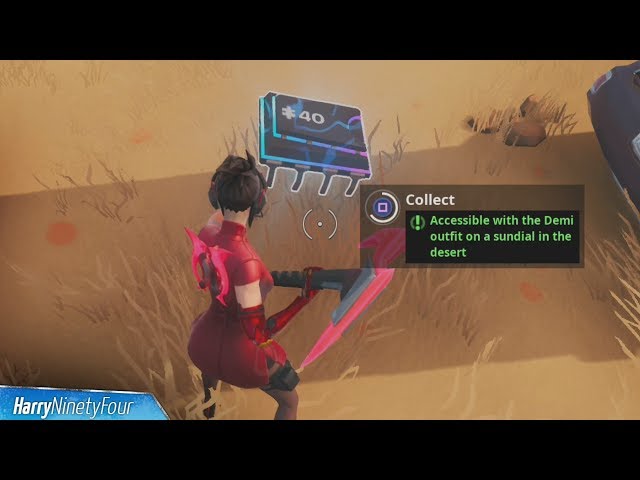 This video will show you exactly where to find Fortbyte 40, but you shouldn't have many issues without. Amidst the usual spattering of loot, which may draw in other players, you'll find the little chip quite easily.
Did you manage to catch these Fortbytes?
Fortnite Fortbyte 83
Fortnite Fortbyte 4
Fortnite Fortbyte 52
Players should look for the glowing item between the truck and upturned car, on the north side face of the clock. Visiting the sundial will count towards your "visit three clocks" challenge if you're still working on it, which is always handy. That's about it for Fortbyte 40. So long as you have the outfit, it shouldn't present any troubles.