The Genshin Impact Yaoyao banner has arrived with the Genshin Impact 3.4 update. Yaoyao used to train under Madame Ping alongside Xiangling, which might be why she uses a polearm as her primary weapon. After Yaoyao finished her training with Madame Ping, she became Ganyu's assistant. Yaoyao's abilities mean she works well as a healer, especially in teams that can supply her with energy.
Yaoyao is a four-star Genshin Impact character with a Dendro element and a protective adepti by her side. When provoked, the adepti reveals itself to keep Yaoyao from harm. Alhaitham and Yaoyao both appear on the current Genshin Impact banner, so you're going to want to redeem as many Genshin Impact codes as possible to stack up your primogems in the free PC game.
Genshin Impact Yaoyao banner release date
Yaoyao's banner is live as of the Genshin Impact 3.4 update on January 17. You can spend wishes to unlock Yaoyao until the banners refresh on February 7.
Genshin Impact Yaoyao abilities
Normal attack – Toss 'N' Turn Spear
Normal attack: Performs up to four consecutive spear strikes
Charged attack: Consumes stamina to lunge forward, dealing damage with the spear along the way
Plunging attack: Plunges from mid-air to strike the ground, damaging enemies and dealing AoE damage
Elemental Skill – Raphanus Sky Cluster
Yaoyao calls upon her adepti protection device, nicknamed Yuegei, to help her fight against enemies.
Hold: Enters aiming mode to adjust the direction of Yaoyao's throw
Yuegui's Throwing Mode: Throws out White Jade Radishes that explode upon hitting characters or opponents, both dealing Dendro damage to enemies and healing party members within the same AoE based on Yaoyao's max health. Any unused radishes remain on the field until they are used by an enemy or party member, or they explode on their own after a short period of time.
If all nearby characters have more than 70% HP remaining, Yuegei throws a radish at a nearby opponent.
If nearby characters have 70% or less HP remaining, Yuegei throws a radish at the character with the lowest health remaining. If no opponents exist nearby, Yuegui throws White Jade Radishes at characters even if they all have more than 70% HP remaining.
A maximum of two instances of Yuegui: Throwing Mode can exist at any one time.
Elemental Burst – Moonjade Descent
Utilise Yuegui's full potential in an emergency by unlocking Yaoyao's Adeptal Legacy state. In this state, Yuegei's White Jade Radishes heal nearby party members when they explode while also dealing Dendro damage to nearby enemies. Adeptal Legacy also allows Yaoyao to summon up to three versions of Yuegui in 'Jumping Mode'. During this state, Yaoyao's movement speed is increased by 15%, and her Dendro resistance also receives a buff.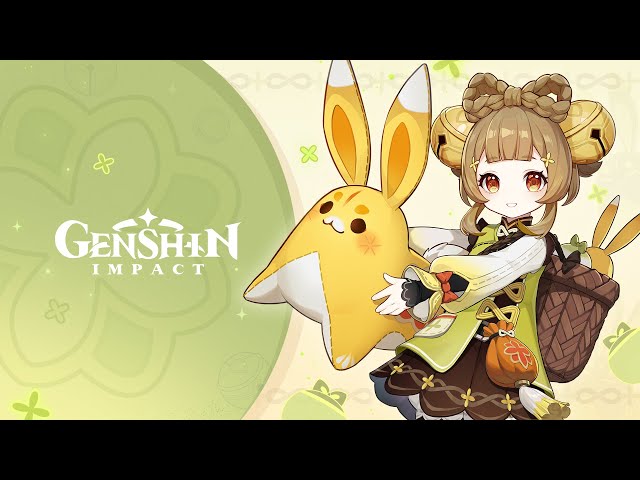 Yaoyao passive talents
Starscatter: When Yaoyao is in Adeptal Legacy state, she will throw one White Jade Radish towards enemies every 0.6s while sprinting or jumping.
In Others' Shoes: When White Jade Radishes explodes, any active characters standing within the AoE regain health every second based on 0.8% of Yaoyao's max health. This effect lasts five seconds.
Tailing On Tiptoes: While Yaoyao is in your party, active characters will not startle Crystalflies and other small animals while near them.
Yaoyao constellations
Adeptus' Tutelage: When White Jade Radishes explodes, any active characters standing within the AoE gain 15% Dendro damage bonus for eight seconds and have 15 stamina restored to them. This form of stamina regeneration can only occur once every five seconds.
Innocent: While in Adeptal Legacy state, any White Jade Radishes that deal damage to opponents also restore three energy to Yaoyao. This effect can only occur once every 0.8 seconds.
Loyal and Kind: Increases the Level of Raphanus Sky Cluster by three. The maximum upgrade level is 15.
Winsome: After using Raphanus Sky Cluster or Moonjade Descent, Yaoyao's elemental mastery is increased based on 0.3% of her max health for eight seconds. The maximum amount of elemental mastery Yaoyao can gain this way is 120.
Compassionate: Increases the Level of Moonjade Descent by three. The maximum upgrade level is 15.
Beneficent: For every 2 White Jade Radishes Yuegui: Throwing Mode throws out, it will also throw a Mega Radish that will have a larger AoE than the standard White Jade Radish and have the following effects upon exploding.

Deals AoE Dendro damage based on 75% of Yaoyao's attack.
Restores health for the active character based on 7.5% of Yaoyao's max health.
Every Yuegei: Throwing Mode can throw out a maximum of two Mega Radishes.
That's everything you need to know about the Yaoyao banner and abilities. Don't forget to check out our Genshin Impact tier list to find out where Yaoyao and Alhaitham stack up against the competition. We also have a list of the best anime games if you want to try something similar to Genshin Impact.