High on Life, the Rick and Morty-esque space shooter from Justin Roiland's studio Squanch Games, contains a secret, loving tribute to world of GDQ and speedrunning, as the FPS game overtakes the likes of Minecraft in the Game Pass popularity contest and earns thousands of positive Steam reviews.
If you've ever watched Games Done Quick, and seen some of the incredible tricks that speedrunners use to snag a new Half-Life world record, or to beat the colossal GTA San Andreas in less than 12 hours, you'll be familiar with the idea of glitching out of bounds – basically leaving the confines of the prescribed route that a game wants you to follow, and scrambling to previously inaccessible areas in order to skip chunks of a game. Usually, this is considered breaking the game, since it goes against what the developers ever intended. But High on Life, in typical postmodern, fourth-wall-smashing fashion, is ahead of us all.
During the Dr. Giblets bounty, when you have to travel to the eponymous High on Life building, you can take a speedrunning shortcut by tactically jumping across rooftops, window ledges, and balconies. As discovered by YouTuber 'Cracking Bananas', when you eventually arrive at High on Life your little buddy Suit-O will pop up and ask "are you trying to speedrun? Are you speedrunning right now?"
You might expect to get chewed out, but actually Suit-O, and by extension High on Life itself, are both very supportive. "That's okay, you can do that," Suit-O continues. "We think that's cool. We think that's great. Good luck. I hope you get a world record!"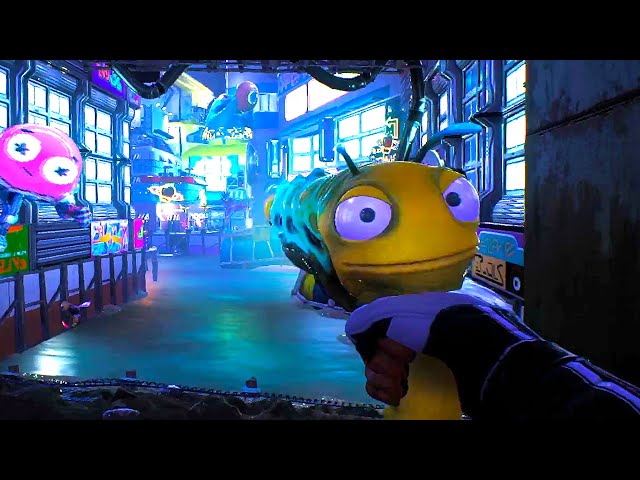 It's a welcome nod to the almost surreal efforts that speedrunners go to, as well as the High on Life community overall. If the FPS ever gets featured at GDQ, I hope runners will go out of their way to trigger this little easter egg.
High on Life has seen dramatic success on Game Pass, becoming the most popular release on the Xbox and PC subscription service, beyond even Minecraft. Despite the issues highlighted in our own High on Life review, the FPS has also taken Steam by storm, with more than 5,000 user reviews awarding it the coveted "very positive status," though co-creator Justin Roiland admits that he knew some people would "hate" the game.
If you're looking for more High on Life goodies, find out how to get the High on Life secret ending. You can also maximise your High on Life system requirements to get the shooter to really sing, or check out our guide to High on Life stab gene if you're a big fan of Knifey.