League of Legends Mythics are being retired, as Riot decides that its item experiment hasn't worked as intended. The good news is that your favorite Mythic items will still stick around moving into 2024, where League of Legends Ranked play will shift to a new yearly format of three resets. In its latest developer update, Riot Games lays out the upcoming changes to the MOBA, along with detailing the return of the LoL Arena and Nexus Blitz game modes.
Riot's executive producer on League, Jeremy 'Brightmoon' Lee, and its head of League Studio Andrei 'Meddler' van Roon say in the video update, which you can watch below, that they have been happy with how 2023's split Ranked season and mid-year reset have worked out. As such, the plan is to take a next step with three resets for 2024 and beyond.
League game director Pu Liu lays out the structure we can expect – the first preseason for 2024 will arrive on the PBE for testing in November, with the full release arriving in January. Liu says he hopes this will allow players to dive into Ranked play while they're still excited for the game's new meta, and notes that it'll also mean you'll have the chance to earn three ranked skins per year.
Among the changes Liu lists for 2024 are "Terrain adjustments to parts of Summoner's Rift, changes to map objectives, and significant modifications to the item system." In particular, he addresses Mythics: the team previously talked about how it wasn't happy with Mythics and made changes to try and salvage the system, but Liu says these adjustments haven't helped – so Mythics are going away in 2024.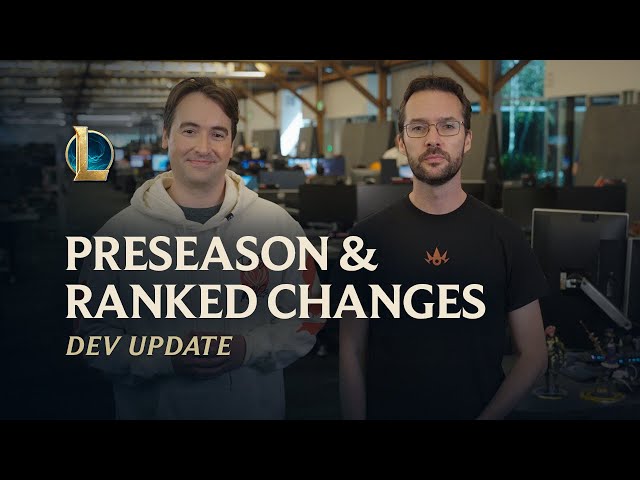 "It works pretty well for about half the roster," he explains, but "the other half is left with items that don't feel really right for them, or have their creativity stifled." Don't worry about losing your favorite Mythics, though, as Liu says you can expect many of the most well-liked items to find a new form. "You can go back to buying Infinity Edge with Trinity Force, if you'd like," he remarks with a smile.
In the remainder of the developer update, Lee and van Roon detail what's ahead for League's alternate game modes. With LoL Arena set to wrap up soon, van Roon says the team plans to "take it down [and] make a bunch of upgrades to it," with Lee adding that you can expect a return in December with more augments, improved champion viability across the LoL Arena tier list, map adjustments, and "ways to play with more than just one friend."
Also set to make a return is the LoL Nexus Blitz mode, which is coming back in late October and will stick around for a five-week run. Before that, van Roon notes that Riot's improved bot AI will be playable on the PBE test server in September.
In closing, van Roon teases that we'll also get to see the Jax visual and audio update in action in September, while the next developer update will discuss the next League of Legends champion, along with the planned Skarner overhaul, which he says is "on track for a release early next year."
Until then, keep track of the League of Legends tier list so you know who's top of the pile right now, and catch up on the League of Legends 13.16 patch notes for all the latest changes.