January 17, 2020 Valve says no Left 4 Dead game is currently in development.
While recent leaks have suggested movement on the Left 4 Dead 3 front, Valve has now confirmed in no uncertain terms that no follow-up to its classic co-op FPS is in the works. The company has confirmed that it's worked on a L4D sequel in the past, but there's been no further development on the idea in years.
"We've seen rumors to this effect for the last couple of months," Valve tells IGN. "We did briefly explore some Left 4 Dead next opportunities a few years ago. But we are absolutely not working on anything L4D related now, and haven't for years." The company adds that "It's clear some people are having fun creating misinformation to spin up the community and other outlets. Unfortunately, for now a new L4D game is not something we're working on."
Though the statement shuts down rumours that L4D3 is back in development, it partially verifies the claims from YouTube channel and fansite Valve News Network that the studio started making Left 4 Dead 3 "in late 2011 or early 2012" before cancelling it in February 2017.
But VNN went on to claim Valve has been surprised by the level of anticipation for Half-Life: Alyx and now wants more VR titles to satisfy customers who've bought Valve Index units for that game. Hence, the channel claims "there is a high chance [Valve] will be pulling Left 4 Dead 3 out again – and they may already have done that".
It continues: "I have word that there were a few major meetings that took place almost immediately after the trailer for Half-Life: Alyx dropped that essentially caused everybody internally at Valve to change everything about their future plans for virtual reality, public communication, and game development in general."
Subsequently, a talk from a regional HTC Vive executive in China made mention of an 'LFD3' – though it seems that reference was similarly speculative.
A few slides from my talk tonight… pic.twitter.com/bHegijjZW1

— Alvin Wang Graylin (汪丛青) (@AGraylin) January 17, 2020
Separate to the apparently resumed Left 4 Dead 3 / Left 4 Dead VR, VNN has released "15 model renders of zombie heads" – but these are from before the cancellation of Left 4 Dead 3. "A few people approached me with a leak", VNN says, of "zombie renders created by Half-Life creature designer Ted Backman back in 2012". Take a look at those renders in the video below.
Screenshots supposedly from Left 4 Dead 3 have leaked before. Valve's VR headset is also known to have been in high demand since the Half-Life: Alyx reveal. Index sold out in the US and Canada shortly after the game's first trailer and Valve has since sought to reassure fans that stock will be replenished by the time Half-Life: Alyx's release date rolls around in March. Incidentally, some Half-Life: Alyx screenshots also leaked just recently.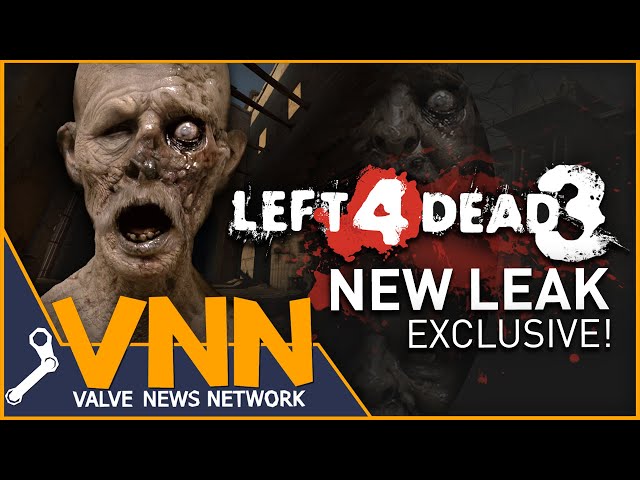 The original Left 4 Dead launched in 2008, before a sequel was released a year later. The series has been dormant since 2012's Left 4 Dead 2: Cold Stream DLC.