There's a new Monster Hunter World: Iceborne developer diary up now, along with a new trailer, and they're dense with new information about the coming expansion to Capcom's biggest-ever hit. In addition to introducing new monsters (some returning favorites from past games in the series), Iceborne is taking steps to smooth out the multiplayer experience and make the matchmaking and co-op hunting process much easier to get into.
Monster Hunter World producer Ryozo Tsujimoto, executive director Kaname Fujioka, and Iceborne director Daisuke Ichihara sat down in a virtual hot springs to explain some of the new features and changes coming with the Iceborne expansion.
Iceborne is set in a brand new area called the Hoarfrost Reach, and there's a new home base called Seliana and a gathering hub in the region. In Iceborne, that gathering hub where players join up to prepare for quests will have access to everything found in the tradeyard in the base game – which means there's no need to travel in and out of the instance to use the Botanical Research Center or blacksmith.
You'll also be able to create squad cards, which you can use to create a group template. These can also be sent as invitations, and players will be able to take a look at the information on squad card invites they receive in order to pick expeditions and groups they want to join.
Here's the full video: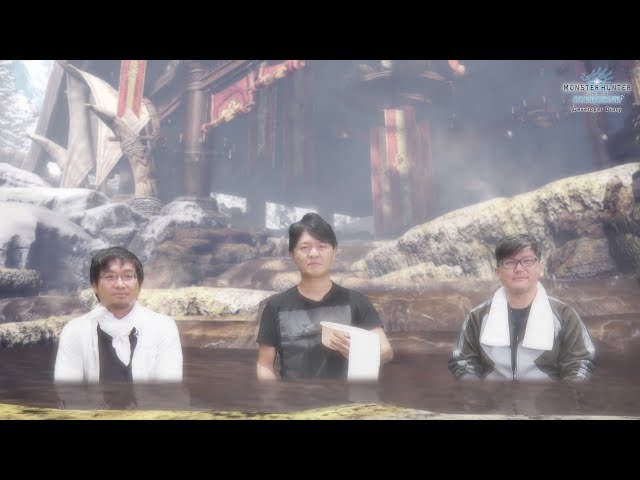 The directors also confirmed that Iceborne will introduce new multiplayer difficulty scaling. Currently, Monster Hunter: World adjusts its difficulty to one of two levels: one for single-player expeditions, and one for multiplayer, regardless of the number of players in a group. Iceborne will introduce a third difficulty level, specially tuned for two-player groups.
Read more: How to take on Iceborne's Tigrex
The new trailer also provides a look at some of the monsters coming along with Iceborne. Those include the Fulgur Anjanath which uses lightning to power itself up and become more fearsome, the Ebony Odogaron, and the sword-tailed Glavenus. The former two are subspecies of monsters encountered in Monster Hunter: World, while the latter is returning to the series after appearing in Monster Hunter: Generations.
The full video has even more information about Iceborne's new room customizations, palico interactions, and plenty more. The Monster Hunter World: Iceborne release date is set for September 6 for Xbox One and Playstation 4, but so far no date has yet been set for PC. However, Capcom says it hopes to have it out on PC this winter.