Monster Hunter World: Iceborne is the first major expansion to Capcom's most successful Monster Hunter game yet, and promises to bring new monsters, gear, and a massive new world for players to explore.
Capcom has managed to keep the hunt fresh with post-launch support in the form of regular content drops and seasonal events. New monsters such as Lunastra, Kulve Taroth, and Deviljho have given hunters new marks and gear to aim for, while characters from other games have made cameos in the form of unique armour sets. After all The Witcher's Geralt is in Monster Hunter: World.
Capcom's post-launch support of Monster Hunter: World has been top shelf so far, but most of the new content has been minor, temporary, or both. Until now, that is. Last autumn, Capcom announced Monster Hunter World: Iceborne, a massive expansion that will introduce hunters to a new arctic ecosystem packed with fresh monsters to master, weapons and armour to craft, and a continuation of the story. To put things into context, the Monster Hunter World: Iceborne map size will be just as big as that of the main game. Here's what else we know about Monster Hunter World: Iceborne so far.
Monster Hunter World: Iceborne release date
The Monster Hunter World: Iceborne PC launch date is January 2020, a similar gap between the console release in relation to the vanilla game. When it comes to consoles, the Monster Hunter World: Iceborne release date is September 6, 2019.
That said, this gap between console and PC Monster Hunter content could eventually be a thing of the past. Capcom said during E3 2019 that, among other Monster Hunter: World PC improvements, its aim is to "try and work out" faster PC releases. Hopefully the "great, meaty post-launch life-cycle" from the various Iceborne title updates the company has planned will make up for the later PC launch. The game will also be "continuously updated" with several large Iceborne DLCs.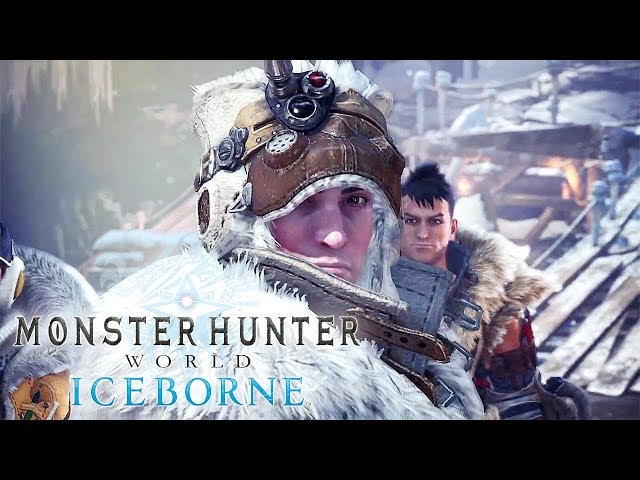 Monster Hunter World: Iceborne trailers
The most recent look at Monster Hunter: Iceborne comes from a story trailer released by Capcom on June 4, which you can recap above. The trailer shows what appears to be the brand new hub town, Seliana, complete with all the amenities that can be found in the original hub of Astera.
For more, watch Sony's State of Play stream below from May 9 to see some of the new monsters you'll be facing, such as the new ice dragon Velkhana and the returning Nargacuga. It also showed new locale info – like how moving through the snow will notably slow you down.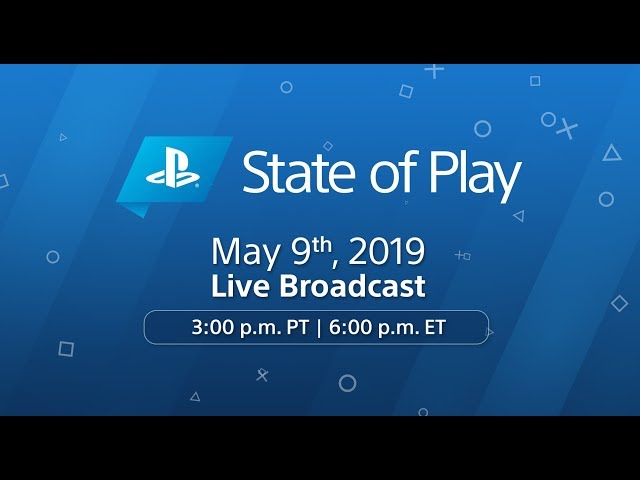 The autumn 2019 release date was announced via a short teaser trailer during a Capcom livestream at the 2018 Game Awards. In it, a group of four hunters chase a Rathalos around the Ancient Forest until it takes off across the sea. When we next see the monster, it's flying towards a frozen landscape.
If you're looking for even more footage, the official Monster Hunter YouTube channel has been updated with several videos. These showcase some of the biggest features new to Iceborne, including the new hub town of Seliana and the Hoarfrost Region.
MONSTER HUNTER WORLD: Iceborne new gear and rank
Naturally, Monster Hunter World: Iceborne features plenty of new gear with which hunters can take down the monsters of the Hoarfrost region. The most prominent piece of equipment when it comes to the new Monster Hunter World: Iceborne weapons is the Clutch Claw – our favourite new feature in the expansion – which is an attachment for the slinger that has lots of combat applications, such as leaving weak spots on targets for future, devastating attacks. You'll know when you're doing damage to these spots as an indicator of four dashes will appear around the corner of the damage number. All weapons can integrate the tool into their combos in order to latch onto monsters. From there, just hammer away.
Build me up: Check out our Monster Hunter: World builds guide
It also seems that most weapons are receiving a new move or two. Including the Switch Axe's heavy somersault and the long sword's new forward slashes, all 14 weapons have lots of new tricks and combos to pull off. You'll also soon have the ability to use Slinger ammo with weapons drawn and mid-combo, a trick that will certainly make lighter weapons like the dual blades and sword and shield more effective.
Iceborne also introduces a brand new hunter rank. The new Master Rank is basically G Rank from past Monster Hunter games, and it'll give you the chance to earn even more new armour sets and weapon models.
On top of all of this, you can also expect a lot of new Monster Hunter World Iceborne armor sets accumulated from all the new monster parts. Capcom has been showing off the complete sets on the official Monster Hunter Twitter page.
MONSTER HUNTER WORLD: ICEBORNE MOUNTS FAST TRAVEL
A new fast travel system, called Raider Rides, is being introduced to Iceborne. You can pin a location on the map and hop onto the back of a Monster Hunter World: Iceborne monster like some kind of wild taxi service. Additionally, you can command your mount to follow the tracks of nearby monsters.
Speaking of cuter and smaller monsters, your Palico will be able to revive you in Iceborne. This can be used once per hunt per hunter, assuming your little companion is with you, of course.
MONSTER HUNTER WORLD: Iceborne new monsters
The Monster Hunter: World design team has shown off their ability to create terrifying and memorable monsters time and time again. Getting new beasts to hunt is always a thrill, both in terms of their design and learning overcoming their strengths and attack patterns. Considering the icy setting of this expansion, it's likely we'll see more ice elemental monsters, which are currently rare in Monster Hunter: World. When it comes to the original Monster Hunter: World monsters, Legiana is the only one that is of the ice element.
Straight from the start of the State of Play trailer we're introduced to a new monster to hunt called the Velkhana, which is a new ice-based elder dragon. One of the biggest beasts to catch our eyes, however, was the MHW Banbaro. This behemoth may look like a deer but it's the size of about 50 of them – the armour on offer from this monster must surely be worth the challenge of toppling it. There's also the hard to miss Beotodus, which seemingly treats the snow like it's the sea, as you can see it diving in and out of it.
There's also the MHW Tigrex, a fan favorite from past Monster Hunter games. In the new footage, Tigrex can be seen wrestling with an Odogaron in the Rotten Vale, so it appears that the new monsters aren't limited to just the Hoarfrost region. Sticking with returning monsters, we also know that the Barioth is returning and will be present in the new frosty biome. Another new monster from the story trailer is a new version of World's Legiana, the Shrieking Legiana – as if the basic Legiana wasn't scary enough already. This variation uses loud roars in addition to ice attacks to defend itself.
Most excitingly, though, we can also expect the MHW Narcaguga to make a return. Interestingly, this imposing Wyvern made its first appearance in the Ancient Forest locale, the first area hunters visit in Monster Hunter: World. Also making a comeback are the Popo – a series staple who look like woolly mammoths. There are also some smaller creatures like the icy Wingdrake known as the Cortos and the snow-rollin' Rime Beetle.
Other additions include Fulgur Anjanath, which uses lightning to become more fearsome, the Ebony Odogaron, Brachydios, and the sword-tailed Glavenus.
Tsujimoto says that his team approaches monster design from a gameplay perspective first. It's important to know how the monster will behave and what attacks it will use and build the design around that. The biggest challenge will be to achieve a back-and-forth between hunters and the monsters, and to give monsters attack patterns that haven't been seen in the series before.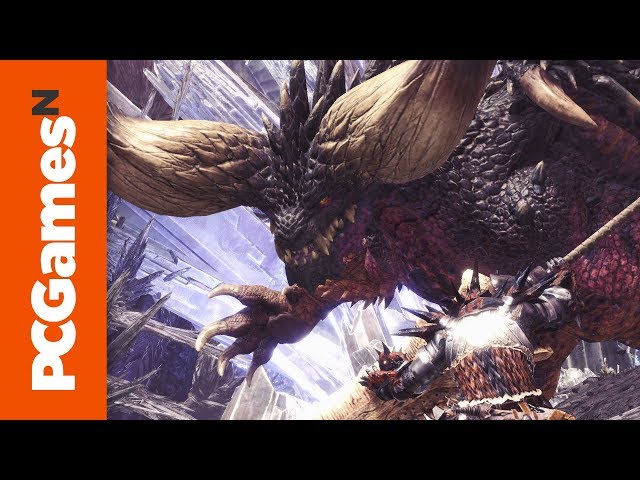 monster hunter World: iceborne new locations
Of course, one of the most highly anticipated aspects of Iceborne is the collection of new locations in which we'll be able to explore and hunt, and where roughly half of Iceborne's story takes place. A staple of the Monster Hunter series is the ecosystem and geography that differs between each area. Learning the shortcuts and landscape of an entirely new locale should breathe fresh air into Monster Hunter: World.
So far, Capcom hasn't introduced any new story content to Monster Hunter: World, but that will change with Iceborne, with new story missions that will take place after the story of the base game. Hopefully that means no more Zorah Magdaros battles. It will be interesting to see what the Fifth Fleet makes of the frozen landscape of Iceborne and what challenges this new terrains will throw at them. Either way, we'll have to wait a while to find out.
What we do know about the location, however, is that it's called Hoarfrost Reach. First, it has a hub town called Seliana. It seems to come complete with all the amenities you'd expect from a frosty Astera, with a weaponsmith and a meowscular chef. Since the Research Commission wanted to discover this new area as quickly as possible, so it's much more compact and convenient. A recent dev diary has given us a much better look at the new Seliana hub area, which looks to consolidate all necessary amenities into one instance – take a look in the video below.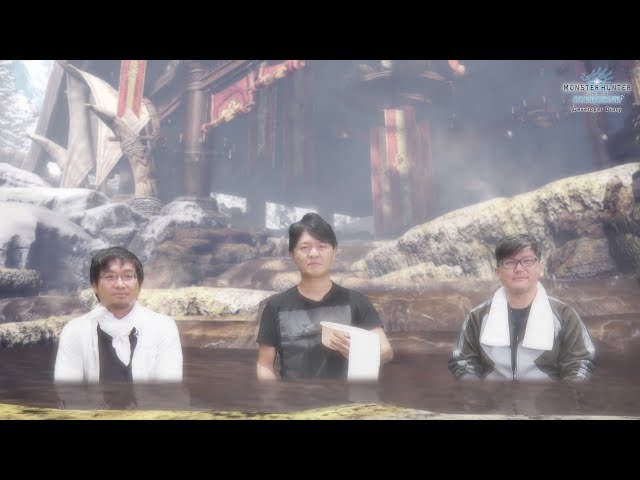 It'll throw up interesting travelling challenges, too. We have seen that Hunters wandering through the thick snow are slowed down and leave long tracks. It may seem simple, but the decreased mobility will factor in quite significantly when trying to fight beasts. On the bright side, tracking monsters may be just a tad easier. Also, ice sheets on which you're standing can crack and break away, tripping up enemies or causing them to fall. The cold weather will also play a part as it'll decrease your stamina faster than before. Don't worry though, you can counter that with Hot Drinks, or restore your stamina with a quick dip in some hot springs.
And there you have it, everything we know about the Monster Hunter World: Iceborne release date, its new beasts, and even the more subtle changes its icy biome has on gameplay. There's plenty to unpack, and there is likely more to come over the coming months. Of course, if we find out any more about that, we'll update this guide to let you know.