A new season of Overwatch 2 is about to begin. The Overwatch 2 Season 3 release date is February 7, which kicks off a new battle pass with a brand new theme, a new Control map, a limited-time event for Valentine's Day, and of course, a raft of new skins for Blizzard's competitive FPS game.
Season 3 has an Asian mythology theme, and the reward for completing the new battle pass is the Amaterasu Kiriko mythic skin. Blizzard says it's inspired by several deities from Japanese mythology, and has customisation options that you can mix and match that evoke the motifs of storms, the sea, and the moon.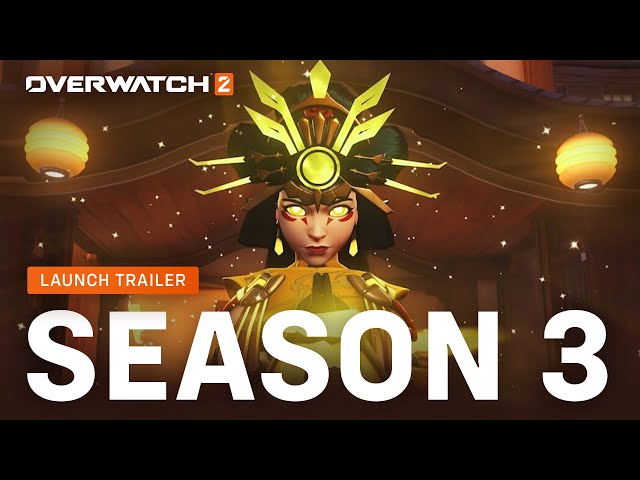 Blizzard says you'll be earning more rewards along the way on this battle pass, which has 10 more reward tiers and 1,500 Overwatch credits to earn on the free track. The premium track has an additional 500 credits to earn as well. You can use the credits to purchase "nearly all epic and legendary event hero skins from the original Overwatch," Blizzard says, which total almost 300 and are now available in the Hero Gallery. The prices for those legendary skins have been reduced from 1,900 credits to 1,500.
Over the course of the season, the studio says, you'll be able to earn four skins outside the battle pass during in-game events – such as 'Loverwatch,' a browser based Overwatch 2 dating sim that will be running during the Valentine's Day limited-time event. 'Loverwatch' starts up February 13, and the in-game Ultimate Valentine's Event starts February 14. Both run until February 28.
After carefully emphasising that Loverwatch is a non-canon dating adventure, Blizzard explains that it's a text-based sim in which you'll choose to date either Mercy or Genji, and receive some assistance from Hanzo, who's acting as Cupid for this little fling.
Season 3 also features the debut of a new control map, Antarctica Peninsula. The map features an underground drilling station, an ice-breaker ship, and "several stories yet to be told."
The official Overwatch 2 site has more information on Season 3, including a collaboration with One Punch Man and a 'Pachimarchi' event coming next month.
Our guide to Overwatch 2 maps and game modes will get you up to speed if you're just starting out in Blizzard's free-to-play shooter.