Believe it or not, the Overwatch 2 season 3 release date is already here. It might seem like only a hop, skip, and a jump since season 2 kicked off at the beginning of December, but a new year means a new season, and more content to go with it.
Now that the Overwatch 2 Lunar New Year has concluded, we've begun to turn our sights to the near future and what we can expect from Overwatch 2 season 3. Blizzard has recently issued a new roadmap after its initial launch schedule tailed off after Overwatch 2 season 2, so we have plenty to talk about in terms of new heroes, maps, and events. That said, here's everything confirmed for the latest season in one of the best PC games so far, with a dash of speculation for luck.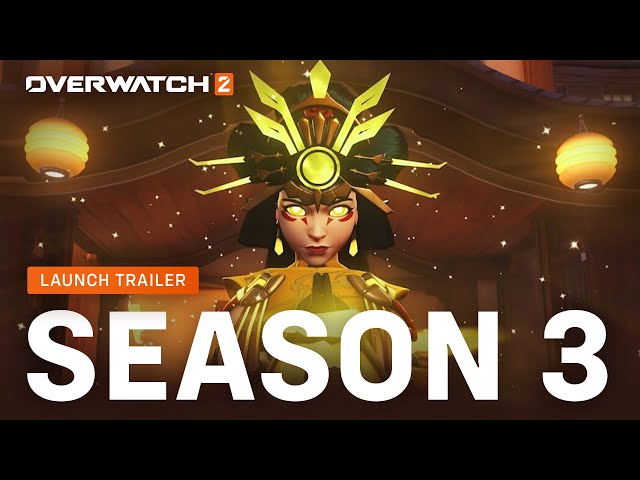 Overwatch 2 season 3 release date
Overwatch 2 season 3 released on February 7, 2023 at 5pm UTC. Blizzard confirmed prior to Overwatch 2's launch that the new seasonal model will "deliver new content to the game every nine weeks", so we can expect season 3 to end on April 11, 2023.
While the previous two seasons have included the hero debuts of Kiriko and Ramattra, Blizzard has clarified that the multiplayer game's seasonal content is due to alternate between a new hero and map per season going forward. We already know that hero 37 is set to be "a stronger support" but it's highly likely this addition to the roster will debut as part of Overwatch 2 season 4, while season 3 will focus on expanding the map roster instead. If you're holding out for this upcoming hero, be sure to check out our guides to Overwatch 2 support heroes for some handy pointers.
Overwatch 2 season 3 mythic skins
As with the previous seasons before it, the Overwatch 2 battle pass is guaranteed to receive a refresh of new skins, emotes, and voice lines galore as part of Overwatch 2 season 3's release. Kiriko took the spotlight in the official season 3 trailer, so it should come as no surprise that a new mythic skin for the damage-dealing support hero is already confirmed. You can get a glimpse of the Amaterasu Kiriko mythic skin in action over on Twitter, as well as in the hero gallery.
The long-rumoured Cupid Hanzo legendary skin has also debuted as part of the Valentine's Day event, and will feature in the dedicated game mode in a similar fashion as Mei in the Overwatch 2 Winter Wonderland event.
Overwatch 2 season 3 Workshop
Long-time fans of Overwatch custom game modes will be pleased to hear that the Workshop is finally making a return in Overwatch 2 season 3. This was confirmed by commercial lead and VP Jon Spector alongside executive producer Jared Neuss in an interview with Overwatch 2 content creator SVB.
The Workshop was a popular tool in Overwatch 1, allowing players to craft their own custom game modes and scripts and share them with other players via Workshop codes. This new iteration of the Workshop arrives with a suite of moderation and reporting tools, in an effort to ensure that the community surrounding these bespoke and highly popular scripting tools remains healthy and thriving in the sequel.
Overwatch 2 season 3 credits
The Workshop isn't the only throwback from the glory days of Overwatch 1. In a season 2 retrospective blog post, Blizzard announced the return of credits in Overwatch 2 season 3. This comes as part of a concerted effort to make it easier for players to earn skins for free, without opting into any of Overwatch 2's premium systems. Credits earned through Overwatch 1 had previously been rebranded Legacy Credits in the sequel, though their function as in-currency had been entirely replaced by Overwatch coins. Now, players can earn up to 1,500 Credits as part of the free rewards every season.
The Overwatch 2 hero gallery has also received a rewards overhaul, granting players the freedom to purchase seasonal skins using credits at any time. The standard price of legendary skins is also being cut to 1,500 Coins (or credits), meaning free-to-play users can unlock a legendary skin per season. While the reintroduction of credits has caused some confusion, it's a step in the right direction for Overwatch 2 monetisation, which has been widely criticised since launch, with further changes yet to be finalised.
Overwatch 2 season 3 map
With no new hero debuting this season, we should turn our attention to the upcoming Overwatch 2 map that serves as the centrepiece of Overwatch 2 season 3's content. The Antarctic Peninsula is the latest control map added to the roster, featuring glittering ice caves, free-roaming penguins, and an icebreaker ship. While we still don't know the full map structure of the Antarctic Peninsula, such as its choke points and objective areas, PCGamesN's interview with level designer Trey Spisak sheds some light on how we can expect matches to play out.
Overwatch 2 season 3 matchmaking and balance changes
Ahead of the launch of Overwatch 2 season 3, executive producer Jared Neuss hinted on Twitter "changes are coming" to the current 30% ultimate charge retention when swapping heroes during a match. He responded to fans clamouring for additional game modes with an indication that "there are enough foundational issues to address" – such as team balance and matchmaking – that such features are likely to come in later seasons, if at all.
This sentiment has been echoed in a Blizzard blog post which addresses community concerns towards matchmaking ratings and win-loss ratios, and their plans for Overwatch 2 ranks going forwards. We've already seen the highly requested Roadhog "soft rework", and nerfs to tempo tank Ramattra and the infamous Sojourn/Mercy pocket are still to come. Hopefully, this focus on rebalancing will stand the free PC game in good stead when going into Overwatch 2 season 4 and beyond.
Overwatch 2 season 3 events
Overwatch 2 season 3 has ushered in the first ever Valentine's Day event, starring Hanzo as Cupid to celebrate his legendary skin. It also coincides with Loverwatch, the upcoming in-browser dating sim as shown in the Overwatch 2 season 3 roadmap. The Overwatch 2 PvE mode is also on Blizzard's docket for 2023, but whether it'll make its appearance over the course of the next few months is still unknown.
Finally, the inaugural Overwatch 2 One Punch Man crossover is due to begin on March 7. We've already had a glimpse of the Saitama Doomfist legendary skin in the Overwatch 2 season 3 debut trailer, with more skins and other cosmetics confirmed to be on the way.
That's all the details we've got for Overwatch 2 season 3 for the time being. Be sure to check back for further details as the season unfolds. Many of the Overwatch 2 characters have received a rework to their kit since the game's debut, so be sure to check out our Overwatch 2 tier list if you need to brush up on the current meta. If you're still a bit green, it's worth taking a look at our Overwatch 2 roles primer, which will help you get to grips with your chosen hero and help you climb the Overwatch 2 ranks faster than ever.