Blizzard unveils the Overwatch 2 Starwatch event as one of the main centrepieces for the latest season of its multiplayer game. As we ramp up to its release date, the Overwatch 2 season 4 trailer and roadmap are unveiled, and they include a Pride event with the game's freshest newcomer at its centre, a Space Opera theme for the premium battle pass, and the chance to play on a new fan-made map.
The full trailer, which you can see below, shows off all the events we can expect in the upcoming season. We get a glimpse of uniformed Starwatch looks for Sigma, Soldier: 76, Mercy, and Sojourn, all of whom have very stylish black outfits with crimson and gold trim. On the other side of things, we see some rather spectacular fashion choices sported by Wrecking Ball, Lucio, Torbjörn, Doomfist, and Winston.
The Starwatch limited-time event begins on May 9, and features a new game mode along with a tie-in comic. That's not all that you can expect from season 4, however, as another new mode called B.O.B and Weave begins alongside the season start on April 11, and gives you the chance to earn a free Epic Cassia Lifeweaver skin for playing it.
Overwatch's newest face is, of course, also set to take a central role in the Overwatch 2 Pride celebrations, which begin on June 1. As noted in our preview, the Thai plant manipulator Lifeweaver is pansexual, so expect to see him featured alongside cover stars Tracer and Soldier: 76 during the event.
There's also a Symmetra challenge beginning on May 23, which will let you put Lifeweaver's fellow Vishkar Academy alumni Symmetra in a delightful Epic Gardener skin earned by taking part in the free event. Meanwhile, from May 25 you'll be able to play on Talantis, a fan-made map that (as you might expect from the name) looks to have a rather spectacular underwater theme.
Overwatch 2 season 4's battle pass has a Space Opera theme, and is headlined by the new Mythic skin, Galactic Emperor Sigma. There'll be quite a few goodies on offer for free, with plenty more available to players who stump up the 1000 Overwatch Coins. There's even more skins set to join the game's premium cosmetic shop – including a gorgeous Pinocchio-style look for my beautiful orb boy Zenyatta that I can't help but be a little tempted by.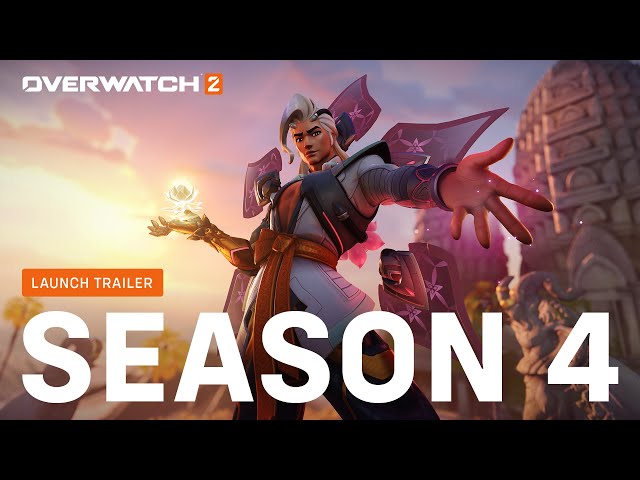 Look closely and you might even notice one particularly big addition towards the end of the trailer – that's right, the long awaited Overwatch 2 Brigitte ult rework is here. We've got all the details, so check in and see how the Swedish support is set to shake up season 4 in style.
Check in with our guide to Overwatch 2 Lifeweaver so you're ready to master the new hero when he releases, and see where he slots into our Overwatch 2 tier list of the best heroes. You'll also want to make sure you're using the best Overwatch 2 settings – this might sound like something you can easily overlook but, trust me, it's well worth it.