When was the Overwatch 2 season 4 release time? As with all seasons in Blizzard's hero shooter, we received a new battle pass bursting with an assortment of brand-new skins and other cosmetics, as well as a host of quality-of-life changes to keep the live service experience fresh and fun.
After the barrage of changes implemented during season 3, Overwatch 2 season 4 continued to refine competitive matchmaking and the ranks system. There's still plenty of new content to unpack after the release of Overwatch 2 season 4, so here's everything that came to the free PC game.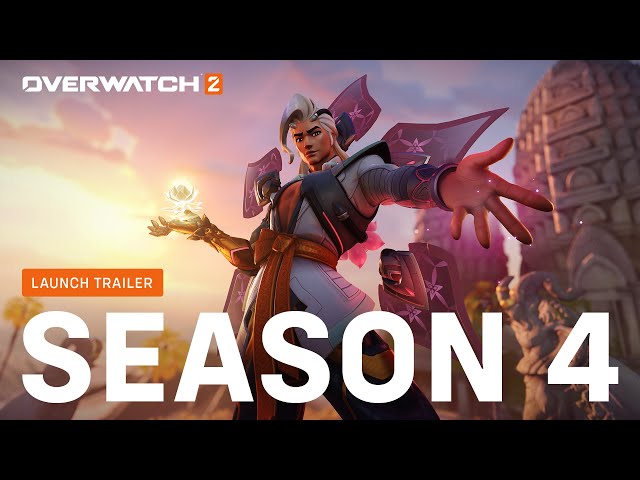 Overwatch 2 season 4 release time
The Overwatch 2 season 4 release time was 11am PT / 2pm ET / 7pm BST on April 11, 2023. Overwatch 2 operates on a nine-week seasonal rotation, which meant that season 4 ended on June 13, 2023.
Overwatch 2 season 4 events
There was also a bevy of game modes and challenges to get stuck into over the course of the new season, each with exclusive, free-to-earn skins for featured characters. The B.O.B and Weave challenge had an epic Cassia Lifeweaver skin up for grabs from April 11, while Symmetra mains could swipe her epic Gardener skin during her dedicated challenge on May 23. Just check the roadmap for more details.
Overwatch 2 season 4 Lifeweaver
Lifeweaver was the latest hero to arrive in Overwatch 2 season 4 and joined the current pool of Overwatch 2 support heroes as part of Blizzard's ongoing focus on supports. He joined Mercy as a long-range healer who requires no aim skill, making him an approachable option for beginners in the FPS game. His versatile kit offers a huge degree of utility, including control effects that can be adopted for an offensive and defensive position. Following player feedback, game director Aaron Keller has confirmed a Lifeweaver buff and control update is currently in the works to address reports of clunky button mapping on controller.
Overwatch 2 season 4 map changes
Following the debut of the Antarctic Peninsula control map in season 3, no new maps were announced for Overwatch 2 season 4. However, map pools are set to be removed in an effort to expand the roster and mitigate the prevalence of certain map types, offering more availability from map selection in general.
Overwatch 2 season 4 matchmaking
We know from previous developer blog posts that matchmaking continues to be a priority going forward. A blog post from game director Aaron Keller summarised the skill gap currently affecting competitive ranks that are largely responsible for just how broken Overwatch 2 matchmaking is, and we can expect remediation for this going forward into Overwatch 2 season 4. The major change on the horizon is the removal of rank decay – including all of its previous effects – leaving players in the skill tier and division that closely matches their performance.
That's everything that was released with Overwatch 2 season 4. Start saving up those Overwatch 2 credits and coins if you're desperate for a new look for your favorite Overwatch 2 characters. In the meantime, check out more of the best PC games you can get stuck into while you wait for the new season.