The Rainbow Six Siege Ember Rise release date is just around the corner, following the full reveal of the new season at the Six Major Raleigh 2019. Thanks to leaks, rumours, and some official information, we've known about the two new operators and the map rework for some time now, but now we know every detail about Year 4 Season 3.
Year 4 has been a very balanced year in terms of operator additions, with Mozzie providing the only significant shake up to the meta of the four Year operators released so far. But Operation Ember Rise is shaking things up, with a grapple gun and set of explosive shields being the gadgets carried by our South American newcomers.
In the Ember Rise guide below, we'll walk you through everything you need to know about the upcoming season, from the TTS and final release date, to the operator loadouts and map changes coming to Kanal. We also have some early gameplay with both new operators on the new map if you're just keen to see Ember Rise in action.
Rainbow Six Siege Ember Rise release date
Our best guess is that the Rainbow Six Siege Ember Rise release date is September 9, 2019 on PC, PS4, and Xbox One. Every season the reveal takes place before the grand final on Sunday, then the test server goes live the following Monday and runs for two weeks before the final launch across all platforms.
Up your game: Here are the best Rainbow Six Siege operators
Recently, the test server run has been extended to three weeks in order to catch all the bugs, so putting all of that information together we arrive at a September 9 Ember Rise release date.
It's worth noting that if you don't have the Year 4 Pass then you'll need to wait seven more days to get your hands on the new operators. The Ember Rise TTS is live now for PC players, so if you game on a computer then you can check both ops out for yourself.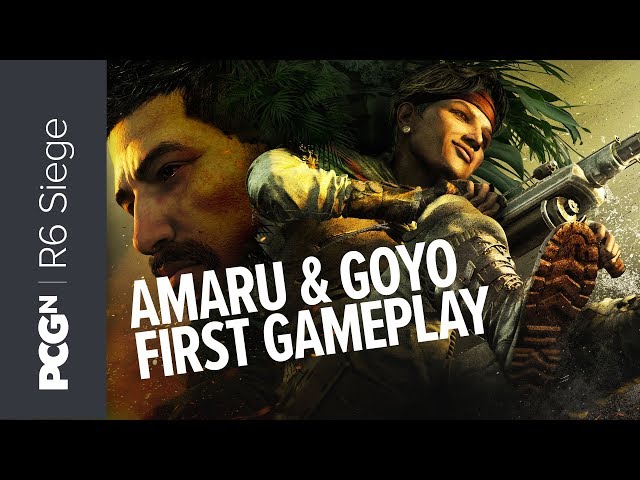 Rainbow Six Siege Ember Rise operators
As ever, the new season adds two Rainbow Six Siege new operators, one defender and one attacker. The Rainbow Six Siege Ember Rise operators are the Peruvian attacker, Amaru, and the Mexican defender called Goyo.
Amarus gadget is the Garra Hook, which allows her to quickly travel from the ground floor to a rooftop, hot breach through windows, or even go up hatches. You get four uses of the Garra Hook, so you can easily attack a number of angles while most of your fellow attackers are still getting in position. This gadget can be countered by a Castle barricade.
In terms of kit, she carries the G8A1 LMG from IQ or the Supernova shotgun. Her secondary weapon choices are either the ITA12S or the SMG-11. Finally, Amaru can take either the claymore or breaching charges as her secondary gadget.
Goyo's gadget is the Volcon Shield. He can place down three of these, which all look like the new model for the Deployable Shield from the front, but they hide an explosive canister at the back. Shoot that canister and a small explosion will hurt anyone nearby before a fire spreads, burning for 12 seconds and halting any pushes from the attack.
Goyo can pick between the Vector .45 ACP and the TCSG12 slug shotgun as his primary weapons, but is stuck with the P229 pistol as his backup. As he can be played as either an anchor or roamer, Goyo can bring a nitro cell or impact grenades as his secondary gadget.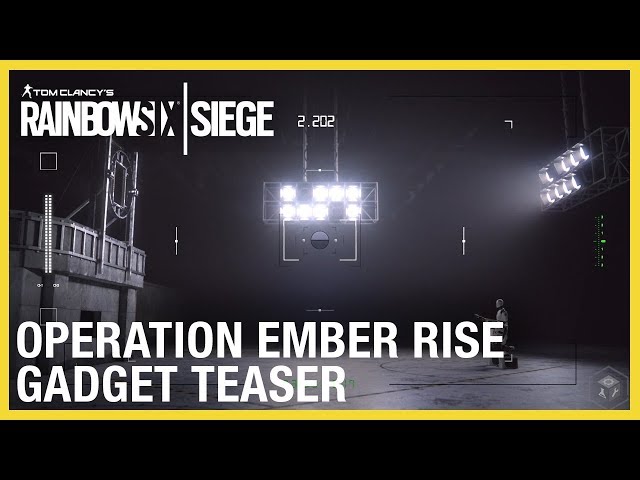 Rainbow Six Siege Ember Rise patch notes
Operation Ember Rise has arrived on the Siege test servers, which means we now have full Rainbow Six Siege Ember Rise patch notes.
In addition to the changes highlighted at the Six Major 2019, there are also tweaks to the Terrorist Hunt mode, balancing changes to operators, and stacks of bug fixes to peruse.
Rainbow Six Siege Ember Rise Smoke Elite skin
The next Rainbow Six Siege Elite skin has been revealed accidentally at the Six Major Raleigh 2019 where it was equipped during the group stages by a number of pro players. This a Smoke Elite skin with a streetwear anarchist aesthetic.
Rainbow Six Siege Ember Rise Kanal map rework
There will be no new map coming with Rainbow Six Siege Ember Rise, instead Ubisoft is reworking its Kanal map to make it more competitively viable. We got an early peak at what the rework will change at the last season reveal, but now we know a lot more about what changes have been made.
The map changes include a new route for topside rotations, a tunnel, and generally opening the map up a lot more. A great deal of work has been put in to ensure spawn peeking is not possible, a colour-coding will make call-outs easier, too.