It turns out you can play The Last of Us PC port without a graphics card, and using an iGPU doesn't turn it into a slideshow. The setup makes Naughty Dog's post-apocalyptic caper look a bit like a PlayStation 2 demake, but you'll still be able to journey cross-country with Joel and Ellie without catastrophic hardware hiccups.
Even the mere suggestion that you can run TLoU PC port without a GPU contradicts The Last of Us system requirements. Naughty Dog says you'll need something on par with the Nvidia GTX 970 just to meet minimum specs, which implies the port relies on dedicated hardware. While we're not doubting the developer's hardware advice, we now have proof that you don't need a graphics card at all to run The Last of Us.
In a new video by YouTuber RandomgaminginHD, the low-spec enthusiast runs The Last of Us using an AMD Ryzen 7 5700G, a CPU that boasts integrated Radeon graphics. Surprisingly, the iGPU can actually manage to boost fps to around 30 frames per second with settings cranked down low and FSR 2.0 enabled. We'd argue the results aren't a complete assault on the eyes, but you might want to check out the footage and see for yourself.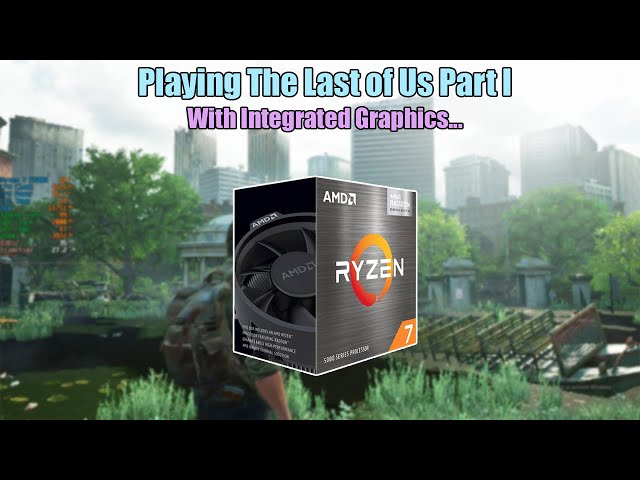 RandomgaminginHD says you should be able to re-create the setup using one of our best gaming CPU picks, the Ryzen 7 5600G, as AMD FSR 2.0 appears to do the heavy lifting. That said, it's worth pointing out that while the experiment uses 1080p as a resolution, as 'ultra performance' mode technically swaps that to 360p then scales it up. For context, even the PS2 can run games at 480p, so it perhaps makes sense that modern-day processors can handle low-spec graphics.
RandomgaminginHD isn't a stranger when it comes to running games with no GPU, as previous experiments include playing Spider-Man, Warzone 2, and No Man's Sky without a graphics card. We'd still recommend picking up one of the options on our best graphics card list, but putting iGPU tech to the test is both a bit of fun and may help someone on a budget enjoy Steam games.
You could say playing TLoU with an AMD APU is old news, as The Last of Us Steam Deck compatibility is already a thing. Sure, the Deck's Van Gogh chip is purpose-made, but both perform similar processing parlour tricks under the hood. Of course, Linux and SteamOS are an additional handheld hurdle, and Valve currently considers The Last of Us as Unsupported on Steam Deck.
If you're already rocking a proper graphics card and have no interest in CPU shenanigans, check out the best Last of Us settings. Our menu option advice should help kick some performance woes to the curb, and Naughty Dog's latest hotfix targets Nvidia RTX 3000 GPU quirks.