Vampire Survivors is one of my favorite games ever, as I always find myself going back for more of its fast-paced action. Poncle's indie game was my introduction to the bullet hell genre, and also my first real enjoyable roguelike experience. Now that the developer has dropped its massive free update, Whiteout, the 1.7.0 patch notes are finally here and I'm ready to lose hundreds of more hours in the challenging game. The update brings a new character, a wintery stage, bonus endgame content, and more achievements to unlock.
There's no question about Vampire Survivors being one of the greatest roguelike games available on PC. I guarantee it will suck you into its chaotic gameplay loop. Poncle regularly updates the game, too, adding new addictive content and optional expansions to boot. The latest update, aptly named Whiteout, pushes the game up to version 1.7.0, and comes with various fixes and more importantly, new features.
The biggest addition coming to Vampire Survivors with Whiteout is its bonus stage, which sees us traversing a harsh snowy terrain. Packing everything from decorated Christmas trees to ice-white wolves, the new stage thrusts us into some festive pandemonium. Yes, it's October, the Halloween season. No, the developer doesn't care. As the 1.7.0 launch trailer reads, "we should start preparing for the holidays!"
I'm excited to play through the stage as She-Moon Eeta, the roguelike's new character. She reminds me of Final Fantasy's own Shiva, with her shimmery flair and ice-y aesthetic. With She-Moon comes a shiny new weapon, called the Glass Fandango. It deals extra damage to frozen enemies, making it perfect for the game's new stage. You can also evolve it into Celestial Voulge, which is as powerful as it is stunning.
Other big features include two new relics. The Antidote and Chaos Altemanna, which you can obtain by exploring Vampire Survivors' improved endgame content, respectively open access to a new power-up and high-level O'Sole Meeo morph. Poncle wasn't messing around with this free update, y'all. It feels like it should be an expansion with all of the content it's adding. From "funny snowmen" to flashy trees, 1.7.0 will tide us all over until the holiday season.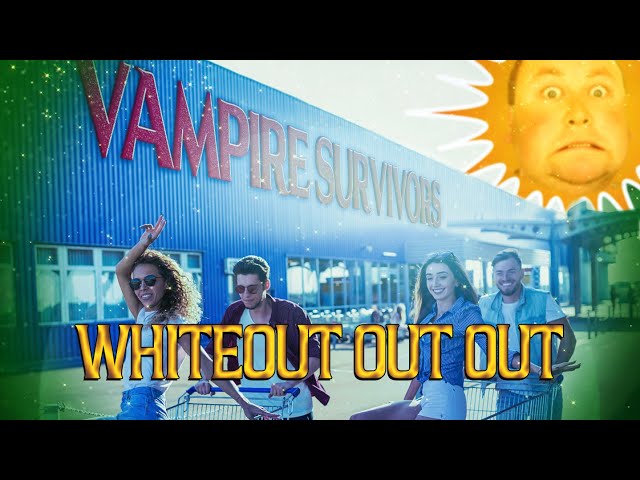 Vampire Survivors patch notes –1.7.0 update – Thursday, October 19, 2023
Poncle has the full Vampire Survivors 1.7.0 patch notes listed on Steam, including various bug fixes and more general tweaks. For an overview of the added new content and features, you can check our roundup of the Whiteout update's highlights below.
New content
Six achievements
Bonus stage

20-minutes
Enemies move very slowly and take extra damage from fire weapons, which is why you might want to save the next spicy sausage for when the boss shows up
Funny snowmen will block your path, but might drop a decent amount of gold coins and everyone's favorite pickup: Orologions

Relics

Antidote

Allows you to buy the Defang PowerUp

Very cheap PowerUp to slightly reduce difficulty
Makes some enemies completely unable to deal damage

These enemies have a green tint, that can be disabled in Options

Chaos Altemanna

Allows the character O'Sole Meeo to morph when reaching Level 80
It gets a few minor stats boosts and evolves its Celestial Dusting into Profusione D'Amore
The weapon evolution still shoots flowers, but these ones also bounce against the side of the screen
It also spawns floating leaves that occasionally bloom into a chain reaction of damaging explosions

Weapon and evolution

Glass Fandango

Can be picked up in Whiteout, and unlocked for every other run by leveling it up to Level 7
Attacks faster and in the faced direction when moving, and with standard delay and all around when standing still
Deals extra damage to frozen enemies
Gains bonus area during the time freeze triggered by Orologions. Requires maxed Wings to evolve into Celestial Voulge

Celestial Voulge has a chance to deal critical hits and freeze enemies
Changes the time-freeze from Orologions: enemies appear frozen and deal no damage as usual, but keep moving toward the player
Deals continuous damage

Playable character

She-Moon Eeta

Starts with Glass Fandango
Slightly defensive character thanks to high Armor and Movement Speed
Has a "CriticalHP skill," that triggers when she drops below 25% Max Health: she triggers a 10-second time-freeze, just like Orologions do
The CriticalHP skill recharges only when the character recovers all HP. If the characters get hit by an attack strong enough to kill them, CriticalHP doesn't trigger

Music track
While you wait for your game to finish updating to 1.7.0, you can browse through our guide on the best Vampire Survivors power-ups. One can never be too prepared, after all, especially for an entirely new stage with damage-dealing enemies. Alternatively, take a look at the best Vampire Survivors build to ensure that your first run through the snowy stage is more of a storm than a full-blown blizzard.