The streets of Nazi-occupied 1980s Paris are a bit shinier now. A patch that adds in Nvidia's RTX-powered ray tracing support to Wolfenstein: Youngblood arrived this week, alongside a new game-ready driver for Nvidia graphics cards. Each neon-lit window pane will now reflect the grenade explosions that blow up groups of soldaten trying to get a bead on the Blaskowicz sisters.
Youngblood had been part of Nvidia's lineup of RTX-enabled games at E3, but shortly before the game launched in July, MachineGames announced that RTX features would not be enabled right away. No word was forthcoming from MachineGames, Nvidia, or Bethesda on when those features – ray tracing prominently among them – might show up, but MachineGames said it was working closely with Nvidia's engineers to get it "looking as good as possible" for Youngblood.
The Youngblood patch arrived Thursday, and adds RTX features for Nvidia's GeForce 2060, GeForce 2070, and GeForce 2080 cards (as well as the Super versions). That pairs up with Nvidia's latest game ready driver, version 441.87. Together, the two updates mean Youngblood now supports ray-traced lighting, Nvidia's DLSS, and Nvidia Highlights (which automatically saves video clips when certain actions are performed).
Here's the trailer that shows off the RTX-enhanced effects: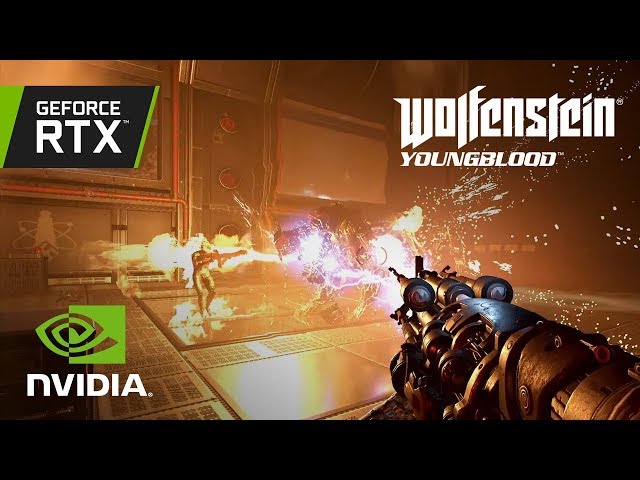 As you can read in this blog post from Bethesda, enabling the new effects is pretty straightforward: head into the options menu, select video, and scroll down to the 'Ray-Traced Reflections' option and switch it on. You'll need to restart the game for it to take effect.
If you're running a supported card, you'll also be able to enable DLSS in the same menu, which may boost your framerate. You can also test these new settings out by running one of Youngblood's new benchmarks, which are fl- throughs of the Riverside and Lab X levels.
For more, check out our Wolfenstein: Youngblood review.