Historical RTS game Age of Empire 4 is getting a touch of magic in season four, which begins February 16. The new season introduces a unique new biome called the Enchanted Grove, which holds a mystical secret in its eerily lit forests. There are also three new maps, a new ranked season, a new game mode called Nomad, and some welcome improvements to the mod browser.
The new Enchanted Grove biome features colourful, glowing trees and plant life in a purple twilight setting. It'll be available throughout Season Four's Enchanted Grove event, which runs February 16 – March 29. On Enchanted Grove maps, you'll be able to send units out to hunt a white enchanted stag, which will unlock a new golden stag monument if you manage to fell it.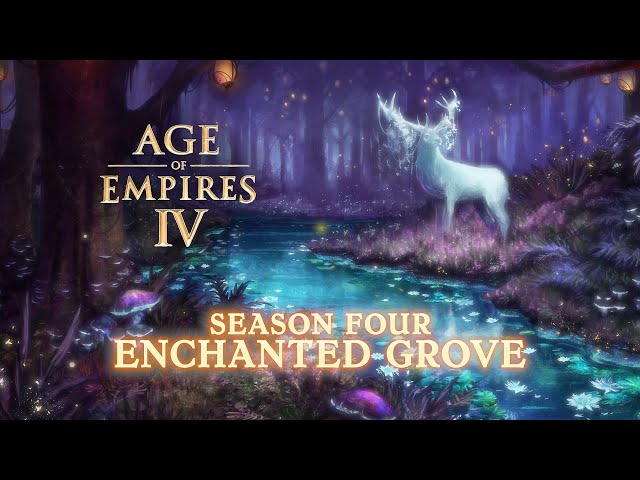 The new ranked season begins February 17, and includes new rewards for solo players and teams who progress through the ranks from bronze to conqueror. In 1v1 ranked games, the map pool will include Dry Arabia, Prairie, Lipany, Ancient Spires, Wetlands, Oasis, Altai, Boulder Bay, and Waterholes.
The team ranked map pool for Season Four include Dry Arabia, Lipany, Hideout, High View, Mountain Clearing, Hill and Dale, Mongolian Heights, Baltic, and Nagari.
Three new maps will be available for non-ranked play. Four Lakes features islands at each corner, with a cross-shaped landmass separating them. Continental is a large landmass surrounded by water, with islands at each corner of the map. Marshland is an open map covered in jungle, which provide resources to find and plenty of opportunities to hide and ambush your opponents.
Season Four also introduces a new Age of Empires 4 game mode called Nomad. Here, you begin (either in custom or skirmish games) with three scattered villagers, and must bring them together to build a town centre in a good location – you can either spend time scouting for resources or rush and build right away, but you'll never know exactly where your enemy is building their city, so you'll need quick reflexes (and a bit of luck) to get by.
The Age of Empires team has also made some big updates to the mod browser for this season. The browser now features dynamic search that begins returning results as soon as you start typing, and should give you more relevant search results across the board. You'll be able to filter your results based on popularity and toggle a filter to only show you official mods.
In all, it's an exciting update for everyone, whether or not you keep up with ranked seasons. Check out the Age of Empires 4 system requirements, and have a look through the Age of Empires 4 keyboard shortcuts list to find ways to boost your APM.