The Apex Legends Spellbound event has begun, and fans of Control mode – your time has come. While these types of collection events don't dramatically change how the game is played, they are a fun distraction, adding some classic multiplayer modes and a bunch of new cosmetics for you to get your hands on.
The fan-favourite control point limited-time mode makes its return to the battle royale game once more, as part of the Apex Legends Spellbound collection event taking place during January. There's still a little while before the Apex Legends season 16 release date arrives, but this event should give players plenty to keep them amused in the meantime.
Apex Legends Spellbound release date
The Apex Legends Spellbound collection event begins on 10 January and runs until 24 January. Respawn notes that the event features "24 enchanting limited-time cosmetics" including legendary skins for Vantage, Seer, Mad Maggie, and Mirage, along with the new Seer Heirloom – the Showstoppers. If you unlock all of the other cosmetics before the event ends, you'll automatically earn this latest addition to the lineup of Apex Legends Heirlooms.
Apex Legends new game mode
Many players will undoubtedly be glad to see the return of Control, one of the most beloved Apex Legends limited-time modes. These 9v9 battles feature infinite respawns, with the focus instead placed on capturing control points dotted around the map. It's a really great way to get some more rigorous practice in without all the slow setup of a standard game, and it's also just a ton of fun.
You can watch the Spellbound collection event trailer below: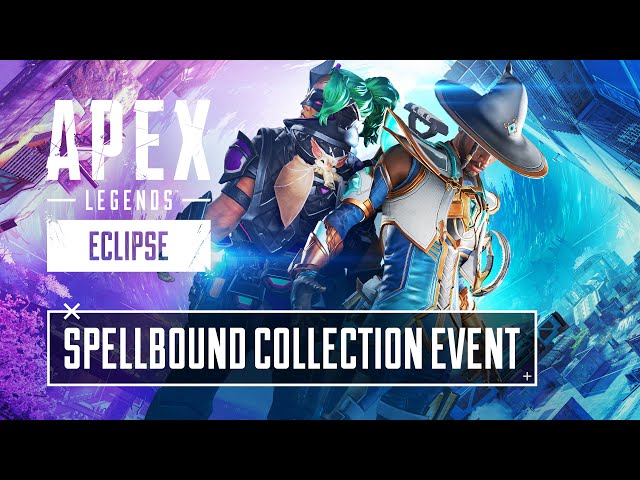 In addition to the event, Respawn recently announced that it has been conducting Apex Legends matchmaking tests "in one region" to attempt to create more balanced matches, following many months of complaints from players and even instances of lobbies turning to mob justice against higher-ranked players.
Respawn says it is "seeing promising results as players are able to make more kills," showing a chart indicating that a higher percentage of players per match are able to get at least one kill. The team says it will "continue to monitor and have a blog with more insights to come," so we'll be sure to let you know when we have more information.
Our Apex Legends tier list is the place to go for the strongest characters in Apex season 15. If you're a bit out of the loop, catch up on everything you need to know about Apex Legends season 15, along with our Apex Legends characters guide to help you understand all the Legends you'll be going up against.