Baldur's Gate 3 is set to be huge, with new details on the D&D adaptation and RPG game promising a gigantic world with myriad character builds and spells. And now, PC players can get it earlier than expected, as the Baldur's Gate 3 release date has been moved forward by 28 days, bringing it to Steam almost a full month in advance. At the same time, Baldur's Gate 3 is also set to rival Bethesda's Starfield, as Larian announces the highly anticipated date for BG3 on PS5.
We've already seen the murder-mystery-inspired Baldur's Gate 3 prequel, with hype for the BG2 sequel at almost full pitch ahead of the original August 31 launch date. Now, however, we can get our hands on Baldur's Gate 3 much earlier than expected, as Larian announces a brand-new release date.
Baldur's Gate 3 is now set to arrive on Thursday, August 3, with the fantasy game scheduled to arrive on both Steam and GOG. Elsewhere, Baldur's Gate 3 is set to do battle with Starfield, as it will launch on PS5 Wednesday, September 6, the same day as Bethesda's upcoming and much-anticipated space opera.
"This is an extremely busy period for RPGs," Larian tells PCGamesN exclusively. "Earlier in the year, we had new Zelda, then Diablo for the first time in something like a decade, with Starfield and Cyberpunk's releases coming up as well. Our cleanest window for launch is Thursday, August 3 – we know Baldur's Gate 3 will be ready on PC then, so it made sense to bring that date forward.
"Our ambition for consoles is to hit 60fps. We're close to sustaining that, so we decided to move that release back a week from Thursday, August 31, eventually deciding on Wednesday, September 6 because there wasn't another big RPG launching on PlayStation at that time. It's all about releasing in order of readiness and finding commercially viable windows to launch."
It's a bold move, but in a sprawling community update, Larian provides some fresh details on BG3's immense story and scale. Prepare yourself for some eye-watering statistics.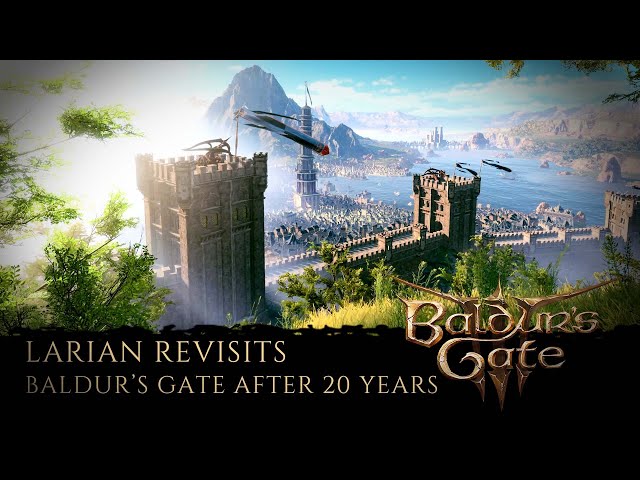 The script for Baldur's Gate 3 contains over two million words – Larian calculates that this means more dialogue than three times the entire Lord of the Rings trilogy. Similarly, there are more than 170 hours of BG3 cinematics, twice the length of every season of Game of Thrones combined.
We're getting seven playable protagonists, 11 races, 31, subraces (all with multiple body types), and over 600 spells and executable actions. These are shared between 12 classes and 46 subclasses. Truly, Baldur's Gate 3 is an epic-scale RPG.
"We set out to make a game that would reward player creativity and truly bring D&D to life in a cinematic way that explores the breadth and depth RPGs can offer," creative director Swen Vincke explains. "Baldur's Gate 3 has become an astronomical game that never fails to surprise, and I'm super proud of the team.
"We couldn't have done this without our early access community, but it's crazy to think that all this time they experienced less than a quarter of what BG3 has to offer. I cannot wait to hear the stories our players will tell when the full game releases. It's time to gather your party."
The Panel from Hell Release Showcase on Friday, July 7 will give us even more details on Baldur's Gate 3, and you can also check out the full Baldur's Gate 3 system requirements to make sure your rig is ready ahead of launch.
You can also prepare for release day by checking out all the Baldur's Gate 3 races. Alternatively, have a look at all the Baldur's Gate 3 classes and pick your favorite.
With Baldur's Gate 3 in direct competition with Starfield, you might be wondering if there is a Starfield PS5 edition.