Call of Duty: Black Ops 4 is the next title in Activision's illustrious FPS series. It is set between the events of Black Ops 2 and 3, but marks a huge departure for Call of Duty in that it's the first entry to not feature a traditional campaign. In its place is a battle royale mode called Blackout, which joins the core multiplayer and zombies mode to make it the most multiplayer-focused COD yet.
Owing to its setting, Call of Duty: Black Ops 4 promises a return to a near-future where drone warfare is commonplace – not quite boots on the ground, but not space warfare either.
Working on the 15th instalment in the main series, and the first with a story arc to make it past three games (four if you count World at War), developer Treyarch will have a tough job shrugging off any series weariness while still appealing to hardcore Call of Duty players.
So, what can we expect from Call of Duty: Black Ops 4 when it deploys on PC? Here is everything we know about the Black Ops 4 release date, from beta dates and battle royale, to the gameplay changes and multiplayer modes we can expect to see at launch.
Call of Duty: Black Ops 4 release date
Activision is opting for an October launch for this year's call of Duty, which is the first time they've done that since the release of COD 2, way back in 2005. The exact Call of Duty: Black Ops 4 release date is October 12, 2018.
Pre-load has already begun, so if you plan on playing the second the servers go online then you should head over to Battle.net and start installing it now.
Call of Duty: Black Ops 4 zombies
It looks as if Treyarch is significantly upping the ante for Call of Duty: Black Ops 4 zombies with the promise of three maps at launch (four if you count the Classified remaster that will launch as part of the Season Pass) and heaps of features aimed at making this beloved mode even more replayable.
You can expect a new lineup of characters and a fresh storyline for Black Ops 4 zombies, too. New characters Scarlett, Shaw, Diego and Bruno will adventure across Ancient Rome in the IX map, not to mention the RMS Titanic in the Voyage of Despair map. The third map, Blood of the Dead is a remaster of the very popular Black Ops 2 map set on Alcatraz Federal Penitentiary and will feature the Primis crew. We've played zombies for ourselves, so you can check out ten minutes of Voyage of Despair gameplay below.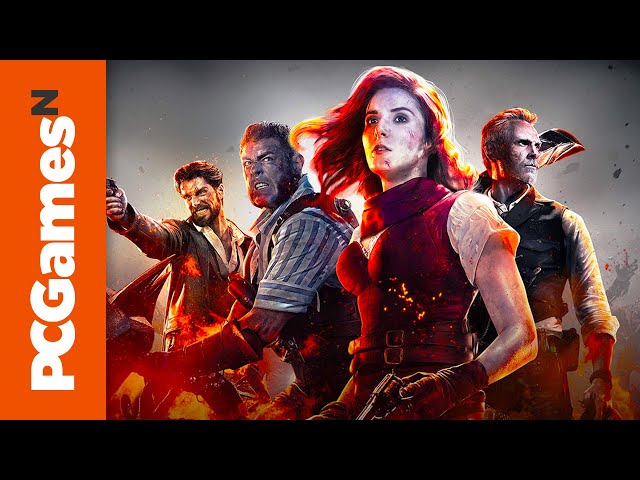 Black Ops 4 zombies will also feature Custom Mutations, which will let you tweak certain variables on each map to change the experience up a little, such as changing the speed of zombies and overall difficulty. There will be over 100 custom variables and that you will be able to share your custom zombies map online.
Zombies will also include a new arcade mode called Rush, it's the same co-operative structure but leans more on friendly competition. The more undead you kill the more points you earn – a leaderboard keeps track of everybody's score so you know who's in the lead. The inspiration for Rush comes from Grief mode back in Black Ops 2, this arcade mode will be in the same spirit but have a more casual and friendly vibe.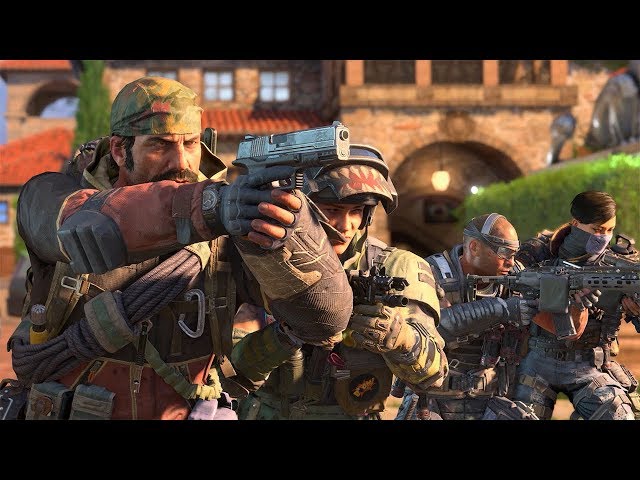 Call of Duty: Black Ops 4 Blackout
Blackout is Call of Duty's first attempt at a battle royale game mode, and is already starting to pave its own path into the competitive genre. We've finally had the chance to play it thanks to the PC beta so let's break down what we know about it and what to expect for the full release.
The Black Ops 4 Blackout map is huge placing 13 iconic locations from Black Ops history all in one place. You'll be able to battle it out in Asylum, run through Factory and fly over to Nuketown Island potentially in the same match. Previous maps in Black Ops have been comparatively small to this giant battle royale setting, it's unlike anything we've seen before in the series.
Regarding how many players will be running around on this map is not yet confirmed. Treyarch have been experimenting with trials testing from 80 to 100 players, so the final number will likely be around there. Blackout also lets you play as either solo, duos, or quads (no clue as to why they've omitted the 's'). Blackout will also have land and air vehicles ranging from Little Bird helicopters to ATVs and flatbed trucks.
Matches won't all be PvP, you'll also be fighting AI zombies. Zombies spawn at a handful of pre-selected destinations, occasionally alongside a Mystery Box that contains rare items, which you can spot from a beam of blue light. Zombies will sometimes drop good loot, including weapons from Treyarch's zombies mode. One of these items is the illustrious Ray Gun, making its debut in a PvP role – want to know how to get a Ray Gun in Blackout? We've got your back with a guide.
Blackout currently has 20 character skins available to play as, including the cast from Zombies and the Black Ops 4 specialists but to get access to their special abilities you'll need to find them as rare items across the map. Other character skins are on the way and can be unlocked by completing missions. Blackout will feature limited time events with unlockable content, but it was confirmed in a Q&A with design director David Vonderhaar that this will not apply to getting new skins.
Blackout will also have a huge selection of iconic weapons for you to play with. Weapons handle differently in Blackout than they do in multiplayer because of the massively increased map size and bullet ballistics, so make sure you read our Blackout weapons guide to find out why the Spitfire is the best early game gun and why the Koshka is the sniper rifles to look out for.
Blackout is a fast paced battle royale so get to grips with zombies, helicopters, weapons, best drop places, and perks by reading our hefty guide on how to get your first win.
Call of Duty: Black Ops 4 trailer
Following on from the community reveal event, there are a variety of Call of Duty: Black Ops 4 trailers to pore over. We'll start in the most sensible place, with a look at the multiplayer reveal trailer, which shows off plenty of smooth gunplay, Specialists, and new features like manual healing.
For a better look at the Specialists in particular then there's the below trailer that offers a cinematic look at every character revealed so far. We already know that Specialists will have their own solo missions for players to play through, so perhaps these cinematics are torn from those scenarios.
Outside of the core multiplayer, there are also three Call of Duty: Black Ops 4 zombies trailers, one for each map. Below you can watch the trailer for the Roman-themed XI map, which kicks off the new zombies storyline.
Finally, there is a trailer for Blackout, the new battle royale mode. Blackout gameplay trailer shows off the map, vehicles, and characters that will be available in Blackout – check it out below.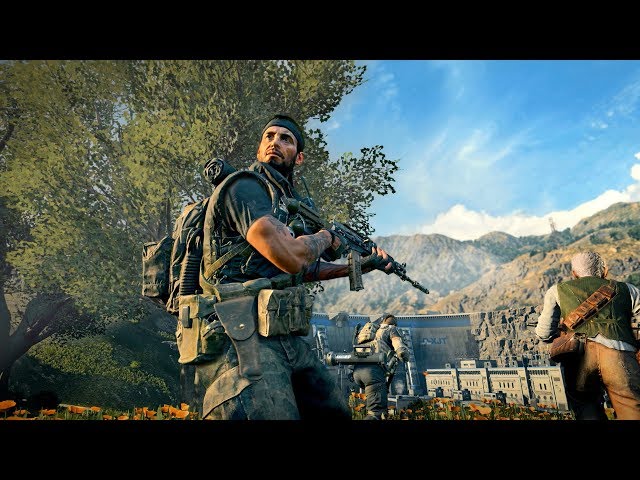 Call of Duty: Black Ops 4 PC
Treyarch is promising that special attention will be shown the Black Ops 4 PC version. For starters, Black Ops 4 PC will launch on Battle.net exclusively, which will include all of Battle.net's social features and anti-cheat measures. Among the many features promised for the PC build are: scalability options, uncapped frame rate (but not for Blackout at launch), dedicated servers, and support for 4K, HDR, and ultra widescreen monitors.
The PC build of Black Ops 4 will also let players go into granular detail when it comes to customising controls, letting you change mouse and key bindings for every Specialist.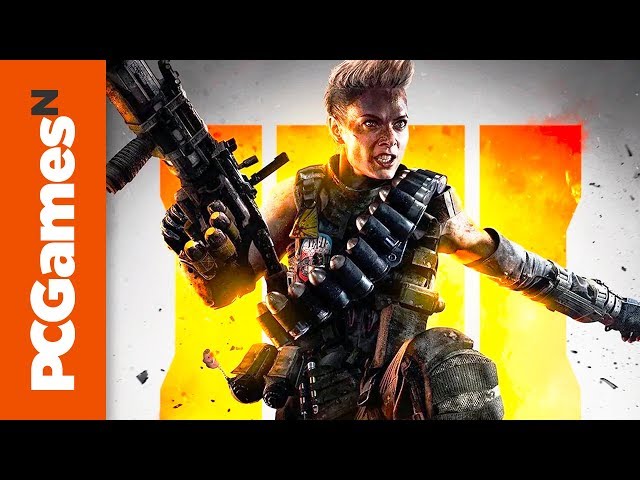 Call of Duty: Black Ops 4 gameplay
A number of new gameplay additions make Black Ops 4 one of the most competitive entries into the series. Manual healing, for example, forces you to take a couple of seconds out of combat in order to heal up, adding an element of risk and some decision-making to what used to be a background process. Unlike in previous Call of Duty games, you almost never lower your gun in Black Ops 4, which smooths out the multiplayer experience even more by allowing you to mantle and use equipment while shooting.
Call of Duty: Black Ops 4 weapons also benefit from quality of life improvements like predictable recoil patterns and 3D bullet tracers, upping the skill cap for dedicated players who want to master every weapon and improve their situational awareness.
You will also be glad to discover that Call of Duty: Black Ops 4 will feature grounded combat, without the wallrunning and thrust boosters of Black Ops 3. You will still be able to kneeslide and climb over high ledges to help you get around the map, but expect a much more restrained movement system with the exception of Specialists like Ruin who can occasionally use a grapple fun to cover large distances in a flash.
Call of Duty: Black Ops 4 Specialists return too, with eight of these characters having been officially detailed so far, not to mention two more Specialists whose abilities are still unknown. Specialists work a bit like hero characters in that they each have a couple of abilities that charge over time as well as some weapon attachments that are unique to them. You pick your Specialist between picking your class and starting a match, so they don't affect Black Ops 4's Pick Ten create-a-class system.
Black Ops 4 multiplayer will launch with 14 maps, including 4 remasters of old maps from the Black Ops series. A 15th map will be arriving in November for free, and looks to put a Soviet spin on the popular Nuketown map.
Call of Duty: Black Ops 4 mods
Mods have always been an important part of the PC community for Call of Duty games, so the news that Black Ops 4 would be launching on Blizzard's Battle.Net platform caused a great deal of concern about the future of Black Ops 4 modding. Battle.Net is known for being a much less open platform than Steam, so many assumed modding would be off the table.
However, in a recent interview with GamerHubTV, Treyarch co-head Dan Bunting suggested that Black ops 4 mods were still a possibility. "Many of our developers we hired directly from the mod community because they built a mod – they got noticed. In Black Ops 3 we released mod tools for the first time in the franchise in many, many years. We are big believers and supporters in the mod community, but we're not quite ready to start talking about that yet." It's not much to go on, but it sounds like the decision is not yet final.
Call of duty: Black Ops 4 system requirements
A Call of Duty game is hardly going to be kind to your PC, but the COD Black Ops 4 system requirements aren't too bad, all things considered. Here they are in full:
Minimum:
CPU: Intel Core i5 2500k or AMD equivalent
RAM: 8 GB
OS: Windows 7 64-Bit or later
VIDEO CARD: Nvidia GeForce GTX 660 2 GB / GTX 1050 2GB or AMD Radeon HD 7850
SOUND CARD: Yes
FREE DISK SPACE: 25 GB
Recommended:
CPU: Intel Core i7 4770k or AMD equivalent
RAM: 12 GB
OS: Windows 10 64 Bit
VIDEO CARD: Nvidia GeForce GTX 970 / GTX 1060 6GB or AMD Radeon R9 390 / AMD RX 580
SOUND CARD: Yes
FREE DISK SPACE: 25 GB