Ashika Island is the new Call of Duty Warzone 2 Resurgence map that's set to debut February 15. This new compact battle royale game map isn't just pretty to look at – it's also home to several secrets, like an underground submarine station beneath the ornate pagoda-style castle at the heart of the island.
Activision has shared new details about Ashika Island in a deep-dive blog post that runs through the island's points of interest. Even though this is a smaller map than the main Al Mazrah map in standard battle royale, Ashika is dense with interesting places to explore. In-game lore has it that Ashika was planned as a tourist destination, but development halted in the 1990s for publicly undisclosed reasons – and in the years since, it's become a haven for the ultranationalist Konni Group, who have used it as part of their chemical and biological weapons transport operations.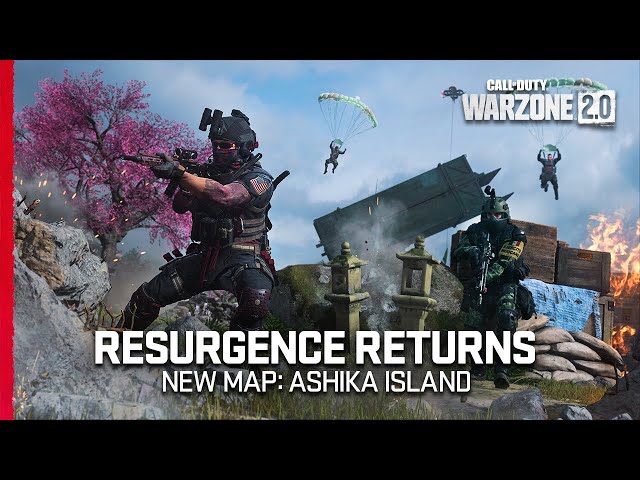 The island's dominant feature is Tsuki Castle, a tiered pagoda-style stronghold that sits on a plateau rising from the centre of the island. This fortress features a moat, an interior bailey area, a walled 'dojo' style courtyard, and barracks on the outside. Inside, you'll find several floors, a mezzanine level in the main tower, and a server room on the third floor with views in every direction.
You don't necessarily need to breach the castle walls to get inside, however. Beneath the castle there's a subterranean network of waterways that meet at a submarine base. You can take a boat or swim in from the Town Centre, the Water Treatment plant, and Port Ashika to the east, then head up into Tsuki Castle from below.
Activision hints that there are additional secrets to find, including something at the bottom of a spiral staircase leading down from the observation point that's connected to a beach via a small pedestrian walkway.
We'll be able to check out Ashika Island first-hand when the Warzone 2 season 2 release date arrives later this month, so make sure to check out the Warzone 2 system requirements if you're planning on jumping into Resurgence for the first time.