When is the Death Stranding 2 release date? Hideo Kojima himself has confirmed that it is on the way, after all. Not a whole lot of official information has been revealed at all about Death Stranding 2, but there are some things we know about the next Kojima Productions release, including speculation on the release date, cast details, story beats, trailers, and more.
So, what's next for Sam, Fragile, and Louise, the stars of one of the best PC games in recent years? Here's everything we know about the Death Stranding 2 release date so far, including (a lot) of speculation regarding the storyline in the open-world game. If you haven't played the first Death Stranding, beware that there are some minor spoilers ahead.
Death Stranding 2 release date speculation
We predict the Death Stranding 2 release date will fall sometime in 2024 or 2025, though we've yet to receive official confirmation from Kojima Productions.
Given that we've only seen a reveal trailer and no gameplay so far, we believe that a 2025 release is most likely. Furthermore, while Death Stranding 2 was initially announced as a PlayStation 5 title, we do expect the game to release on PC eventually, just like its predecessor. In the case of the original Death Stranding, it took eight months to make the jump to the PC, so fans of the action-adventure game could be in for a bit of a wait.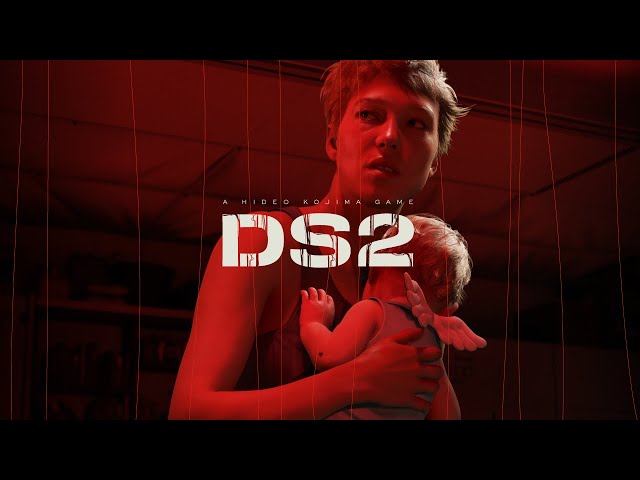 Death Stranding 2 trailer
Let's have a look at that Death Stranding 2 reveal trailer, shall we? The first few shots show Fragile and baby Lou in what later turns out to be an underground bunker. Yes, that's the same baby carried by Sam in his tank in the first Death Stranding game. Lou seems to be about two years old now, looking happy and healthy.
We then see a figurine that bears some resemblance to Amelie, the Extinction Entity (a being who causes mass extinction) from the first game. The figurine can also be spotted on top of a coffin, in what appears to be a religious procession.
The Death Stranding 2 trailer then cuts back to Fragile and the baby as their home is attacked. Fragile grabs Louise, escapes the bunker, and flees on a motor-driven unicycle before getting shot in her arm and falling to the ground. Someone draws a gun, there's a glimpse of a BB entity inside a human body, and then we see Fragile crawling towards Louise, who lies completely still. The sequence ends with a shot of a BB tank surrounded by cryptobiotes.
A few moments later, Sam Porter Bridges finally makes an appearance as he and Fragile watch the reveal of Fragile's new mech-ship. Fragile asks him to join her crew, signaling that this scene may appear at the start of Death Stranding 2.
Nope, that's still not the end of the trailer. After the credits, we see a shot of a mysterious masked person holding a guitar, the phrase "should we have connected?", and a BB tank that, instead of a BB, is housing an octopus. Enough food for thought, right?
Death Stranding 2 cast
One of the things that stood out about the first Death Stranding was its cast of famous actors. It looks like the sequel will be no different. The Kojima Productions website confirms the following Death Stranding 2 cast members:
Norman Reedus returns as Sam
Léa Seydoux returns as Fragile
Troy Baker returns as Higgs Monaghan
Elle Fanning in an unknown role
Shioli Kutsuna in an unknown role
You may be wondering if there's a chance to see Mads Mikkelsen again in Death Stranding 2. However, as his character's storyline in the first game seems to have ended, and there's no mention of Mads Mikkelsen on the Kojima Productions website, we probably shouldn't count on it.
Death Stranding 2 story speculation
Fragile's new mech, along with her invitation to Sam, suggests that there'll be traveling aplenty in Death Stranding 2. Whether or not baby Louise will be there with us remains to be seen, as the baby's motionless body at the end of the bunker-fleeing scene suggests the worst…
But don't despair, as the Death Stranding 2 trailer strongly hints at alternate timelines, perhaps even fake realities. Most notably, we can see Fragile's body looking young and healthy at the start of the trailer, even though her body in the original game has aged due to timefall exposure. In a later scene, Fragile is covered up again. Did Fragile find a way to heal her body? Or did the scene with the dying Louise not really happen? To make things even weirder, Fragile's eyes seem to be leaking a tar-like substance, suggesting that she may have died and come back to life as a repatriate.
Another interesting detail is Sam's hair, which has somehow turned grey. Perhaps it's simply the passing of time, or perhaps he suffered timefall effects as well. However, as his face and body appear the exact same, it's much more likely that something else has changed his hair color.
It seems that the robed figures, including the person seemingly shooting Fragile, may become our main enemies in Death Stranding 2, possibly with the guitar-playing masked guy as their leader. Based on their looks, the guitar player could be Higgs, Amelie, or at least someone with a strong link to the latter. After all, the mystery person is wearing a mask, and Troy Baker has already been confirmed as a Death Stranding 2 cast member. At the same time, the mystery person is rocking the same hairstyle as Amelie, while also wearing her necklace.
While that's everything we know about Death Stranding 2 for the time being, you can make the wait a little easier by playing one of the best RPG games or horror games, because there's certainly something there for everyone. If you're still yet to finish the first game, make sure you read up on how to beat the whale BT, giant BT, and Higgs boss fights, along with all the Death Stranding endings explained when you do reach those final moments.