Tempted by the Diablo 4 Collector's Edition but unsure exactly what you should expect inside? With its rather hefty price tag that, crucially, doesn't include an actual copy of Diablo 4 itself, you might want to see what its contents actually look like. Thankfully, an unboxing video shows us what comes in the Diablo 4 Collector's Edition box if you choose to pick up the RPG game's limited premium package to celebrate the Diablo 4 release date.
Diablo 4 partner, streamer, and top-ranked player 'Wudijo' is one of several people who were sent a free Diablo 4 Collector's Edition by Blizzard to promote the fancy package. He's joined in an adorable unboxing video by his young nephew as he opens up the full box and explores its contents. It's certainly got plenty to unpack, so let's take a look.
First up is the Diablo 4 Art Book, which is a very hefty tome. Personally, this is the thing that most appeals to me – Wudijo doesn't show off too much of the inside, as apparently it's packed with story and character spoilers, but we get a good look at some of the art and accompanying lore descriptions inside, and it certainly seems like a great addition to your coffee table.
You get a rather chunky "Candle of Creation" set in a hefty, ornate stand that features Lilith on one side and Inarius on the other, so you can position it to show your preferred allegiance. It's also electric, so you don't need to worry about melting away your nice new ornament.
There's a rather nice cloth map of Sanctuary, a mouse pad (that's a little too small for my tastes, but rather fetching nonetheless), and a golden pin in the shape of the symbol of the Horadrim. Rounding out the package is a pair of large art prints – one featuring a hellish landscape filled with demons, and the other depicting Inarius and Lilith in a side-by-side pair of portraits.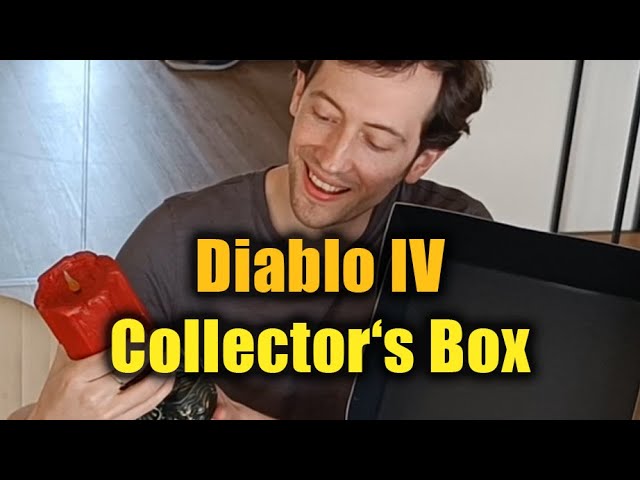 It's certainly a solid collection – although not enough to impress Wudijo's nephew, clearly. The thing that's caught my eye most is the artbook, as I'm always a sucker for nicely produced compilations of concept art, lore, and other associated works. Hopefully Blizzard will make this available separately at some point, because I might just be tempted. If you're interested in seeing more unboxings, several other Diablo partners have also shared their own.
The Diablo 4 Collector's Edition costs $96.66 / £96.66 / €88.95. That's a fairly hefty asking price – and, again, that doesn't include a copy of the game, which you'll have to buy separately, with a choice of three Diablo 4 editions on sale to choose from. If you are tempted, however, you can pick up the Collector's Box on the Blizzard Gear store.
With the Diablo 4 server slam giving you another chance to try the game ahead of launch, make sure you're up to date on all the Diablo 4 classes, and take a leaf through the Diablo 4 system requirements to ensure your PC is prepared for Lilith.