The Final Fantasy XIV Fan Fest in London reveals one of the two new jobs coming with Dawntrail in summer 2024, as FFXIV job Viper sees you wield two swords that can be combined into one bigger weapon for a mix of pressure and heavy blows. Game director Naoki Yoshida shows off a brand new trailer for the job alongside a slew of incredible details, and it's all here for you.
Alongside the new Final Fantasy XIV Viper job trailer below, Yoshida came out in full cosplay for the MMORPG game's new job and looked amazing doing it. The FFXIV Viper job is a "melee DPS" build, and Yoishida reaffirms that the second job will be a magic DPS, teasing that we'll have to wait until January 2024 for the FFXIV Fan Fest in Tokyo to learn about that job. With the FFXIV Dawntrail release date still evading us, this is some brilliant new info.
The idea behind Viper is to cater to players who want a new dual-wield job after Ninja, who launched alongside the base game back in the day. Viper is designed specifically for Dawntrail, and requires no class. You'll start in Ul'dah at level 80 as well.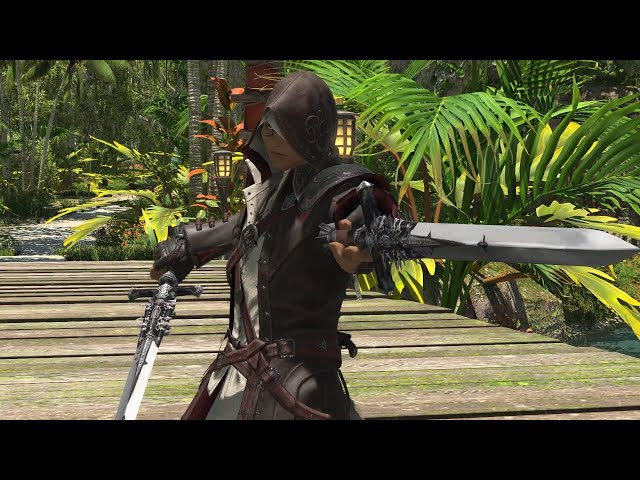 As explained by Yoshida, Dawntrail's Viper job is all about alternating between the dual swords for quick pressuring attacks, while the two-handed heavy blows offer up harsh damage outputs as well.
Final Fantasy XIV Fan Fest 2023 is live in London right now, with Yoshida and co at Square Enix revealing even more about the new location in Dawntrail, alongside exactly what you'll be doing while playing the expansion.
If like me you're seeing FFXIV and thinking you want to jump in for a virtual summer holiday with the lads, there's an FFXIV sale going on right now. You can get the base game and all four expansions for 50% off throughout October, giving you everything you need to start on your MMO adventure. Maybe I'll see you there?
You can also catch up with the FFXIV Dawntrail reveal if you're new too, to get right up to speed with the next expansion.
In the meantime, we've got a complete FFXIV Island Sanctuary guide and breakdown for you, alongside the best new MMOs if you want something a little different than FFXIV while you wait.