Where is the Fatal Fields telephone in Fortnite? And, once you've found it, what is the Durr Burger number you need to dial on it? While this week 8 challenge sounds complex on the face of it and certainly drums up a fair few questions it's actually fairly simple, and we're here to show you why.
Perhaps you've noticed the big Fatal Fields phone in Fortnite recently? No, it's not like the modern touch screen catastrophes we struggle to fit into one hand today: this is a proper telephone where you have to dial the desired number in properly, thank you very much. Well, actually, you have to hack at each number with your pickaxe, but you get the idea.
For this challenge you need to get on the blower to a certain popular beef patty joint: you need to dial the Durr Burger number on the big telephone west of Fatal Fields. When it comes to picking up your delicious delivery, sadly, we can't help you there, but feel free to sling us a sandwich for our efforts, if you like. Anyway, here's what the Fortnite Durr Burger number is and the big Fatal Fields phone you need to punch it into.
Fortnite Durr Burger number and Fatal Fields telephone location
So, as the challenge states, we're heading over past the southern spot of Fatal Fields to its west side. To get there proceed immediately south-west of the named area until you hit a small hill on the border of the ice biome. You can find the telephone on this mountain – it's big, white, and has the Durr Burger number in the centre between all the numbers, you can't miss it. Just in case you're a bit lost, we've provided a video and a map of where to find the Fatal Fields telephone below.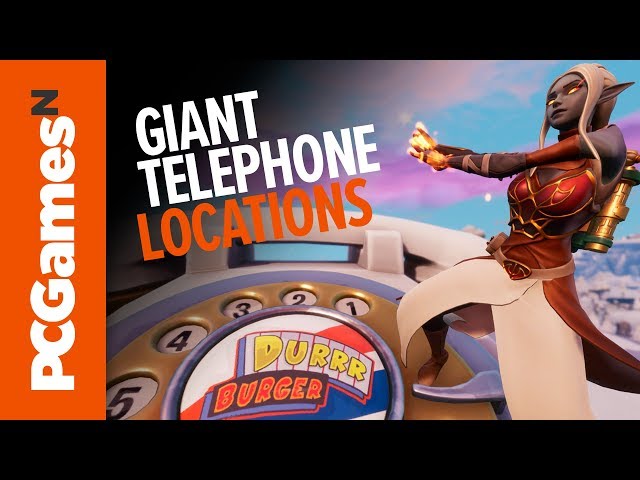 As you can see on the phone, the Durr Burger number is 555 0152. Rather than shooting each of those numbers in the correct order, you need to smash each one with your pickaxe – just as you would the like button. Once you've done it the phone will ring, and this part of this two-stage challenge will be complete. Then, when it comes to the second, and last, part, find out how to input the Fortnite pizza pit number on the phone near The Block for the maximum rewards.
Fortnite guides for days:
Fortnite Ruin skin
Fortnite season 9 release date
Fortnite Pirate Camps
And that's a wrap! That's where the Fatal Fields telephone is, and what the Durr Burger number you need to dial into it is. When you're all done with this week 8 quest, you're going to need to make sure you're caught up with the rest of your challenges before the season ends. That means making sure you've found the Fortnite Paradise Palms treasure map signpost and done a search the X to find where the map leads. Anyway, if you find yourself answering a phone call for me in Fortnite, please tell them I haven't been in an accident that wasn't my fault, for the love of god.