Fortnite Fortbyte 70 is the latest collectable puzzle piece to land in the game's world, and we're going to help you find it. The things is, you need to skydive through Fortnite rings above Lazy Lagoon with the Vibrant Contrails equipped.
So that means before you jump into a game, you need the Fortnite Vibrant Contrails equipped. Just like with the previous and 61st byte in these Fortnite Fortbytes locations challenges, you get access to this jazzy cosmetic at tier level 26 in your Battle Pass. Since we're almost five weeks through season 9 and towards the Fortnite season 10 release date, we imagine most of you will be there by now if you've been plugging away at your weekly challenges.
Anyway, back to Fortnite Fortbyte 70. The nice thing about this collectable is that the clue gives us a named area to narrow down our search to: Fortnite's Lazy Lagoon. Here, provided you have the right Contrail in your possession, rings will appear above the pirate-infested area. Skydive through them and Fortnite Fortbyte 70 will be yours.
Fortnite Fortbyte 70 location
The handy thing about Fortbyte 70 in Fortnite is that all you need to do is skydive through the four Lazy Lagoon hoops to get the byte – you don't need to travel anywhere else to then pick it up after satisfying the challenge requirement.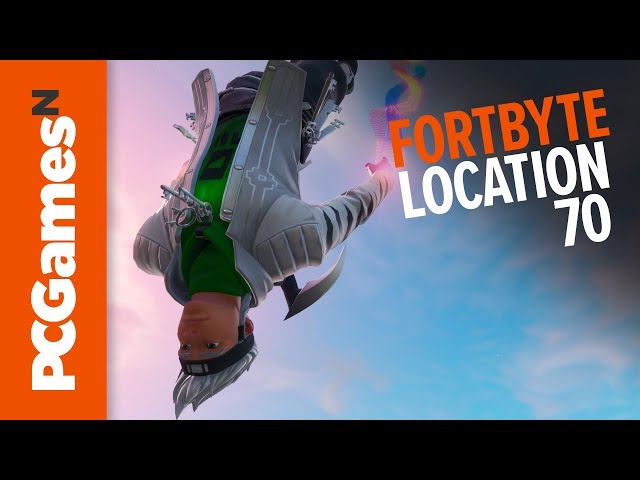 Lazy Lagoon is dominated by a huge pirate vessel in the middle of its large body of water. The Fortnite Lazy Lagoon skydive rings are just above the big ol' boat – the video above shows you how it works in action. If you have the right cosmetic, Fortnite Fortbyte 70 will appear in the middle of the fourth and final ring. You need to dive through them all to get the prize.
More Fortbytes to chew over:
Fortnite Fortbyte 61
Fortnite Forbyte 69
Fortnite Fortbyte 68
And there you are, that's how to grab Fortnite Fortbyte 70. We imagine you had a thrilling time flaunting your jazzy cosmetics to your piratical audience below but, bear in mind, they'll be looking for some booty. Keep your wits about you, me heartie.