Are you looking for Spider-Man in Fortnite? The legendary wall-crawler has finally made his battle royale game debut in Fortnite Chapter 3. If you purchase the new battle pass, you can unlock the original Spider-Man Fortnite skin to dominate the battlefield in style. The web-slinging fun doesn't stop there, as Spider-Man's web-shooters are going to be made available for all players to use throughout the season.
The latest chapter of Fortnite flips the Chapter 2 island upside down, introducing a massive undiscovered world to explore. Punchcard quests are out this season, so instead, the devs have decided to opt for weekly season quests, including one to use Spider-Man's web-shooters to travel 50 metres in one swing. There's also the new Fortnite victory crown mechanic, which rewards skilled players for wearing the coveted crown with bonus experience points.
Here's everything you need to know about Spider-Man in Fortnite, including how you can unlock his skin in the battle pass, and how to use his web-shooters to swing 50 metres to complete this season challenge with ease.
How to unlock Spider-Man in Fortnite
The Spider-Man skin is available on the ninth page of the Chapter 3 Season 1 battle pass. You need to unlock each item on the previous eight pages before you can unlock the original Spider-Man skin.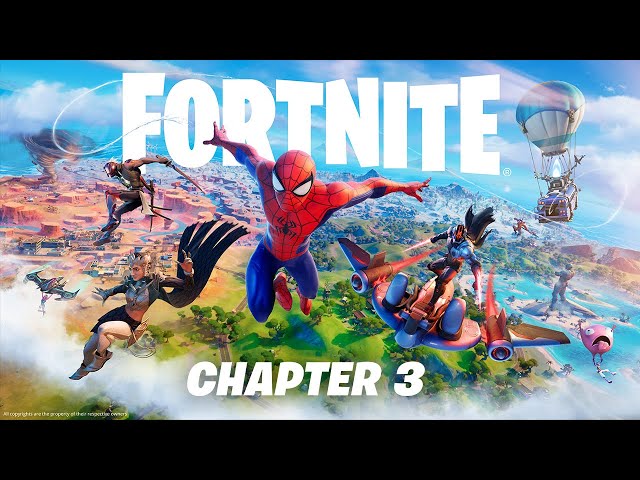 New Spider-Man skins in Fortnite
The Fortnite blog states that new Spideys are going to be available in the item shop throughout the season. We don't know which web-heads are coming to Fortnite, but we can make some educated guesses.
Spider-Man: No Way Home comes to cinemas on December 15, so there's a good chance one of the suits from this movie could be added to the game. Likewise, a trailer for next year's Spider-Man: Into the Spider-Verse 2 was recently released, which leads us to believe that Miles Morales and Gwen Stacey may also make an appearance at some point.
What we know for certain is that Spider-Man's Future Foundation costume was revealed in the Fortnite overview trailer. This costume currently isn't available in-game, but we expect it to be part of the battle pass rewards during the season. The third confirmed costume is Spider-Man's iconic symbiote suit – this can be unlocked by reaching the final page of the battle pass.
How to use Spider-Man's web-shooters to travel 50 meters in one swing
Spider-Man's web-shooters are now in Fortnite as a mythic item. To get them, you need to head to these locations and look for the web-shooters trapped in webbing near bounceable spider webs. You need to interact with the device to pick it up.
Once you have it, you can swing 50 metres easily by building a tall ramp on top of a hill and using the web-shooter to swing from underneath its highest point.
That's everything there is to know about Spider-Man in Fortnite. If you're looking for free games like Fortnite to tuck into, definitely check out our best free PC games list, which highlights excellent games that won't cost you a penny. Finally, if you're catching up on season challenges, we have guides on where to discover the device in Fortnite and how to destroy Fortnite signal jammers.