Buckle in, as Forza Horizon 5 DLSS 3 support is now a thing, and it'll help you tear up the track using Frame Generation. While the GeForce tool is only officially compatible with 40-series graphics cards, Nvidia says you'll be able to "break the 120 FPS barrier at 4K with every setting maxed out," using the power of AI upscaling.
Nvidia DLSS 3 gives the firm's best graphics card contenders a head start in the race against AMD, and it's largely thanks to Frame Generation. The setting effectively fills in any fps gaps during gameplay with AI-generated frames, which in turn helps boost fps beyond native capabilities. While AMD is working on turning its FidelityFX Super Resolution upscaler into a true competitor using 'Fluid Motion Frames' technology, Forza Horizon 5's now-found support proves Nvidia's DLSS 3 shortlist is expanding.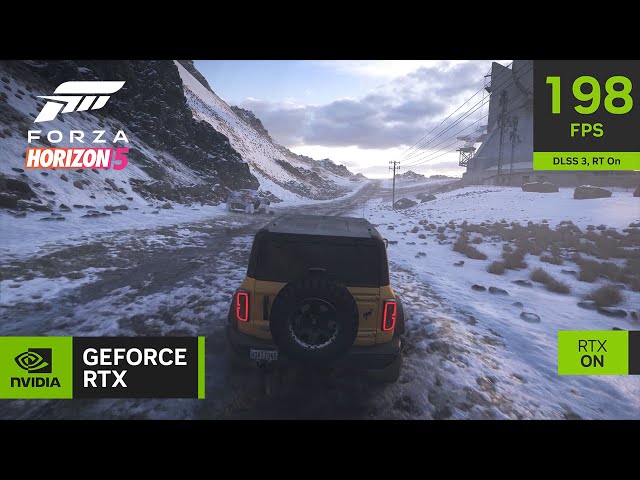 In a press release, Nvidia reveals that Forza Horizon 5 DLSS 3 support is available as of today. The company claims the feature will provide lower the bar to 4K 120fps gameplay, a boon that'll benefit setups that include one of the best gaming monitor options. Of course, cranking down resolution means you'll be able to theoretically achieve greater frame rate heights, but that could ultimately compromise fidelity.
By pairing Nvidia DLSS 3 with the best Forza Horizon 5 settings, you should be able to push performance to the next level. Again, you'll need a GPU like tested in our Nvidia RTX 4080 review, but access to the GPU giant's box of GeForce tricks should become cheaper once the RTX 4060 and RTX 4070 release date comes around.
It might be a stretch, but seeing PlayGround Games embrace DLSS 3 could be a good omen, as it could mean Fable 4 will receive the same treatment. However, it feels like developers normally opt for DLSS 2 integration first, as Frame Generation won't lower The Last of Us system requirements bar when it unlocks on Steam. In other words, it's hard to tell what games will actually gain support for the fancy AI tech, so all we can do is wait.
If you're struggling to run the best racing game frontrunner, you may want to double-check Forza Horizon 5 system requirements. Doing so should alleviate any hardware-specific hiccups holding back performance, especially if your rig is in need of an upgrade.