Hearthstone is set to wrap up its Year of the Dragon with a capstone DLC. Galakrond's Awakening is meant to be the ultimate battle between good and evil, and is a four-part solo adventure that adds 35 new cards to Hearthstone. The first installment arrives January 21.
Galakrond's Awakening is a story told in two campaigns: in one, you'll join the League of E.V.I.L. as they attempt to bring the progenitor dragon Galakrond back from the dead, while in the other, you'll lead the League of Explorers and try to stop Galakrond from making this comeback.
This will play out in a classic Hearthstone solo adventure format. Using pre-constructed decks, you'll face off against a series of bosses, each a chance to earn more of the new cards, which can then be added to your standard and wild decks. Once you've finished both campaigns you'll unlock Galakrond's Awakening's Heroic mode, which ramps up the challenge and lets you use decks built from any of the cards in your collection.
Here's the trailer, in which Rafaam tries to explain what's going to happen to Reno Jackson, but gets a bit carried away.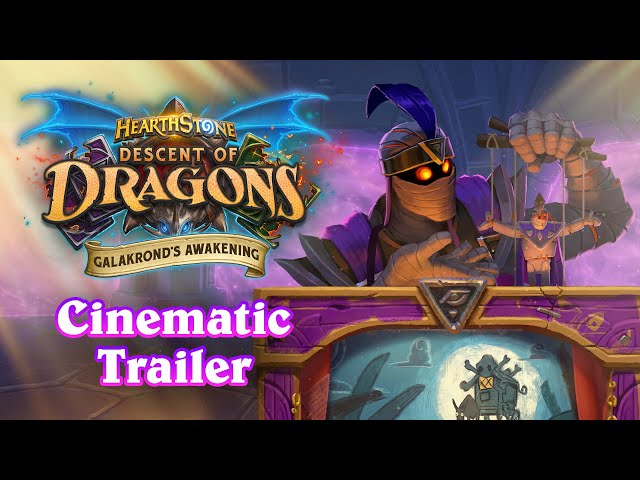 Clearly, this has all been a ploy by Rafaam to get to show off his shiny new Galakrond model.
Each of the four installments of Galakrond's Awakening will include one League of E.V.I.L and one League of Explorers chapter, and they'll roll out weekly beginning January 21. You can buy them individually for 700 in-game gold, or pre-order the whole shebang for $19.99 USD / £16.99. If you choose to pre-order, you'll get a bonus Golden Classic Pack thrown in with the four-part adventure.
However, if you prefer to try before you buy, all Hearthstone players will be able to play the first League of E.V.I.L chapter when the first installment of Galakrond's Awakening launches January 21.