What is the best Honkai Star Rail Bailu build? Make the most of this lilac-haired Lightning user and her healing abilities with the top Bailu build possible in the anime game. As one of the best healers in the game right now, Bailu is a great addition to any team.
As you can see in our tier list, Bailu is one of the best characters that Honkai Star Rail has to offer. As such, it's essential that her build makes the most of her healing abilities to protect her and the rest of your Bailu team comp from the clutches of defeat. Bailu is a five-star character, so you will need to get lucky with your pulls, but you can see from our best Honkai Star Rail team comp that she's worth trying for. So, if you are lucky enough to draw the Lightning user, here's the best Bailu build in Honkai Star Rail.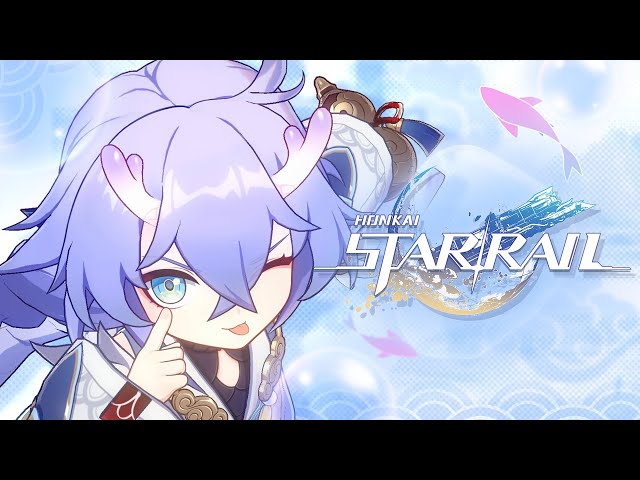 What is the best Bailu build?
The best Bailu build is:
Light Cone – Time Waits for No One
Relics – Passerby of Wandering Cloud
Planar Ornaments – Fleet of the Ageless
Eidolons – Level 2: Pot of Slumbering Dragon
Team comp – Bailu, Serval, Bronya, Pela
The best Bailu build really capitalizes on her healing abilities, keeping her mainly as a background support to heal the rest of the team. As such, most of the best additions to a Bailu build involve increasing her outgoing healing value rather than any damage or attack stats, as well as keeping Bailu herself alive as long as possible with the best max HP available to her.
Best Bailu Light Cones
The best Bailu Light Cones are:
Time Waits for No One (five-star)
Post-Op Conversation (four-star)
Shared Feeling (four-star)
Cornucopia (three-star)
The best Light Cones for Bailu increase her outgoing healing value, as we're building her purely as a healer. Time Waits for No One is recommended in game as the best Light Cone for Bailu, and it increases not only Bailu's own max HP, but also her outgoing healing. This Light Cone also boosts damage dealt by healed allies, giving Bailu a helpful damage ability in battle without actually fighting herself. If you don't have Time Waits, every other Light Cone listed above also boosts Bailu's healing abilities. On top of outgoing healing, Post-Op Conversation increases Bailu's regeneration, and Shared Feeling regenerates allies' energy when Bailu uses her skill.
Best Bailu Relics
The best Bailu Relic is:
| | |
| --- | --- |
| Relic | Effect |
| Passerby of Wandering Cloud (four-piece set) | Increases outgoing healing by 10% and immediately regenerates one skill point at the start of the battle. |
The best Relic set for Bailu as a straightforward healer is Passerby of Wandering Cloud, as this – as with the rest of this build – further increases the Lightning user's outgoing healing. The additional skill point could also help you out in a pinch, as this can be used by anyone on the team, further adding to Bailu's altruistic abilities.
Best Bailu Planar Ornaments
The best Bailu Planar Ornament is:
| | | | |
| --- | --- | --- | --- |
| Planar Ornament | Effect | Planar Sphere | Link Rope |
| Fleet of the Ageless | Increases Bailu's max HP by 12%. Upon Bailu's speed reaching 120 or higher, her allies' attack increases by 8%. | The Xianzhou Luofu's Celestial Ark | The Xianzhou Luofu's Ambrosial Arbor Vines |
The Fleet of the Ageless Planar Ornament is one of the best overall, and you will see it in a few of our best Honkai Star Rail builds. It is particularly special in this Bailu build though, as it stacks with her Light Cone to increase her own max HP. Meanwhile, the ability of Bailu, our healer, to further increase the attack of allies makes a huge difference to the wider team.
Bailu Bailu Eidolons
The best Bailu Eidolon is:
| | |
| --- | --- |
| Eidolon | Effect |
| Pot of Slumbering Dragon – Level 2 | After using her Ultimate, Bailu's Outgoing Healing is buffed by an extra 15% for up to two turns. |
With Eidolons so hard to get on a five-star character like Bailu, we're taking into consideration the usefulness of the Eidolon itself against how long it will take you to actually get it, so the best with this in mind is Pot of Slumbering Dragon at level two. This Eidolon increases Bailu's outgoing healing for two whole turns which, stacked with some of the other healing buffs in this build, considerably aids the survivability of your team.
Best Bailu team comp
The best Bailu team comp is:
Serval – Main DPS
Bronya – Buff
Pela – Debuff
Bailu – Healer
Every Honkai build should consider weakness breaks, and so a Lightning DPS like Serval is a great choice thanks to the additional Lightning damage dealt at a weakness break. For support buff, we've gone for another character that deals damage on a break, but a different type of damage, so Bronya deals wind damage. She also buffs the team's attack and gives allies additional turns, which comes in useful for both attackers and Bailu's own skills.
If you don't have these characters, you can swap them out with characters with similar abilities. Swap Serval out with another strong Lightning attacker like Jing Yuan. Bronya could be replaced with fire harmony character Asta. Finally, Pela could be swapped out for Silver Wolf, as her Quantum Nihilist traits can also take turns away from the enemy.
Bailu Ascension Materials
Here's Bailu's Ascension Materials:
Extinguished Core
Glimmering Core
Squirming Core
Lightning Crown of the Past Shadow
Lightning Crown of the Past Shadow is the hardest of the Bailu ascension materials to farm for as they can only be found in one place, the Stagnant Shadow challenge in Backwater Pass. Luckily, Bailu's other ascension materials can also be found in Backwater Pass, with Cores dropped by Flamespawns and other enemies in that area, as well as in Rivet Town.
With the best Honkai Star Rail Bailu build, you should be able to keep your team going strong throughout the toughest of battles, especially with all those outgoing healing buffs. To build the best Bailu team, be sure to check out the best Honkai Star Rail Serval build, Bronya build, and Pela build. If you're still hoping to add any of these Honkai Star Rail characters to your collection, be sure to check out the latest Honkai Star Rail codes for bonus pulls, or prepare for the next Honkai Star Rail banner by saving up.