Ostensibly, Minecraft: Dungeons is a curious prospect; it's a game that, despite the name of the gargantuan brand to which it's attached, is a dungeon crawler which features neither mining nor crafting. The reason? Developer Mojang are big fans of the likes of Diablo 3 and Left 4 Dead, and sought to mix them with their blocky juggernaut of a franchise.
In an interview with creative director Mans Olsen at E3 2019, he told us "we're big fans, obviously, of games like Diablo and Torchlight". Olsen went on to mention that his team were also inspired by "tonnes of games like Left 4 Dead and Vermintide […] so we're trying to find a way to combine those with what Minecraft is".
In case you hadn't gathered already, like the now-cancelled Story Mode, Dungeons is far from your traditional Minecraft experience. This is a proper Minecraft RPG with abilities, loot, and drop-in/drop-out co-op for up to four players. That said, Minecraft enchantments make their way over from the vanilla version in a similar way, which can augment your gear in absorbing ways.
Either way, to endeavour to combine a world-conquering brand like Minecraft with the likes of some of the best coop and looter games is certainly an ambitious, but exciting prospect. If traipsing through procedurally-generated dungeons is rewarding as survival and creating astonishing Minecraft builds are in the original game, then we're onto a winner.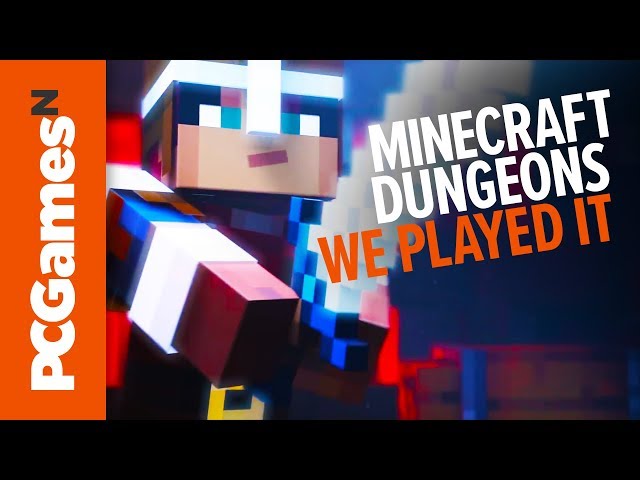 Even better are the promising weapon effects and lighting – which are seemingly made possible by the fact that Minecraft: Dungeons is made in Unreal Engine 4. Minecraft itself was developed in Java, until Mojang created Pocket Edition in the Bedrock Engine.
Crafty: Try these other wonderful games like Minecraft
This leaves us with plenty to sink our teeth into ahead of next year's Minecraft: Dungeons release date. Mojang has been fairly quiet following the reveal of the dungeon crawler at Minecon in September 2018, but now we're even more ready to spend even more hours in Mojang's blocky universe.