Looking for a Minecraft Hogwarts map? As you can build virtually anything in Minecraft with enough time and dedication, players have build many of the most popular buildings from popular culture over the years, so of course the Harry Potter franchise would have the same treatment. There are plenty to choose from, but this build from The Floo Network is top of the class.
With so many Minecraft maps out there, it can be hard to know where to start. There are hours upon hours of Minecraft mods, interesting seeds, and even multiplayer servers to keep you busy in the sandbox game, but if you're specifically looking to start your wizarding education in Minecraft, then you can do so by downloading this Minecraft Hogwarts map.
How to play the Minecraft Hogwarts map
To play the Minecraft Hogwarts map, you must be playing on Java Edition 1.16.3. Follow the link on Planet Minecraft, and on gumroad.com, you are given the option to download either the map installer, which does the hard work for you, or one of two manual downloads: normal, or light. Download the light version if you are playing on a low-end PC for smoother running.
Once you have downloaded to appropriate zip file, copy it into the Minecraft 'saves' folder on your PC, right click, and select 'Extract All', keeping the file location the same. Open Minecraft Launcher, and your map will appear in your single player worlds list.
To find your Minecraft 'saves' folder, type %appdata% into your search bar, and open your AppData folder, inside which you should see a folder named '.minecraft'. Inside here, you will find your saves, screenshots, datapacks, and other Minecraft files and folders.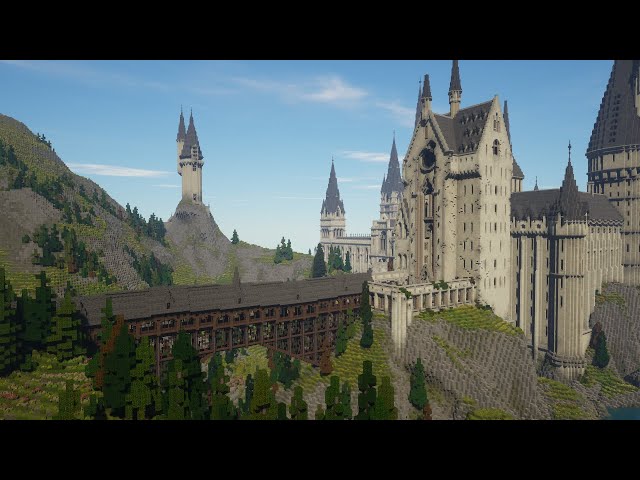 Minecraft Hogwarts map features
Created by modding group The Floo Network, the creation's humble name, 'Witchcraft and Wizardry', doesn't do justice to what it brings to the game. As you can see in the clip below, just about all of the iconic features of Hogwarts and the world of the Harry Potter books are represented faithfully, brick-by-brick. There are shots of Hogwarts' enormous, labyrinthine network of halls, dungeons, classrooms, and towers, populated with puzzles, nuisances, and, well, magic from the series' universe.
So where exactly can you go in this Minecraft Hogwarts map? You can explore the picturesque suburban street of Privet Drive, as well as the entirety of Hogwarts School for Witchcraft and Wizardry. Entering its chambers, you can find huge banquet filled with delicious food and candles hanging as if by magic. There's also the many hallways and stairwells, decorated with paintings of famous students from the school's history, and a library full of towering bookshelves.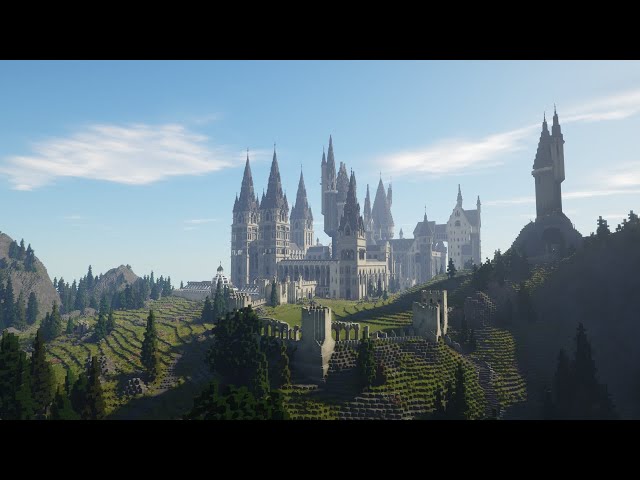 It's not just a map either, as you can cast spells with your magic wand, explore dungeons with magic-based challenges, go shopping with friends in Diagon Alley, or even encounter some of the fantastic beasts like the Cornish Pixies or terrifying Dementors. You can even play Quidditch!
The map has been updated to include a full RPG storyline, complete with all the Harry Potter trimmings you might expect. Everything from buying your first wand, school books, and robes at Diagon Alley, to experiencing your first flying lesson at Hogwarts. We won't ruin any of the big story surprises, but let's just say you may have to cast a Patronus Charm to ward off any potentially baddies lurking in the dark…
Best of all, in Minecraft Hogwarts' grounds, you can find everyone's favourite half-giant, Hagrid, tending to his gamekeeping duties. "Thank you so much for your support and kind words throughout this project," the creators say in the mod's Discord server. "This map has taken us years to complete and without the love and support, we would never have gotten this far. We are happy to finally share the completed map with you!"
If you've been inspired by this remarkable Minecraft Hogwarts adventure map and want to build a mammoth world of your own, check out some of our favourite Minecraft builds for inspiration, or some of the best Minecraft house ideas if you want to start smaller.