Looking for some of the best Minecraft houses for inspiration for your next build? Here, you'll find some cool house ideas to help you structure your next creation. There are so many themes and materials at your disposal, so we've dug deep into the Minecraft house designs available to set you on your way to creating your dream home.
Whether you're an adventurer, builder, or redstone engineer when playing one of the best PC games of the decade, you still want a nice cosy home to go back to at the end of a busy day. And while constructing your perfect Minecraft house is a time-consuming venture, nothing beats that feeling you get when you gaze out the window from the confines of your cosy cabin, hilltop hideout, or towering treehouse in the building game. Whether or not you boost the look of your builds with Minecraft texture packs or Minecraft shaders, these house ideas will look stylish in any world.
Here are some cool Minecraft house ideas:
Cherry wood house
As soon as the new pink wood variant was announced, it was obvious that the best Minecraft builders would create some stunning houses with cherry logs. Cute Minecraft builds and cottagecore styles are among the most popular Minecraft houses, so what better than a pink wood family to build your pastel dream house with.
The Minecraft Cherry Grove biome isn't even in vanilla Minecraft yet, being added this year when the Minecraft 1.20 update release date arrives, but since it can be tested in snapshots already, there are some incredible pink-themed houses popping up, and the above build by Marloe is just one great pick of an incredibly fruitful selection.
Bamboo wood house
OK, so bamboo planks might not be the best looking wood variant Minecraft has ever seen, but it's pretty unique – and bamboo rafts are awesome. If you're struggling to work bamboo into your next build, take some inspiration from Linard, who has a few YouTube shorts making use of the unique wood set.
Since these are shorts, their not as easy to follow as tutorials, which is why we've chosen to showcase the simpler small house above, but whether you follow it block for block or use it as inspiration, you'll hopefully wind up with a pretty cute bamboo Minecraft house.
Build your bamboo house in a jungle full of the stuff and against the coast so you can place some bamboo rafts around your jetty and sail off at will.
Mangrove house
Mangrove wood might at first appear a difficult colour to build with, but its beetroot red hue actually fits into a range of Minecraft block palettes. You can find an array of Mangrove wood house tutorials with a quick search, but we've chosen to highlight this cute one from Dio Rods not just because the tutorial itself it pretty cool, but the house build is small and simple, which is a great place to start with this wood – and this biome. And gives you a chance to try out more houses from this guide, so why not place a simple starter base in each biome!
Cottagecore house
With the best shaders installed, Minecraft can look truly idyllic, especially when surrounded by mushrooms or meadows. That's why the cottage and fairycore themes are among the most popular to build in Minecraft, giving you a cute and cosy place to live. There are so many cottagecore builds we could have chosen, with some surrounded by flowers, and others with mushroom roofing, but this tutorial by Foxel is our favourite pick thanks to that adorable and innovative mine entrance under the house.
Minecraft cottage
This Minecraft cottage design is similar to the cottagecore house, but a bit smaller and easier to build. Much like a real-life woodland retreat, it offers just enough room for all the necessary utilities, so you don't need an excessive amount of building materials. Don't forget to add a flower garden once you're done!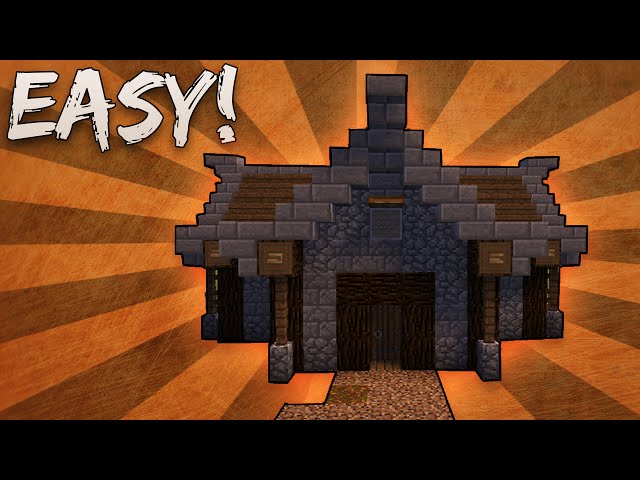 Small Minecraft medieval house
Medieval houses in Minecraft come in all shapes and sizes. You may want a sturdy Minecraft castle built of stone, host to gothic cobblestone features, eerie fireplaces, and a hidden lair – especially stunning since the addition of Cobbled Darkstone. Maybe you're looking for a simple rustic village dwelling fashioned from oak, encompassed by a canopy of trees or placed in a rural green hideaway. Our favourite of the bunch has to be this combination of the two, with all the grand stonework of a castle, paired with barn-like features. This cosy, simple build means you won't get too bogged down in the design aspect, saving you time to explore.
On the other hand, if complex constructions are in your wheelhouse, check out our rundown of the very best Minecraft builds if you're thinking of turning your house into a palace.
Large Minecraft medieval house
If the previous Minecraft medieval house idea is not quite up to your standard, try this epic medieval mansion. True, it will take a lot of time to build it (see 0:14 for an overview of the resources needed), but every noble lord in the neighbourhood shall be green with envy.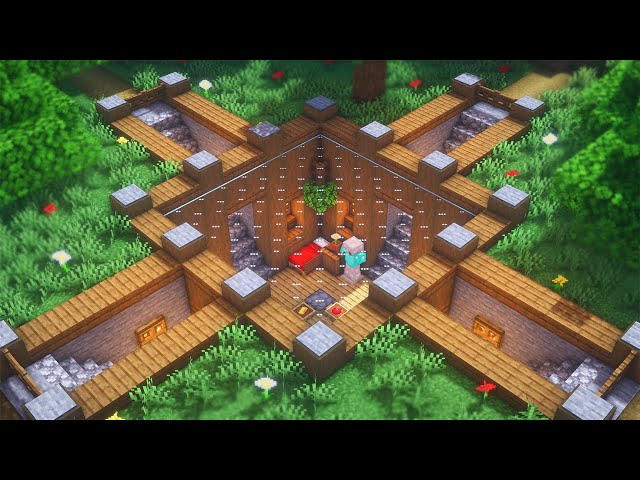 Underground base
A more recent trend for Minecraft houses is to construct a basement property, with stairs leading to the entrance to your underground base. To make this unique living quarters, you'll need to hollow out the area in which you want to construct your base. Then, when you've built up the walls, stairs, and everything else your property needs, you can stick some glass on the roof to allow some sunlight to shine through. If you're particularly keen on keeping plants indoors, this is a great option.
This can be tough to keep efficiently lit at night, but that's nothing a few torches or glowstone blocks can't fix. Do you want to know the best part? Because this is in Minecraft, you won't ever need to worry about mould forming on the walls. Just be sure to have sufficient fencing surrounding your house, otherwise you could have a rather rude knock at your door at night.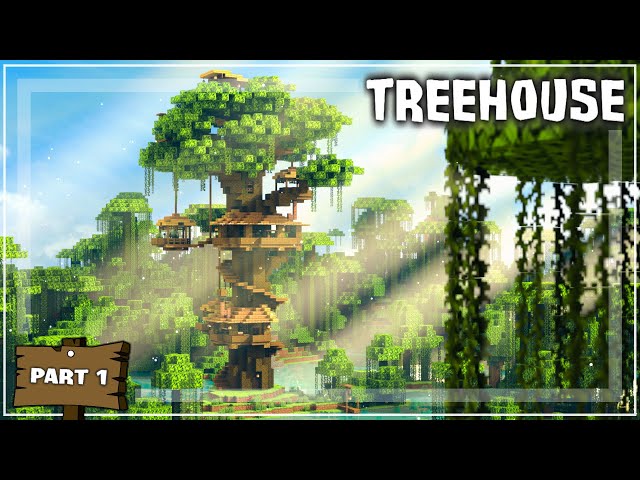 Minecraft treehouse
These Minecraft houses aren't for vertigo sufferers, but Minecraft treehouses are a great way to escape the creepers that come out at night to save you time repairing your Minecraft shield. Treehouses are also a simple way to get a great view of the local area, or a vantage point to shoot arrows at Minecraft mobs.
You can build your new home perched atop a tree, or build a brand-new tree from scratch. Getting the base right is essential in the construction of your Minecraft treehouse, whether you want a tree that functions as a house, or a house at the top of a tree. This concealed and peaceful home, adorned with rose bushes, featuring a nifty trapdoor is a great place to start. Just make sure to include a ladder, or you won't be able to get back in.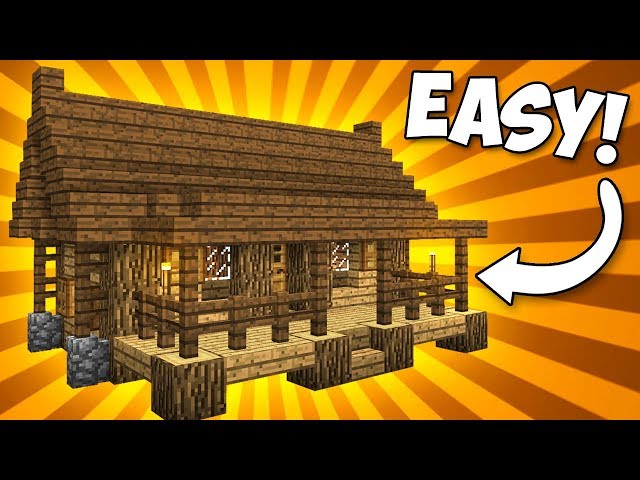 Minecraft wooden House
Your wooden house in Minecraft can be as big or small as you like, from wood-panelled palatial mansions to cosy log cabins positioned on the outskirts of a Minecraft village, you can let you imagination run riot as long as you have the supplies. Wooden houses are extremely versatile, easy to gather materials for, and can be created to suit your Minecraft needs. If you fancy extending it later on to create more rooms, then the relative ease at which you can gather materials makes a wooden house an attractive proposition. Also, this sweet wooden cabin comes with a porch, so you can relax and take it easy before setting off on an adventure. If you feel like changing it up, you can replace wooden house designs with any of the ten Minecraft wood types, including new Tales and Trails bamboo planks.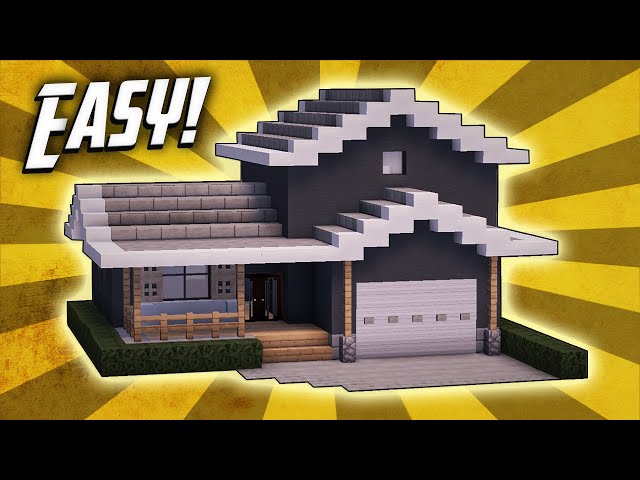 Suburban house 1
If you're looking for something simple, practical, and perhaps familiar, this suburban Minecraft house might be to your liking. It's got all the features of a typical suburban home: two storeys, a garage, and a porch. Despite its humble nature, it's still a good-looking build made up of concrete, stone, and quartz. You're also free to make the rooms a little bigger if you so wish, but do keep in mind that you'll have to scale everything up in order to keep it looking homely.
Suburban house 2
This suburban house is slightly bigger than the one above, and perhaps even more suitable for your new residential area. It simply rocks the pastel-grey colour, garage door, slick pavement, and well-trimmed hedges. As would be expected, you'll find an equally contemporary interior design behind the front door.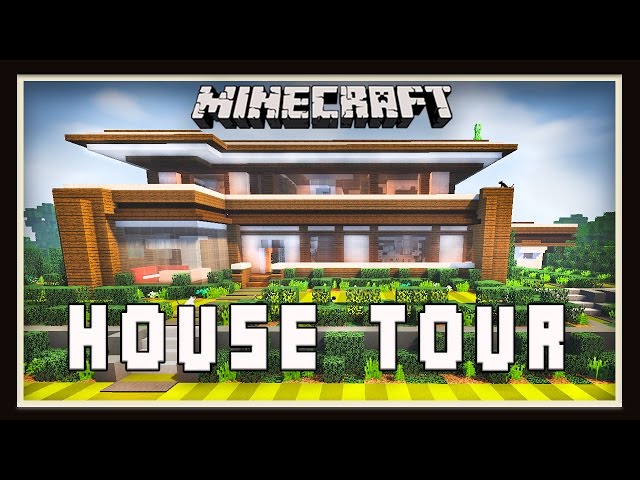 Large modern house
If a rustic abode isn't your style, there are plenty of modern Minecraft house designs to choose from. Materials needed are a little harder to come by. They include stone, slabs, and clay to mould your modern crib, complete with large glass windows and a balcony to soak up the views. As such, modern houses take more time to plan and build, so you will need to be dedicated and have everything prepared in advance. We love the modern house design in the video above, with its floor-to-ceiling glass walls and stunning landscaped garden, complete with grass hedges and a meandering lake.
Small modern house
If the prospect of building the large modern mansion above is a little too intimidating, here's a smaller Minecraft modern house for you to try first. With its sleek white walls, large glass windows, and square rooms, it absolutely rocks the contemporary look. The best thing about it is the tutorial itself though, which is very easy to follow.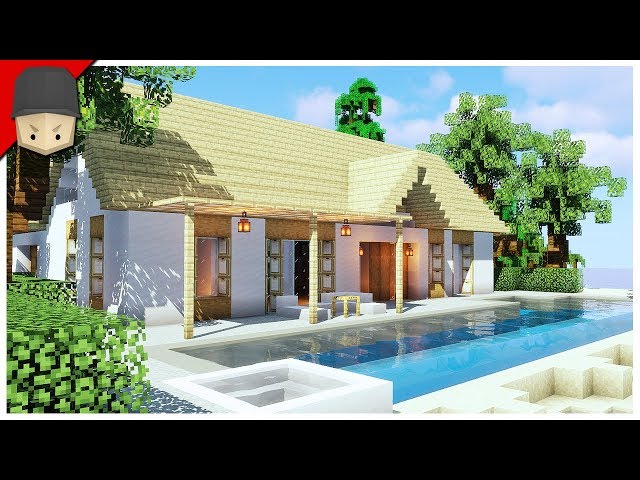 Beach house
Perhaps your starting location is somewhere close to the coast and you want something a little more fitting for the local area. Whether your idea of a beach house is a ramshackle hut nestled on the water's edge, or a serene three-tiered mansion complete with a swimming pool, there are tonnes to choose from. Our favourite is the unassuming, easy-to-build villa above. It has a clever use of trap doors as decorations but takes quite a lot of quartz blocks to construct. It has a small pool to tip your tootsies in, fitting for a relaxing end to a hard day's adventuring.
Japanese house
If you're after a tranquil home, intricately built using vibrant and traditional colours, this Minecraft Japanese house build by Zaypixel is a doddle to build. The main materials for crafting this are cobblestone, dark oak, spruce, Prismarine, and sandstone – and you can surround it with blossom trees using pink wool. Our favourite detail is the prismarine roof, which contrasts nicely against all the dark oak.
As long as you've got the materials to hand, you can have a peaceful Japanese house up and running in Minecraft in no time. Plus, a lot of the extra details, not to mention the interior, can be designed to your preference. When you've finished constructing the Japanese house, maybe you can then create a garden complete with ornate bridges running over a pond filled with fish (brought over with a bucket).
Minecraft villa
If you want to relax by the pool with a cool drink in hand, you'll need your very own Minecraft villa, and luckily with the help of this video tutorial from BlueBits, it should be relatively easy to end up with something beautiful. With three floors and an adjoining tower, this design is certainly intricate, so we suggest taking the main structures and patterns and then adapting them to fit your specifications.
You'll need a lot of terracotta, smooth sandstone, bricks, and concrete to get the foundations laid, but once you get the bare bones built, you can fill it with these luxury Minecraft kitchen ideas. You can also make it into a rustic villa by adding some of our Minecraft farm designs.
Easy survival house
A great Minecraft survival house is compact, easy to build, safe, practical… And nonetheless stylish. Not only does this wooden structure offer just enough room for the necessary survival utilities and storage, but it also incorporates a small space for farming, thereby using a highly efficient irrigation system. None of the features in this Minecraft house are very difficult or time-consuming to create, leaving you with plenty of time to explore.
Cute house
We've searched for the cutest house in Minecraft, and we've got a winner: this adorable bunny-shaped cabin. Doesn't need much explaining, does it? It even comes with carrot-shaped decorations! As you might expect from a cute house, it's very small, so you won't need many resources. Furthermore, most of the materials consist of wood and wool, which shouldn't be hard to find.
Small starter house
If you're new to Minecraft, you may be looking for a relatively simple starter house: small, made from basic resources, and easy to build. This wooden house design meets all of those requirements, and it looks amazing too. Take special note of the interior design, as it will help you make use of the limited space in an efficient way.
Large starter house
If you want to build a large starter house instead of the more basic one above, try this handy beginner cabin. The video includes every practical space you could possibly need, such as a library for enchantments, a bedroom with a magnificent view, a massive farm, and even a secret treasure chamber. It's mostly made from wood, so you can start building right away.
Mushroom house
When we say "Minecraft mushroom house", we literally mean a house inside a giant mushroom. Creating a realistic-looking mushroom is very challenging, but luckily for us, YouTuber BlueNerd made an incredibly handy step-by-step tutorial. As mentioned in the video, you might want to swap the white terracotta blocks for white concrete if it looks too pink.
Easy Minecraft house 1
Sometimes all you need is an easy Minecraft base. No complex designs, no rare materials, and just enough room to fulfil its purpose. As this easy house idea only requires wood, you can easily finish it on day one in a new Minecraft world. Despite its simplicity, the house still looks stylish, and you may use the creator's easy decoration suggestions if you wish to add a little flair.
Easy Minecraft house 2
Here's another Minecraft easy house build to use on day one. This cave design is quite simple but very efficient, as you only need to remove some dirt and stones to create the main space. Note that this requires the use of a pickaxe, so it may be a bit harder to complete this house on day one if you're a new player. Additionally, you may save the glass wall design for later.
Hobbit hole house
The Minecraft hobbit hole house is quite a popular build, but this interpretation absolutely nails the original Bag End look. As seen in the Lord of the Rings movies, the hobbit house is situated inside a small green hill behind a round, green door opening with adjacent round windows. It has a similar wooden interior complete with more round entryways, plus a lovely little flower garden and chimney outside. The secret greenhouse at the end is optional.
Small Minecraft house 1
You really don't need more than two square metres of living space in your Minecraft house. No really, we're not exaggerating; this tiny house is only three by four metres, but it has everything you need, including a bed, workbench, furnaces, and storage space. Oh, and let's not forget about the tiny rooftop farm. Yup, the creator of this small Minecraft house truly thought of everything.
Small Minecraft house 2
Let's take that a bit further, shall we? Who needs two square metres if you can live on one? This teeny, tiny, ridiculously small Minecraft house created by BigTonyMC is only three by three metres, including the walls. It's just as efficient and adorable as the previous design, but it looks completely different. If you prefer sturdy, stone walls, this piece of bite-sized brilliance may be the best small house for you.
Log cabin house
Most wood cabins in Minecraft are made from processed wood, or as we usually call those; planks. Nothing beats the cosiness of a true log cabin though, especially when it's placed in a snowy winter wonderland. This little log cabin design predominantly uses oak logs, spruce logs, and stripped spruce logs as building materials to recreate that authentic look. Top that off with some decorative cookies, cakes, and snowberries, and your perfect winter cabin is finished. Is it Christmas yet?
Country farm house
This Minecraft farm house is one of the most beautiful and accurate designs out there, complete with farmland, storage buildings, and a barn for your animals. The farmhouse itself has a large porch and tons of decorative details. It'll undoubtedly take some time to recreate this farm, but that's mostly because of its size. The important resources, wood and brick (clay), aren't too hard to come by.
Jungle tree house
A proper Minecraft jungle house should always involve a tree in its design, right? This little jungle base created by MegRae uses a rather simple wooden structure that fits around any large jungle tree, making it very easy to recreate in your own Minecraft world. You don't need more than a few stacks of jungle wood, jungle leaves, and torches, leaving you more than enough time to explore this dense biome.
Desert house
With its use of sandstone, wooden details, and layered style, this Minecraft desert house will be a true eyecatcher in an otherwise barren landscape. The most important building material is smooth sandstone, which is made by smelting normal sandstone, so it shouldn't be hard to get. Despite the modest size of this desert house, the end result looks like a tiny palace that wouldn't be out of place in a thousand-and-one-nights fairytale.
Viking house
A typical Viking house is made of wood, has a triangular shape, and uses crossed wooden beams at the top of its roof. We understand that time is short in between raids, so here's a relatively simple Minecraft Viking house tutorial from TheWalkingWhale that looks awesome, is 100% historically accurate (sort of), and explains exactly how to create those typical Viking features. Skal!
Cave house
The great benefit of a Minecraft cave house is that you can build it anywhere as long as there's solid ground. That said, turning a cave into a good-looking home can be tricky due to the uneven floors and walls. This handy cave house tutorial by TheMythicalSausage offers some great tips on how to create a practical layout and make it look natural at the same time. Try using slabs and upside-down stairs, and you'll have an amazing underground base in no time.
Brick house
This small brick house by Tanol Games uses the classic red brick blocks combined with grey stone bricks, which creates a nice colour pattern. It comes with several classic details, such as a small porch, roof windows, and a chimney. Most importantly, however, it doesn't require an enormous stack of bricks to build this house, saving the survival mode players a lot of time.
Lake house
You can build a Minecraft house near a lake, a Minecraft house in the middle of a lake, or, and that's the one we prefer, a Minecraft house on a lake yet still connected to land. This particular lake house design uses only wood and glass, making it fairly easy to build. It starts with a wooden pier leading onto a larger wooden platform, then details the structure of the house. Make sure you don't miss the handy layout at 01:36.
Cliff house
Minecraft cliff houses that defy the laws of gravity always look super impressive, so naturally, we want one too. This cliff house, which is made from wood and stone, rocks the 'overhanging' front design, complete with decorative support beams. What's especially handy though, is that the creator is actually walking and climbing instead of flying, showing us how to recreate this cliff house in survival mode without falling to our deaths.
Underwater house
While it's arguably easier to go for a half-submerged house, let's go for the real deal and build ourselves a fully submerged underwater base. This glass igloo design by Random Steve Guy offers an amazing view at Minecraft's underwater world, and it doesn't even require any rare building materials. As mobs aren't fond of swimming, this underwater house is well-suited for survival mode. The main difficulty is finding some sponges, as you'll need them to drain the water.
Fairy house
If fairies were to take up residence in your Minecraft world, surely they would want to live in a cutesy pink cottage with flowers growing on the rooftop, right? This pretty fairy house design made by sillyblocks is highly detailed, yet very beginner-friendly thanks to its use of basic resources. Let's plant some more flowers!
Victorian house
This Victorian house design by WBC Builds nails the tall, pointy, gothic look of the nineteenth century's architecture. Even more impressively, it's based on a real-life Victorian gatehouse. The archways, high windows, and brick walls are exceptionally accurate, and not too difficult to recreate. If you're a survival player, however, you might want to use wood instead of bricks as it's much easier to collect.
Witch house
This Minecraft witch house in the shape of a witch's hat is by far the spookiest place to live. As you might expect, it's full of odd decorations such as candles, pumpkins, mushrooms, and amethyst, so be prepared to do a ton of material gathering if you wish to create it in survival mode. If you do, however, we're pretty sure that even the zombies will give your house a wide berth.
Fantasy house
A pointy tower, bright orange roof, balconies, red roses… Yes, this is definitely a fantasy house. While it doesn't take magical powers to build it yourself, note that this Minecraft house uses a great variety of materials, which would require you to visit several biomes in survival mode. Gathering quartz may be especially time-consuming, but you can always swap to a more standard material like diorite.
Haunted house
This haunted mansion won't be easy to replicate, but its creepiness and spooky details make it worth the time investment. After all, you can't have a Minecraft haunted house without a multitude of mysterious rooms to haunt. If you're attempting a similar haunted house build in survival mode, you might want to swap the blackstone for another type of stone or dark oak wood, as blackstone will be hard to gather. Another tip: don't hold back on the lanterns and cobwebs once you're done with the main structure.
Nether house
This Minecraft nether house tutorial by Reimiho is complex yet easy to understand, all thanks to the creator's top-down layouts and use of overworld examples. As you might expect from a true nether house design, it's predominantly built from resources found in Minecraft's nether underworld, such as blackstone and warped stems. This may seem intimidating if you're not playing in creative mode, but once you've gone through that Minecraft Nether Portal, they actually aren't that difficult to find. Watch out for dangerous nether mobs though!
Minecraft blueprints
If you need a hand building your house from scratch, blueprints for your Minecraft house are a great place to start. There are a ton of Minecraft blueprints available online that'll take you through the step-by-step layers to building up a Minecraft house, including the materials you'll need to build your dream home. Grabcraft is a great source of blueprints for a variety of homes such as cosy cabins, medieval castles, and quaint fishing huts.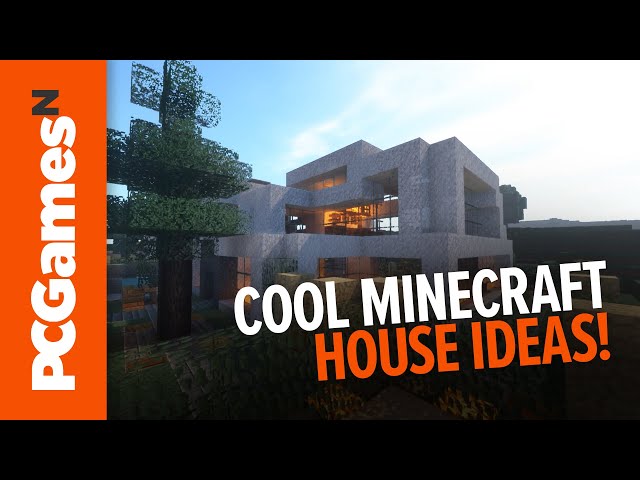 These Minecraft house ideas are the ideal start point if you're looking for some inspiration on your next build, and we'll look to adding a cherry wood house once more people have experimented with the new material after the 1.20 Trails and Tales release date. If you want somewhere to call home when you return from fighting enemies or a place to brew potions in Minecraft, creating a house is both satisfying and rewarding. If you want to experiment a little further with some Minecraft mods, here's how to install Minecraft Forge to keep them all in one place. Searching for even more inspiration? Check out our Minecraft ideas guide to see some truly fantastic designs.
Additional contributions by Danielle Rose and Gina Lees.