As Rainbow Six Siege unveiled the new operators Amaru and Goyo coming with the Y4S3 update Ember Rise, fans noticed pretty quickly that the pair's loadouts lacked any new firearms. Amaru can pick between the SuperNova shotgun (which already appears in kits for Hibana and Echo) and the G8A1 LMG carried by IQ. Goyo can choose from Mira's Vector .45 ACP and TCSG12 semi-automatic shotgun from Kaid's loadout.
The Siege community isn't thrilled, particularly after similarly "recycled" loadouts for Operation Phantom Sight's operators, Nøkk and Warden, last season. New operators should mean new weapons, especially for season pass holders – or so the argument goes, as Dot Esports has pointed out.
The reason for the lack of new firearms comes down to the number of weapons already in the game, as Siege presentation director Alexander Karpazis explained to us during the Raleigh Major last weekend.
"The most important thing when we're talking about weapons is making sure that they work with the kit that we're designing," Karpazis said.
The signature characteristics of any new Siege operator are their new gadgets, which tend to determine their roles within the game and how they're going to impact the Siege meta. Karpazis said it's those gadgets that get worked out first, with the weapons loadout made to complement those core traits.
"So with Amaru, she has to have that shotgun with her so she can open up hatches for herself," Kapazis explained. "For Goyo, we wanted to ensure he had the flexibility so players can choose what role they want to be."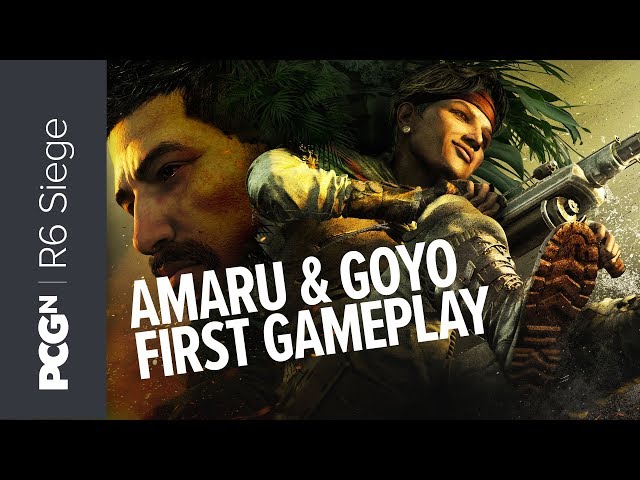 At this point, the chances are fairly good that there's already a gun in the game that fits the bill – Karpazis said Siege currently has more than 90 different weapons, ranging from pistols to light machine guns. With an arsenal that broad, there aren't many gaps left to fill in with new weapons designs.
"You get a bit of diminishing returns whenever you introduce new weapons and you're tweaking them," he said. "So we would rather focus on a balanced operator with weapons that fit their kit and make sure they work first."
Whether that satisfies frustrated Siege players remains to be seen. But for now, the Rainbow Six Siege Ember Rise release date is most likely going to be the second week of September, which is when Amaru and Goyo will head out into the wild.