An image depicting Rainbow Six Siege's next defender has been revealed, giving us a closer look at the new operator for Y4S2. A picture of the character, named Warden, appeared on Uplay last night, and was captured by Rainbow Six Siege YouTuber CoreRoss.
It's only a glimpse, but the photo is the closest look we've had at the new character, who is a US Secret Service agent. A tweet earlier this week showed us the back of both Warden and new attacker Nokk, but the new image offers much more detail. Warden's wearing the suit and tie combination that you'd expect from the Secret Service, as well as what appears to be a bulletproof vest.
Warden's also rocking a sweet pair of sunnies, some headphones, and an extremely flashy timepiece on his left wrist. I'm not sure about the relevance of that watch, but those other two accessories would appear to line up with leaks that suggest Warden will have some kind of immunity to flashes and smokes. We're likely to find out more information on that front in the next day or so, so keep your eyes peeled.
Yesterday, we got our first look at the terrifying new attacker, Nokk, and also learned that Rainbow Six Siege's next major update will be called Operation Phantom Sight. Given Nokk's apparent ability to disappear and Warden's own magical eyesight, I'd suggest that could prove a pretty accurate title.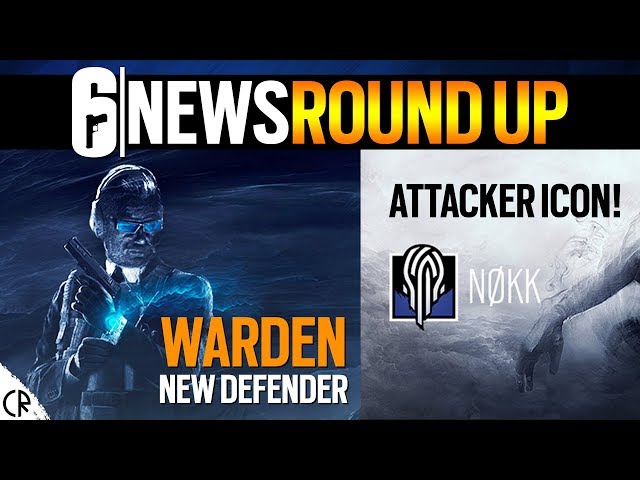 As mentioned above, I expect we'll get a better look at Warden some time this week, so hopefully it'll be slightly more clear how those special eyes work. Until a full-blown announcement from Ubisoft, however, we'll still be doing a little guess-work.
Related: Here are all the details on Rainbow Six Siege Year 4
Elsewhere in Rainbow Six Siege, Ubisoft is wrestling with the return of the dreaded shield exploit. Fixes are being looked into, but for now, it might be worth steering clear of Jager and IQ as much as possible