Building and upgrading your Starfield ship is, naturally, set to be a huge component of the upcoming space game from the RPG veterans behind Fallout and Skyrim at Bethesda Games. As we wait for more news to arrive, the eager community is pulling apart every inch of the gameplay we have, searching for any modicum of potential new information – and it looks like you'll be able to grab loot directly from destroyed ships after Starfield space battles.
With Bethesda saying to expect news on the Starfield release date "very soon" and plans in the works for a fully fledged, standalone Starfield showcase courtesy of Microsoft, it seems likely that we'll be flooded with fresh footage to fulfil those interstellar cravings. In the meantime, however, eagle-eyed enthusiasts have spotted a very intriguing UI element that could tell us a lot about how space looting might work.
During a Starfield gameplay trailer, a sequence showing off the space combat against Crimson Fleet Ghost ships – one of the Starfield factions you'll encounter on your travels – there's a blink-and-you'll-miss-it moment where the player blasts apart one ship and turns immediately to fire upon another.
Between the explosion, the rapid change in focus, and the overall speed of the whole thing in action, it's easily missed, but pause at the right moment and there's actually a very clear diamond-shaped 'loot chest' icon that pops up over the destroyed hull. This seems like fairly clear-cut evidence that you'll be able to nab resources from defeated enemy craft.
There's no clear indication how you'll actually go about picking things up yet. Perhaps you'll just be able to tap a button as you zoom past and handily suck everything straight into storage on the fly, or maybe you'll actually have to park up and extract the resources directly. Given Bethesda's history, the obvious method would be a floating pop-up menu as you approach that lets you manually pick out components, but perhaps they'll opt for a more involved method than their past games.
Either way, it's another testament to just how committed the Starfield community is to pulling apart every last frame of information while they wait for more news. You can see the moment between 11:43 and 11:45 in the trailer below, though you'll probably want to slow down your playback speed or nudge through frame-by-frame (this can be done using the < and > keys on your keyboard) if you want to catch a clear glimpse.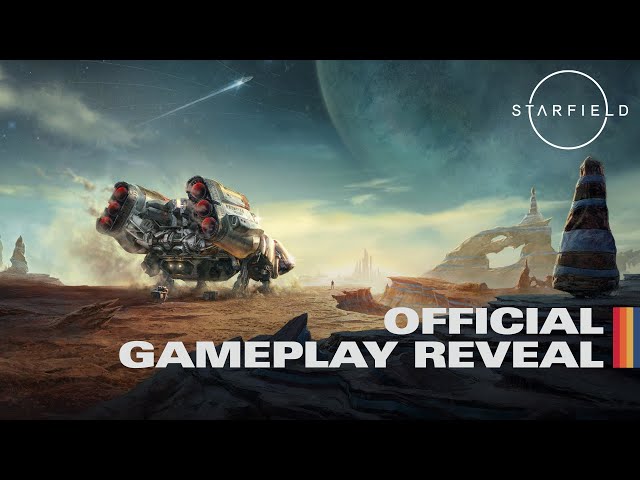 Todd Howard has previously described Starfield ship combat as a blend of MechWarrior and FTL, so we can't wait to get our hands on the final thing. If you're eager for more news ahead of the showcase, we've got everything you need to know about the Starfield cities you'll be visiting, and how Starfield base building works.
You'll also be able to play Starfield on Game Pass, as head of Xbox Phil Spencer says Starfield is "really important" for the Microsoft subscription service. In the meantime, take a look at more of the best open-world games on PC, along with some of the best RPG games you can play right now.