What are the Steam Deck prices? The Steam Deck is a marvelous machine, packing a surprising amount of power into a portable package that's also available at a reasonable cost. The price you pay for one will ultimately be determined by which model you opt for, but you can save yourself a few bucks with a bit of luck and patience.
Since our Steam Deck review, the handheld has come along leaps and bounds with countless improvements to SteamOS and Proton, resulting in a much more polished experience. These changes have allowed the number of best Steam Deck games to grow into the tens of thousands, making the Steam Deck price all the more palatable.
What are the Steam Deck prices?
The Steam Deck prices start at $399 / £349 for the 64GB model, with the 256GB version coming in at $529 / £459, and the 512GB edition topping out at $649 / £569.
The best Steam Deck prices are always those set by Valve itself, with third-party sellers on Amazon and other stores charging an additional premium for the device. As such, we strongly recommend only purchasing a Steam Deck via the Steam store.
If you're looking for discounts on the Steam Deck price, your best bet is to wait for a Steam sale. Previously, Valve has offered a Steam Deck discount of up to 20% for the 512GB model, making it just $519.20. The other versions of the Deck also got a price cut, albeit a smaller 15% for the 256GB version and 10% for the 64GB.
Alternatively, if you don't mind your portable PC being entirely brand-new, you could strike lucky with the Certified Refurbished Steam Deck program. Prices here start from $319, making it the cheapest way to get a Steam Deck, but stock is understandably very limited.
What are the Steam Deck specs?
The Steam Deck specs center around a custom quad-core AMD Zen 2 APU with eight RDNA 2 compute units, paired with 16GB of LPDDR5 RAM. This chip was built specifically to provide a good balance of performance and power consumption, with a TDP of just 15W.
Steam Deck specs
CPU
AMD Zen 2 (4 Cores / 8 Threads)
GPU
AMD RDNA 2 (8 CUs)
RAM
16GB LPDDR5 5,500MHz
Storage
64GB eMMC
256GB NVMe SSD
microSD card slot
Display
7-inch IPS (1280 x 800 / 60Hz)
Battery
40Whr
OS
SteamOS 3.0
The Steam Deck screen uses a 7-inch IPS panel, with a native resolution of 1280 x 800 and a refresh rate of 60Hz. This pales in comparison to the likes of the ASUS ROG Ally, but Valve employees have already voiced their wishes to build a Steam Deck 2 with a superior screen.
When it comes to storage options, the Steam Deck comes in three flavors of capacity: 64GB, 256GB, and 512GB. While you can swap out the SSD inside the handheld, it's much easier to slot in the best microSD card for Steam Deck since you don't have to open up the device.
Instead of Windows 11, the Steam Deck uses SteamOS 3.0, Valve's own operating system based on Arch Linux with KDE Plasma 5. As such, the Proton compatibility layer is used to get games running on the Deck, leading to the creation of the Deck Verified system.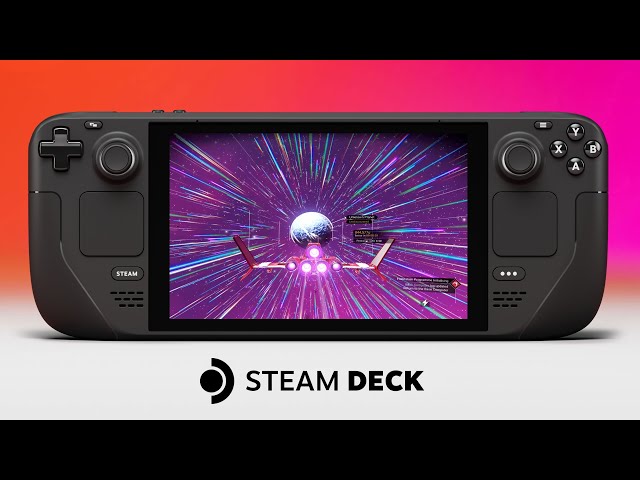 Steam Deck benchmarks
Steam Deck benchmarks show that while Valve's portable PC is more often than not a perky powerhouse, there are some games that are simply too much for the device to handle.
For example, Baldur's Gate 3 Steam Deck performance sees the verified title run at 30fps using medium settings at 1080p, which can be boosted with the use of upscaling technologies like AMD FSR. This is an impressive feat for the device, given how demanding the RPG game is.
However, with games like Returnal being nigh-unplayable and Remnant 2 on the Steam Deck being a wake-up call for Valve, the device may be hitting its limits with modern releases. Even so, there are tonnes of classic games and less-demanding titles that the Steam Deck will happily power through.
Valve claims that the Deck's 40Whr battery should allow for two to eight hours of gameplay, depending on how demanding the game you're playing is. However, according to Gamers Nexus, you can drain the device's battery in just under 90 minutes, if you don't cap your frame rate and use higher settings.
For those concerned that microSD cards aren't able to keep up with the Steam Deck's internal SSD, The Phawx has some good news for you. In their benchmarks, they found that load times between the two storage mediums were "largely the same." Even in the worst case scenarios, games loaded around 12-17 seconds slower than the internal SSD.
When was the Steam Deck release date?
The Steam Deck release date was February 25, 2022, with Valve having to delay the launch of the device from its initial window of December 2021. However, it wasn't until October 2022 that the Steam Deck was available to order without a reservation.
Since the Steam Deck release date, the handheld is now available to purchase alongside the Valve Steam Deck Docking Station, the official dock for the system.