The Sims 4 Growing Together is almost here, and the latest in the line of Sims 4 expansion packs is absolutely full to bursting with new additions to freshen up one of the best life games on PC. The theme this time, of course, is family – but that means everything from building treehouses and learning to ride a bike, to long-term house guests and lifetime milestone mementos. There's also an overhaul to likes and dislikes, and the way they affect Sim interactions, and the arrival of new map San Sequoia, so let's take a look at what to expect.
Much like everyone's favourite Fast & Furious lead Dom Toretto, The Sims 4 expansion Growing Together is all about family. That means it's packed with all the sorts of items you'd expect, from back carriers and baby changing tables to friendship bracelets, and even outdoor party items such as splash pads that allow you to set up your own water play area. Perhaps even more significant, however, are the additions and overhauls to core systems.
You can now build a treehouse in your backyard – this is placed down as a simple tree, which can then be built out by your Sims as long as at least one teen Sim or older is present. There's customisation options to include the likes of ladders, slides, and firefighter poles, and you can choose between four different decoration styles to suit your Sims' tastes. Once built, you can put objects such as Telescopes on the deck, and have your Sims hang out there and play – and, yes, adult Sims even have the option to WooHoo there.
There's a new option to have Sims initiate 'temporary stay overs' – these are longer term than the simple one-day visits that you might be used to, and allow other Sims to pitch up in your place for potentially days or weeks. You can plan them manually yourself, but you'll also get occasional calls from the likes of distant family and old friends seeing if they might be able to come over and hang. They'll bring a suitcase and (if needed) a sleeping bag – and you can even put them to work around the house if you don't want them freeloading.
Quirks of conversation in Growing Together
Infants and Toddlers will now have up to three Quirks – these are little mini-traits that define their personality, such as "Loves being held," "Sneezes often," or "Hates wakeup time" (that's a mood on all three, honestly). You'll discover these as your kids partake in activities – for example, you might realise you have an aggressive little'un on your hands when they start pummelling their poor teddy bear. You also have the option to manually add or remove Quirks if you prefer a little more control over things.
Building on this are four new child aspirations and a big overhaul to likes and dislikes. Sims can now assign likes and dislikes across 18 different 'characteristics' and another 18 'conversation topics' that will affect their responses to other Sims. Characteristics are determined by a Sim's traits, likes and dislikes, and lifestyles, and you might decide your Sim loves 'Cerebral Sims' but hates 'Emotional decision makers.'
Similarly, their preferences for conversation topics will affect how receptive they are to certain actions – perhaps they're always eager to get into arguments (whether friendly or otherwise), or maybe they can't stand compliments. Most social interactions are now helpfully grouped into these specific categories to make your socialising more straightforward, and key interactions such as making a best friend or proposing marriage are separated from all categories so that they can't be accidentally prevented.
Making Milestones in Growing Together
Speaking of marriage, Growing Together also introduces Milestones for your Sims. These mark important points in their life: learning to read, your first kiss, passing your driving test, getting married, and so on. Early on, infant and toddler Milestones will affect what they can do – learning to sit up on their own allows new interactions, for example – while other Milestones award mementos you can treasure, such as a school drawing or your marriage certificate.
As a Sim gets older, they'll have the option to store some of their most precious memories in a Keepsake Box. This carries some of the most sentimental moments from multiple generations of your family, and elders have the option to pass on the box to future generations for safekeeping. Sims can also take a moment to rifle through the box and ponder exactly what family means to them.
Adult Sims will also find themselves with workplace rivals, who can impede their career progression if they're not careful. There's also now the chance that your Sim might be laid off if their company is struggling. On top of all this drama, you can also experience a midlife crisis (in-game, of course), with four different possible outcomes; an 'adventurous' crisis, for example, might task them with travelling to unique places and building gizmos in the garage.
Are you going to San Sequoia?
New Sims 4 map San Sequoia is based on San Francisco, and it's split into three areas that the team says represent the various suburbs of the real-life location. Anchorpoint Wharf is a vibrant downtown area, Gilbert Gardens is a gorgeous rural section packed with parks, and Hopewell Hills is a cosier, quieter neighbourhood. Developer Matthew Fahey gives us a good look at the plot sizes, too, seen above.
There's one thing you won't find much of in San Sequoia, however – the eponymous trees. There are trunks of some of the grand old trees, and 'Sim Guru' Doi explains that the team wanted to convey some of the history of the area by including these trees that have no longer survived through to the modern era, citing "how the Bay Area's flora has transformed over time and how local places are still named after trees that are no longer there."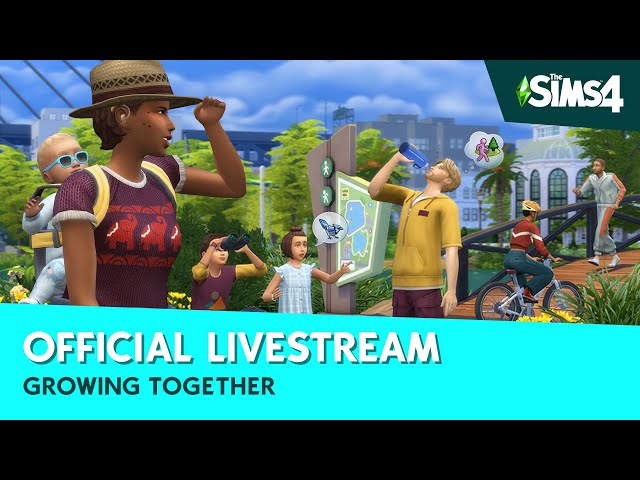 The Sims 4 Growing Together releases on March 16 on Steam and the EA app, along with PlayStation and Xbox consoles. It requires you to have the base game, of course, but you can now play The Sims 4 free if you haven't already done so.
The expansion is also preceded by the arrival of The Sims 4 infant update, which includes a huge overhaul for youngsters. Get ready ahead of time by making sure to try out the best Sims 4 mods and browsing all the best Sims 4 CC packs. You'll also want to note down all The Sims 4 cheats, just in case managing your family gets a bit too much.