Baldur's Gate 3 is almost upon us, which means that much of the next week will be spent excitedly waiting to finally dive into the RPG game and its expansive Dungeons & Dragons-inspired world. While we wait for Baldur's Gate 3 to launch, Larian Studios has provided us a closer look at its unique characters so as to give us a taste of what faces we'll see as we adventure in-game. One of the most spectacular villains we've seen yet is Orin the Red, a woman voiced by none other than Maggie Robertson herself, the actor behind Resident Evil's Lady Dimitrescu.
During an in-depth first look at Orin the Red before the Baldur's Gate 3 PC release time, we got to hear from Robertson and see what makes her character in-game stand out as a villain. Orin was described by Robertson herself as "affectionately, unhinged," since one never knows "when she's going to pop up" while playing. The actor stated that Orin is "incredibly tricksy," and that once she's discovered, "you don't know in what form she's going to be."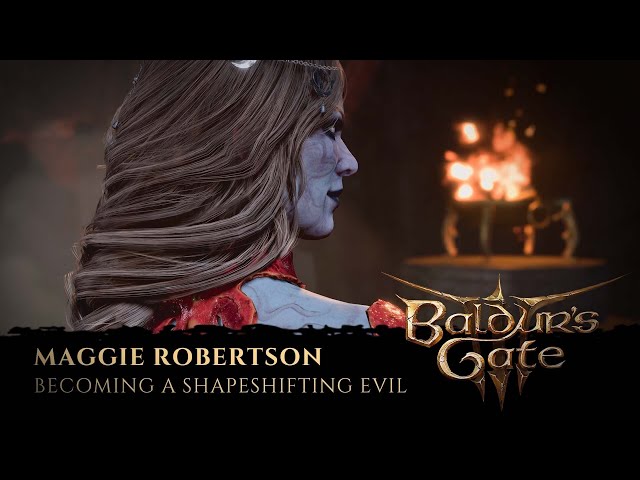 As the striking villainess, Robertson joins J.K. Simmons, who is acting as General Ketheric Thorm, and Jason Isaacs, who acts as Lord Enver Gortash, to complete the "unholy triumvirate" of villains in Baldur's Gate 3. Robertson seems enthusiastic about her role as a shapeshifting evil, saying, "To be considered even in the same realm much less share scenes with J.K. Simmons and Jason Isaacs was such an honor, and it was so inspiring and exciting to see their work in this game and experience how our characters come together."
The game's developers have also painted a telling picture of Orin, describing her as a "practitioner in the art of inflicting pain and a grandmaster of murder." I think I now low-key want to see Orin involved with Baldur's Gate 3 romance features. She is quite dangerous though, considering her cunning demeanor. The bloodthirsty queen (of my heart) has been killing "for many years but has yet to be caught, thanks in part to her shapeshifting abilities, which enable her to take the form of anyone."
What makes Orin especially frightening is that she can impersonate literally anyone. Larian Studios has made it clear that this could be "perhaps even someone in your camp." Does this mean we'll see some of the Baldur's Gate 3 companions have their shape stolen by the likes of Orin? I'm honestly not sure, but I'm still personally struggling to figure out whether or not I'm going to hate or love her.
While you await next week's big release to find out how you feel about the sadistic shapeshifter, be sure to check out our quick rundown of the Baldur's Gate 3 system requirements to ensure that your PC setup is ready to handle the game's massive world. Alternatively, take a look at some of our other favorite upcoming PC games to see what else this year has in store.