We now have official confirmation that Call of Duty: Black Ops Cold War and Warzone Season 2 is releasing soon. The latest trailer for Season 2 has given us a glimpse as to what we can expect in the update, including who the new operators are and which weapons will be added to the game.
The introduction of Season 1 last December was Warzone's biggest update so far, introducing every Cold War weapon to the game. Warzone players won't forget how powerful the DMR 14 was, alongside the dual Diamatti pistols, and Type 63 – before their inevitable nerfs. Season 1 also added four maps to Cold War's multiplayer mode, and it looks like Season 2 is going to continue this with at least three additional maps. There are also strong hints from the latest Firebase Z ending suggesting a new Zombies map is coming soon.
No matter which game mode you primarily play, Season 2 looks like it's going to have plenty in store across Warzone, multiplayer, and Zombies. Here's everything you need to know about Call of Duty: Black Ops Cold War and Warzone Season 2, including the release date, what weapons might be added, and which maps you can expect to play on.
CALL OF DUTY COLD WAR SEASON 2 RELEASE DATE
Call of Duty Cold War and Warzone Season 2 will start on February 25. Warzone Season 1 is set to conclude on February 24, leaving just a single day between the seasons. It's unlikely this latest season will be delayed like Season 1 last year – that update needed more time as it was considerably bigger than Season 2.
CALL OF DUTY WARZONE SEASON 2 NEW MAP
The Call of Duty community is expecting big things to celebrate Warzone's first anniversary on March 10. There's been talk of a new map for quite some time now, and it looks like we are finally starting to piece together what might happen to Verdansk. Warzone players have discovered numerous trial machines from the Zombies mode. These machines don't do anything at the moment, but they may point to zombies invading Verdansk soon.
Another zombies trial machine found in warzone rumble this time in stadium! from CODZombies
Zombies did feature in Black Ops 4's battle royale mode, and there has been an effort from the devs to tie together the storylines of the campaign, zombies, and Warzone. One idea being kicked around is that zombies flood Verdansk, forcing the person who controls the nuke in Bunker 11 to destroy the entire island. It's unlikely Verdansk will be completely removed from the game, but it may be temporarily unavailable if a new map is introduced during Season 2.
CALL OF DUTY WARZONE SEASON 2 NEW MODES
Rebirth Island Resurgence Extreme takes the regular gameplay of Rebirth Island and increases the max player count to 90. Respawns are enabled in this Resurgence mode, forcing teams to wipe out every member of an enemy squad to prevent them from respawning. This is a limited time mode, so you can only play it for a certain amount of time before it disappears.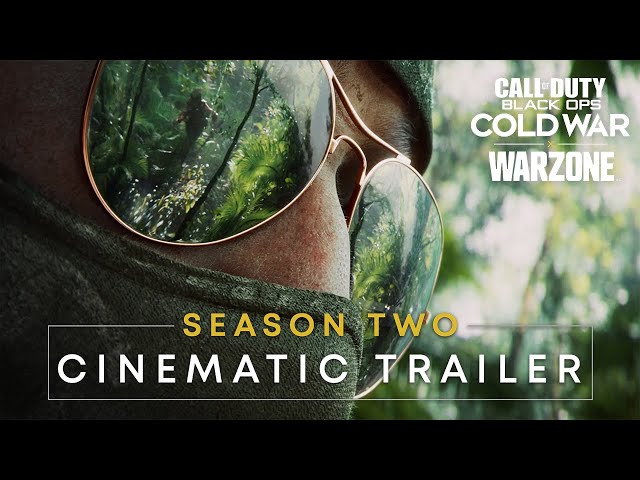 Exfiltration flips the extraction aspect of Warzone on its head by dropping a portable radio that calls in the exfil chopper before the circle collapses. Any player that uses the radio will be highlighted on the map with a most wanted contract. Every player in the game is told how long the helicopter takes to arrive, forcing everyone to converge on one location to stop opposing squads from winning the game. Aside from this portable radio, all aspects of the battle royale mode remain the same.
CALL OF DUTY COLD WAR AND WARZONE SEASON 2 OPERATORS
Four new operators will be added to Season 2: Kapano 'Naga' Vang, Samantha Maxis, Terrell Wolf, and Karla Rivas.
Naga is the only operator included in the Season 2 battle pass. Samantha Maxis, Terrell Wolf, and Karla Rivas are available in separate store bundles throughout the season.
CALL OF DUTY COLD WAR AND WARZONE SEASON 2 WEAPONS
This latest season introduces six new weapons: FARA 83, LC10, ZRG 20mm, Machete, E-Tool, and R1 Shadowhunter.
The FARA 83 is an assault rifle with one of the highest fire rates of any weapon in its class. This weapon can deal solid damage at short to medium distances – we expect this weapon to behave similarly to the best FFAR 1 loadout. You can unlock this gun for free in Cold War and Warzone by reaching tier 15 of the Season 2 battle pass.
If you're looking for a fully automatic SMG to dart around corners with, the LC10 might be worth considering. Though the damage output may be lacking compared to other SMGs in the same category, this weapon has low recoil and above-average fire rate to more than make up for this. This weapon can be unlocked for free in Cold War and Warzone by reaching tier 31 of the Season 2 battle pass.
Expect to see the ZRG 20mm in the hands of Verdansk's most lethal snipers. This bolt-action sniper rifle is built to take down targets from extremely long distances. A steady hand can kill an enemy with a single shot to the shoulders, chest, or head. Accurate snipers will appreciate this weapon for its incredible damage output, although it does suffer by having a slow fire rate.
There are two ways to obtain the ZRG 20mm, Machete, E-Tool, and R1 Shadowhunter: purchase the weapon's blueprint when it appears in the store, or complete a related challenge to obtain the free base weapon.
CALL OF DUTY COLD WAR SEASON 2 SCORESTREAKS
The scorestreak joining Cold War's multiplayer is the Death Machine, a handheld minigun. This impressive weapon is capable of suppressing enemies with its high rate of fire and seemingly endless bullets. The Death Machine is also capable of ripping through low-flying and grounded enemy Scorestreaks, including vehicles.
CALL OF DUTY COLD WAR ZOMBIES SEASON 2 OUTBREAK MODE
Outbreak is the latest Zombies mode to be added to the game. Four players join forces to continue the Dark Aether story as it expands to the Ural Mountains. Outbreak contains brand new enemies, player rewards, and team objectives across one massive map. The Ural Mountains map is so large that you can find two vehicles to drive around in: a Sedan and a light truck.
The Frenzied Guard is the latest field upgrade to join Zombies – upon activation all enemies attack the Frenzied Guard user, during this period only armour takes damage. There's also a new ammo mod named Shatter Blast that makes all bullets deal explosive damage.
CALL OF DUTY COLD WAR SEASON 2 MULTIPLAYER MODES
Gun Game is the latest game mode to join Cold War's multiplayer. In this free-for-all mode, players fight each other using predetermined weapons. After every kill, the user's active weapon switches to something completely different. To make things interesting, each melee kill sets their enemies back by one level in their weapon set. Each game starts with a pistol and ends with a knife.
Stockpile is a mix between Hardpoint and Kill Confirmed. Players must collect dropped dog tags on the battlefield – the twist is these dog tags have to be collected at deposit sites that rotate around the map. The first team to collect and deposit a set number of dog tags wins the game.
Hardpoint brings together ten squads of four players to capture and defend Hardpoint hills around the map. These locations rotate every two minutes to keep each squad on their toes. The first squad to rack up 500 seconds of total objective time wins the game.
CALL OF DUTY COLD WAR SEASON 2 MULTIPLAYER MAPS
There are four new multiplayer maps joining Cold War: Apocalypse (6v6), Golova (Multi-Team), Mansion (2v2, 3v3), and Miami Strike (6v6). Apocalypse is a small-to-medium sized map that takes place in the Lao jungle. Golova brings the action to a traditional Russian village located in the Ural Plains. Mansion is a small map built for Gunfight and Faceoff, situated in Havana, Cuba at the Hefe Mansion. Finally, Miami Strike is the daytime version of Cold War's Miami.
CALL OF DUTY COLD WAR AND WARZONE SEASON 2 BATTLE PASS
Every Call of Duty season launches with a brand new battle pass, and it doesn't look like things will be changing anytime soon with Season 2. The Season 2 battle pass will cost 1,000 Call of Duty: Warzone Points (CP), or $9.99 / £8.39.
And that's all we know about Call of Duty: Black Ops Cold War and Warzone Season 2. Unless the new season is unexpectedly delayed, we won't have to wait much longer to find out what's heading to Cold War. Some of the big changes rumoured to take place on Verdansk may have to do with the secret bunkers – definitely check out our Warzone bunker codes guide to find out where each of these hidden vaults are.