Want to know when Call of Duty Vanguard's release date is? Call of Duty Vanguard arrives later this year. Just like Call of Duty: WWII, Vanguard is set during the second World War. Whereas WWII focused on European battles, Vanguard takes a closer look at battles on the Pacific Front, North Africa, and other locations.
While the integration process between Black Ops Cold War and Warzone took months to accomplish, it looks like Vanguard's integration won't be anywhere near as long, and will roll out when the new Warzone map launches later this year, alongside new weapons, vehicles, and a new anti-cheat system. Vanguard also features a new Zombies game mode, which follows on from the Dark Aether story.
With only a couple of months to go before the WW2 game launches, players are going to be able to take part in Vanguard's open beta period, although dates are yet to be confirmed. Here's everything we know about Call of Duty Vanguard so far, including the open beta dates, what the story entails, and more.
Activision Blizzard is facing a lawsuit filed in July by the state of California alleging years of discrimination and harassment. Since then, CEO Bobby Kotick has called the company's initial response "tone deaf", employees have staged a walkout, Blizzard president J Allen Brack has left, and the ABK Workers Alliance has demanded change at the company. The lawsuit is ongoing; follow the latest developments here.
Call of Duty Vanguard release date
The Call of Duty Vanguard release date is November 5, 2021. It was recently announced by Activision alongside a reveal trailer.
Call of Duty Vanguard story
The full length teaser for Vanguard shows four playable soldiers in the game's campaign mode. Each cutscene shows a different location, along with a badge that says 'Task Force Vanguard'.
In the first part of the teaser we see the aftermath of a battle on the Western Front. A name tag for Sargent Kingsley, one of the playable characters in Vanguard, has been left behind in the fallout. In the Eastern Front, we get a glimpse of a sniper's hideout containing an engraved rifle with the name 'Petrova' on the body. This is likely a reference to Nina Petrova whose model can be spotted after a Warzone win.
Next, we're transported to North Africa, and shown a destroyed tank in the background, alongside several artillery shells on the ground. Finally, the Pacific Theatre shows us a plane crash at sea, and all four of the soldiers are fighting together at the end of the teaser.
Here are the playable Call of Duty Vanguard heroes in Task Force One:
Private Lucas Riggs, 20th Battalion, Australian 9th Infantry Division, British Eighth Army
Sergeant Arthur Kingsley of the 9th Parachute Battalion, British Army
Lieutenant Wade Jackson, Scouting Squadron Six, United States Navy
Lieutenant Polina Petrova of the 138th Rifle Division, Red Army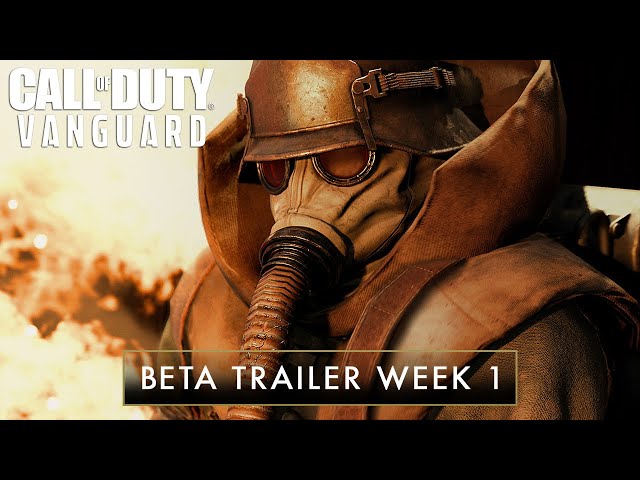 Call of Duty Vanguard beta dates
The Call of Duty Vanguard open beta period takes place between September 18 to September 20. PlayStation players have access to the beta one week early, from September 10 to September 13. If you pre-order the game on any platform, the open beta is available slightly early from September 16 to September 17.
Call of Duty Vanguard Warzone integration
Big changes are coming to Warzone with the release of Vanguard later this year. Not only is a new map coming to the battle royale game, the developers confirmed on a recent Call of Duty blog post that personal loadouts and profiles will carry over to Warzone.
Mysterious Portals: Find out where Warzone's red doors lead to
We don't know how this affects Vanguard's loadouts as the balancing in multiplayer works differently to Warzone's multiplayer. There are perks in Vanguard that aren't in the same slot in Warzone, and there are a number of perks that don't exist in either game. This also doesn't take into account Vanguard's gunsmith system which allows players to use up to ten different attachments on a single weapon.
Call of Duty Vanguard cross progression and crossplay
Just like Black Ops Cold War and Modern Warfare, any progress made in Vanguard carries over to your unified Call of Duty account – this includes your overall level, battle pass purchases, and store bundles. Vanguard also supports cross platform play, allowing PC players to fight alongside their console friends on PlayStation 4, PlayStation 5, Xbox One, Xbox Series S and X.
CALL OF DUTY VANGUARD new mechanics
The Stalingrad ten minute gameplay clip revealed a number of new mechanics coming to the FPS game. The mounting system returns from Modern Warfare, except this time players have the option to blind fire when crouching behind cover.
The mounting system has been adjusted, giving players the ability to strafe while mounted onto cover. Previously, players were anchored to their mounting point which made this mechanic feel underwhelming. Having the option to slowly move while mounting behind cover could drastically change the way this mechanic is used. Players can also mount around corners and blind fire when huddled up against a flat wall.
Blind firing looks like it's going to be extremely powerful depending on the object you're hiding behind. There are several instances in the gameplay clip where the player blind fires at an enemy, but they can see the approaching enemy behind cover. This may only be the case for the single player campaign, but it looks like blind firing actually aims down the sights before firing, creating a tighter spread of bullets. This is likely to be changed in the multiplayer modes as this mechanic seems far too powerful in its current state.
Call of Duty Vanguard anti-cheat
Arguably the biggest problem plaguing Warzone right now is the persistent presence of cheaters, which has turned some players away from the game. Activision confirmed the new anti-cheat system in a blog post and the Vanguard reveal, with more information dropping in the lead up to Vanguard's release.
CALL OF DUTY VANGUARD reactive environments
Destructible environments are coming to Vanguard, giving players a new way to approach combat. If you're taking cover behind a wall, you need to consider whether your cover can be blasted to pieces with a well-placed grenade. Likewise, if you mount in front of a window, you have the option to shoot through it using the blind fire mechanic.
Every map in the game features destructible cover which slowly degrades over the course of a match. The number of players fighting on a map directly impacts the amount of damage the environment can handle. For example, maps should look largely the same after a small-scale battle involving six players on each team. If you double that player count to 12v12, expect the maps to be completely destroyed when the dust finally settles.
Call of Duty Vanguard multiplayer
Call of Duty Vanguard arrives with 20 maps in the multiplayer mode – multiplayer includes "an advanced Gunsmith and Caliber system". Vanguard also expands on Gunfight, a mode first introduced in Modern Warfare, which will be called Champion Hill, described as "quick-action, close-quarters, small-squad combat in which eight teams compete in a series of head-to-head matchups where the last team standing wins".
That's all there is to know about Call of Duty Vanguard so far. Vanguard is going to drastically change the way Warzone is played – enjoy '80s Verdansk while you still can. Make sure you read our Warzone loadout drop guide to equip yourself with the best weapons and perks.