The Diablo 4 Cathedral has opened its doors, giving Diablo 4 fans a chance to worship Lilith in real life by making a trip to France. That's right, you can actually visit this Diablo 4 church in person and marvel at the breathtaking architecture and artwork created for this rather stunning Blizzard advertisement. With the doors open until a while after the Diablo 4 release date, it's the perfect way to prepare yourself for the RPG game.
Harkening back to the game's gothic art inspirations, this incredible makeover of the Chapelle des Jésuites, a 17th-century cathedral in Cambrai, France, has completely covered the walls and ceiling with Diablo-themed murals featuring all your favourite characters and Diablo 4 classes.
The Cathedral of Diablo project was helmed by artist Adam Miller and Diablo 4 art director John Mueller, who says that the painting tells the story of "the hero's journey in their confrontation with Lilith." Miller says he was excited by the project, in part because "the scale and the speed of it seemed a bit insane," with roughly 2,400 square feet of canvas being covered in just a month of painting.
For those of you wondering how you go about convincing a cathedral's owners to let you cover it with demonic iconography, Blizzard explains that the building in question has been deconsecrated – meaning that the religious blessing has been removed following its use and it is now a secular site rather than a sacred one.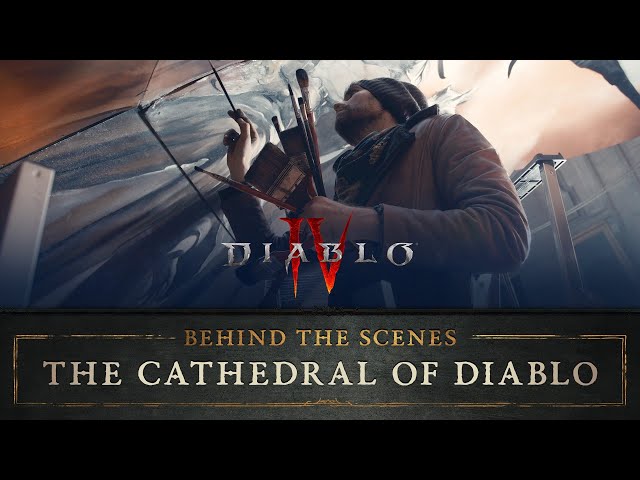 Cathedral of Diablo opening times
The Cathedral of Diablo is open May 6 – June 11. The doors are open from 2-7pm CEST, and entry is free. You can find it by heading to Chapelle des Jésuites, Place du Saint-Sépulcre, Cambrai, France. For those a little unsure on their French geography, that's up in the northeast of the country, towards the Belgian border.
It's certainly an ambitious project, and for the biggest Diablo fans the idea of making a pilgrimage to see its art recreated on such a spectacular scale is certainly appealing. After all, plenty of fans lined up to have Diablo 4 art tattooed onto their own flesh, so why not see how it looks in the baroque stylings created by Miller's team?
Before you spend too much on travel, you might want to make sure you're meeting the Diablo 4 system requirements first. If you fancy making the trip during the upcoming Diablo 4 server slam, you might want to check how Diablo 4 Steam Deck compatibility is looking, so that you can turn the journey into a full adventure.