The Diablo 4 Season 2 reveal is targeted for the first week of October, Blizzard reveals. The next Diablo 4 update livestream is planned to go over what we can expect to see from the upcoming Season of Blood, but Diablo community manager Adam Fletcher confirms that we won't be seeing it for a couple more weeks.
Fletcher says "We will be announcing the date for the Diablo 4 developer update livestream next week." He adds that the stream, which is set to go over potential changes and details for Diablo 4 Season 2, is currently being targeted for the first week of October. It's been a quiet few weeks for the RPG game since the reveal of the Season of the Blood exactly one month ago at Gamescom Opening Night Live, so any news feels like good news right now.
Diablo 4 general manager Rod Fergusson and Fletcher remarked last week that Diablo 4 Season 2 is so crammed with changes and new features that it'll take two livestreams totaling four hours to cover everything in the update. After a low-key first season that has seen many players fall off in light of big releases such as Baldur's Gate 3 and Starfield, along with a new Path of Exile league and Diablo 3 season 29, Blizzard will be hopeful that its new offering will win players back.
I'm eager to go back, honestly. Like many, I found myself dropping off towards the Diablo 4 endgame in season one. While the Diablo 4 Malignant Hearts offer some really fun powers – such as pulling in enemies from across the map so my best Diablo 4 Druid build can crush them with ease – they haven't really added enough variety to keep my attention long-term after already reaching level 100 in the launch preseason.
The Season of Blood is already confirmed to feature five endgame bosses – seemingly a mix of new faces and tougher versions of the campaign bosses, something that'd be a welcome addition given that some of the most interesting fights through the game's story currently don't show up again after you've beaten them once. These bosses will also offer target farming options, allowing you more consistent ways to get the best Diablo 4 uniques.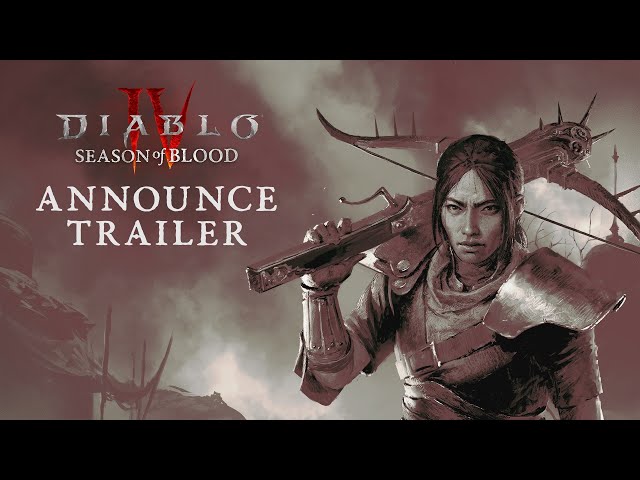 There's also the promise of target farming, or at least slightly improved drop rates, for those 'uber unique' items that have been declared all but impossible to obtain due to their astronomically low drop rates. We're also set to get a rework to how damage is calculated, the long-awaited elemental resistance rework to help out Sorcerers and Necromancers, the removal of gems from your character's inventory, and improved stash tabs with sorting options and filters.
While we wait to see what else Blizzard is bringing to the table, Diablo 2 Resurrected Season 5 is set to start soon. You might also want to check out the best games like Diablo to play on PC, if you're craving those sweet loot drops in the meantime.