With FFXIV Dawntrail on the horizon, we've been given another big glimpse into the future of Final Fantasy 14 courtesy of FFXIV Fanfest London 2023. To open the show, producer and director Naoki Yoshida, otherwise known as Yoshi-P, and localization supervisor Michael-Christopher Koji Fox took to the stage for their FFXIV Fanfest keynote, and PCGamesN had the pleasure of attending the event live in person to bring you all the details directly from the show floor.
While the FFXIV Dawntrail release date still seems some way off in Summer 2024, we're already eagerly anticipating what's next for our Warriors of Light and the Scions of the Seventh Dawn in the critically acclaimed MMORPG. As we head off across the water to pastures new, the 'new world' of Tural promises a relaxing summer vacation after Endwalker's dramatic conclusion to the first decade-long arc of the FFXIV story. Based on the stunning debut Dawntrail trailer (which I've watched a good dozen-plus times by now), I'm sure it'll be all fun and games, and that nothing bad will happen!
The FFXIV Fanfest London show opens with a new, extended version of said trailer, which gives us our first look at one of our new classes – which we then see for real, courtesy of an in-person cosplay from Yoshida himself. We'd been wondering what the two new FFXIV Dawntrail jobs would look like ever since Fanfest Las Vegas earlier this year, where Yoshi-P teased us with the mysterious reveal of a Teenage Mutant Ninja Turtles t-shirt. Now we know one of them.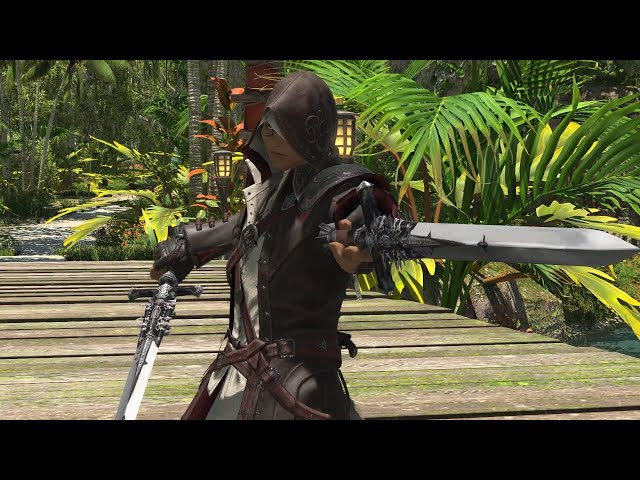 This is the FFXIV Viper, a "Final Fantasy XIV original" that wields dual shortswords, which can be connected at the handle to form a twinblade that's somewhat reminiscent of Bloodborne's signature Rakuyo, wielded by Lady Maria. It was "designed to cater to players who have been asking for a new dual-wield job that's different from Ninja. While I play a lot of jobs, the Ninja has been my favorite since it arrived early in A Realm Reborn, so I can't wait to get hands-on with the Viper for my trip into Dawntrail.
You'll need one class at level 80 to grab the Viper, which "alternates between pressuring enemies with swift strikes by their twin blades, and dealing mighty blows with their joined weapon." As long as you own the FFXIV Dawntrail expansion, you can pick up the job in Ul'dah, meaning you'll be able to use it the whole way through the new expansion's story if you want to – and I absolutely do!
We'll have to wait until Fanfest Tokyo for the other job, which we already know will be a ranged magical DPS, but as a big Red Mage and Black Mage enjoyer, I'm looking forward to that as well. Putting down his twinblade (at the behest of Koji Fox to stop swinging it around), Yoshi-P picks up "his true weapon" – the presentation clicker – and guides us through a quick recap of the journey we'll be taking to Tural, where the Scions will become embroiled in a leadership contest that will see them on opposing sides. Who will be your allies? That bears to be seen…
The contest, which sees competing factions going toe-to-toe to succeed Gulool Ja Ja, also promises to lead the Warrior of Light to a fabled city of gold – Yoshida promises that, as much as we enjoyed our time in the Hydaelyn arc, the journey to the west will give us something "even better." Our new main hub city is Tuliyollal, found in the Yok Tural region. We get a proper in-game look this time, and it's looking gorgeous.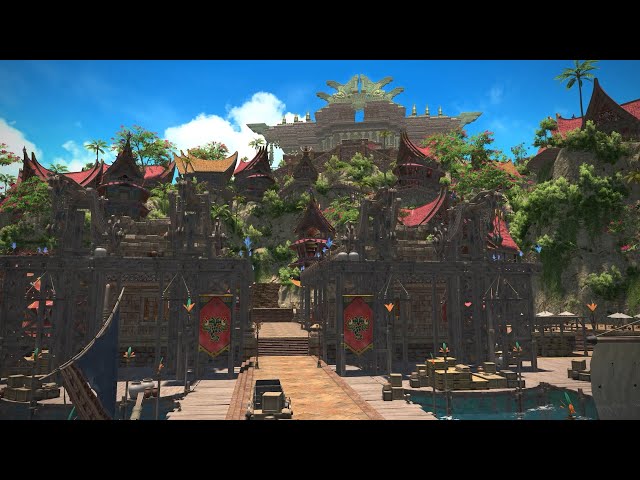 Seemingly located right on the coastline, this is a blend of sun-drenched beaches, wooden huts, and high-rise stone architecture. We get a special message from lead composer Masayoshi Soken, who says that the music we hear – already sounding rather excellent – is "just a mock-up," and "will sound much better" in its final iteration.
Starting from this multicultural city, which we know has established trade routes with Old Sharlayan, we'll journey out to the various Dawntrail regions. We get some in-game footage of the forest region of Yak T'el and the mountainous open-plain vistas of Urqopacha, both of which were previously revealed at the LA Fanfest event. Yoshida reminds us that these will all benefit from the FFXIV graphics update.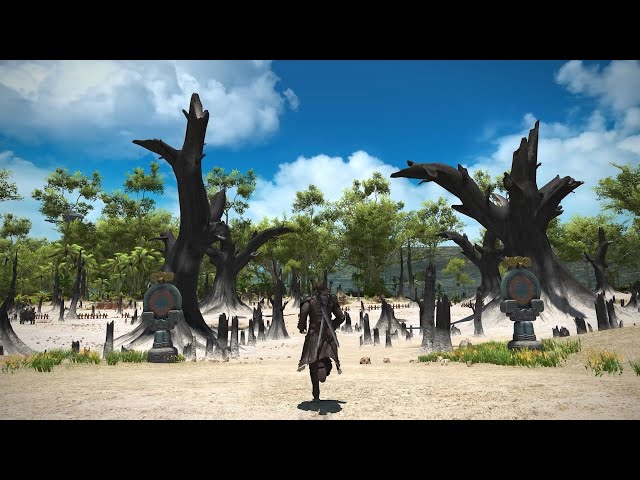 We also see some new locales. Kozama'Uka is a tropical region south of Tuliyollal, divided into an upper and lower region with gorgeous waterfalls connecting the rivers and streams of both. We'll meet several different groups there, including the Moblins. Closely resembling the Goblins of Eorzea, with whom they share a common ancestry, the Moblins are expert gatherers, capable of procuring "any useful material, no matter how rare."
Our second area, in contrast, is a rather arid region called Shaaloani. While its rain-starved land makes vegetation growth sparse, the discovery of Ceruleum deposits has helped the region to burgeoning prosperity. We see a wide shot of Shaaloani's plains with a tantalizing "SECRET" plastered across a large part of the screen "Oh… it's a mistake," Yoshida laughs. He explains that this is a hugely pivotal story point that the team doesn't want to reveal yet, so as not to spoil the surprise.
There is, of course, much more to Dawntrail than just our journey to Tural. First up, as previously noted, the level cap will be going up to 100 for all jobs, including crafting and gathering. "How high do you want to go?" Yoshida asks the crowd, laughing at a loud suggestion of 2000. Koji Fox queries just how much the UI would have to be adapted for such a preposterous number.
We'll of course get all the usual range of activities including new FATEs, side quests, and more, including "at least as many new dungeons as in previous expansions." We see teasers of some of the 'dungeons' we'll be exploring, which include a raft cruising down a wide river between the tropical forests. "At the end of the cruise, this is what awaits," Yoshida says, showing a rocky cavern filled with lush vegetation courtesy of sunlight flooding in through gaps in the roof.
Another dungeon shown off is a rocky outcropping on the edge of a cliff. A structure built into the rock, with snow dripping from the rocks, misty clouds up high, and beautiful blue and purple flowers sprouting out across the mountain. Our third location is a rather sturdy stone structure built within a cavern. Seeing this more traditional look after the previous entries, Yoshida exclaims, "It's a dungeon!"
Next up is something quite different; a giant network of highly engineered platforms, pipes, and giant, glowing chambers. This is something much more high-tech, and undoubtedly quite dangerous. Koji Fox asks, "Summer vacation?" "Yes," Yoshida chuckles, "Summer vacation." It's certainly imposing, and we meet a giant creature clad in golden armor with glowing purple features. "It looks like Dawntrail is going to be a little bit more than your traditional summer vacation, Yoshida admits.
The Duty Support system will be getting plenty of updated AI routines to help you navigate these dungeons with story-relevant companions, should you choose. We also see a selection of rather fashionable new gear, with a lot of more formal but still decorative fashion. "Instead of designing all our gear to match the theme of Tural, we decided to take a more straightforward approach to the design," Yoshida notes.
Also planned for Dawntrail is "Expansive new lifestyle content." "The plan was to show you that here," Yoshida says, "but the team felt it needed a little more time – they're hard at work, so please forgive them." We'll get to see more of that at the Tokyo Fanfest. Unlike the Island Sanctuary's more solo approach, he promises that this new lifestyle content is "something you can enjoy with a lot of people."
Of course, there'll be plenty of action for the high-end players, including new Variant Dungeons, an 8-man raid, and an ultimate trial. The Dawntrail alliance raid is Echoes of Vana'diel, a crossover with Square Enix's other big MMORPG, Final Fantasy XI. "We are turning to our MMO senpai," Yoshida remarks. He says that he can't yet reveal what we'll see, but that past and present fans of FF11 will certainly be happy.
The return of Hildibrand is also promised, along with more Gold Saucer and Deep Dungeon content. We'll also be seeing the second limited job, following in the footsteps of the Blue Mage, which will also be getting an update. Much like the Blue Mage, you can expect something a little out of the box that eschews typical class balance rules, but can't be used in all the standard content. This is loosely scheduled for 7.x, meaning we'll see it in one of the additional post-launch updates; Yoshida says to expect it a little later on.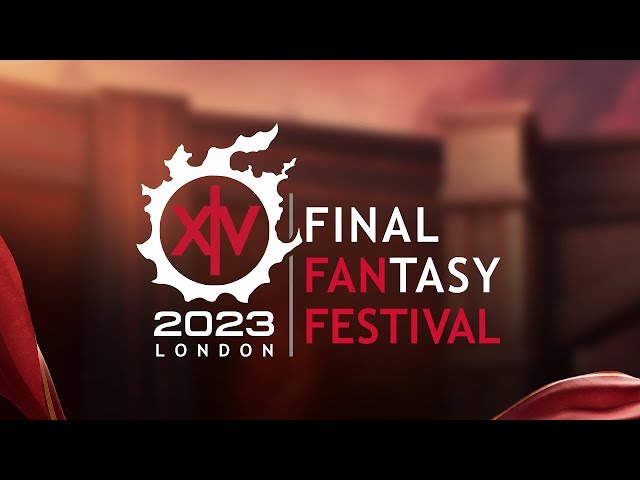 Returning to the FFXIV graphics update, there are some slight improvements to the horns and scales of Au Ra characters – something I'll certainly be taking advantage of as an Au Ra player myself. "This goes for the other races as well," Yoshida teases, noting that what we've seen of the update so far is still in development, with even more work to come. Some of this even draws inspiration from the high production values of the original, abandoned FFXIV 1.0. As previously revealed, you'll also be able to wear glasses independently from other headgear, as they are rightfully given their cosmetic gear slot.
There will be a slight increase to the FFXIV system requirements – "It's not very much, but please understand." The Xbox open beta will begin sometime in January or February 2024, bringing even more players into the world. A stress test of the new cloud data center is currently planned for November 21-27, 2023, where players will have a chance to try out the new server option that should enable easier future server expansion when needed.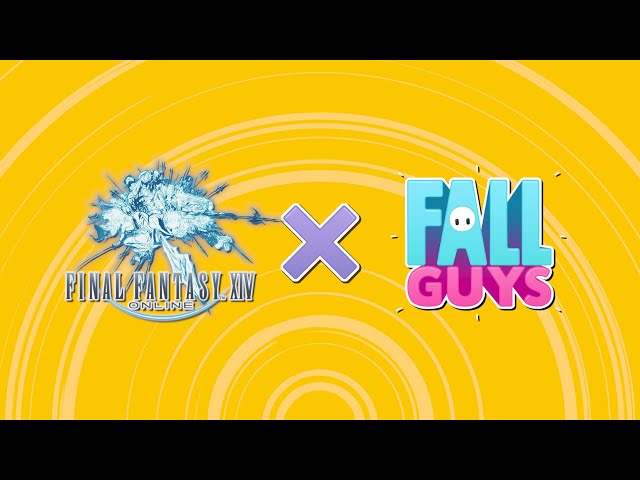 Coming much sooner on Tuesday, October 31 with FFXIV 6.51, we also get to see the Gold Saucer's Fall Guys crossover, which looks pretty spectacular, incorporating many of the best minigames from the colorful party battle royale. There's even special gear to earn, with some rather bold pink and purple colors to sport. It's designed for 24 players, and will of course offer random matching for those of you who don't have a ready-made squad. It won't be available all the time, Yoshida notes, but it will come back repeatedly.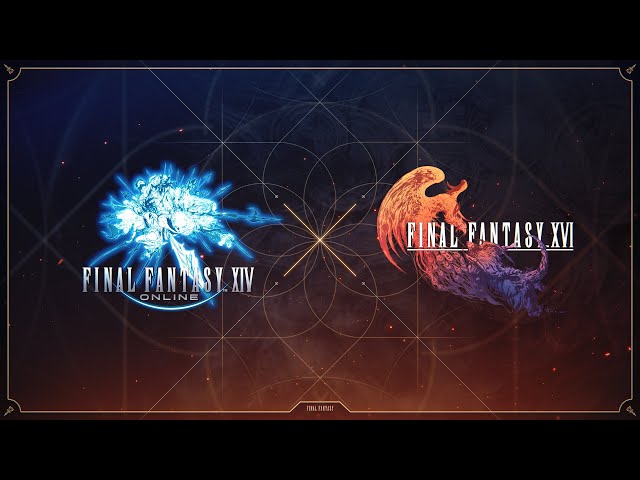 Last but certainly not least, also coming in 7.5x is that FFXVI crossover, bringing Clive Rosfield and friends to the MMO at some point in the next few months, with 'The Path Infernal.' It looks as though a special showdown with FF16's Ifrit is in order, and you'll be able to get your hands on both a mount version of adult Torgal, Clive's faithful companion, along with a minion of the pup in his super-cute younger form, and Yoshida teases that themed gear will be up for grabs as well.
That's all for today's opening Fanfest London keynote, but PCGamesN will be at the show all weekend, so we'll be sure to bring you plenty more juicy details in the days to come! In the meantime, we've got everything you need to make sure your FFXIV Island Sanctuary is up to date ahead of Dawntrail. Looking for something else to fill the hole in your heart until then? The best story games should help ease the wait.