Where is the abandoned mansion in Fortnite? We wouldn't mind betting our entire wallet of V-Bucks that this is one of the question you'll be asking when it comes to your week 2 challenges for season 7. So, since we're the kind folk you know well at PCGamesN, we're going to show you where the Fortnite abandoned mansion location is.
Fortnite season 7 is warming up in its second week – or should we say cooling down so dramatically that it's partly frozen over – and that means a new Fortnite season 7 Battle Pass. If you haven't picked it up yet, be warned that you will not be able to take part in this disco-themed challenge as it is one of the four premium challenges for this week. However, if you do decide to spend some Fortnite V-Bucks on this season's progression system, you'll be able to unlock lots more cosmetics such as Fortnite skins and the brand new Fortnite Wraps – weapon and vehicle skins, in other words.
Now that you're a proud owner of the fresh Battle Pass we can get cracking with this week 2 task. To complete it you'll need to drop near Lonely Lodge which is located on the far east of the map. So, with the appropriate ABBA playing on a loop in your ears, here's where the Fortnite abandoned mansion location is so you can get dancing.
Fortnite abandoned mansion location
Fortnite's abandoned mansion is located on the cliff side just south-east of Lonely Lodge. In the basement is a dance floor – this is where you need to go. Below we have a video, screenshot, and map to help with exactly where that is.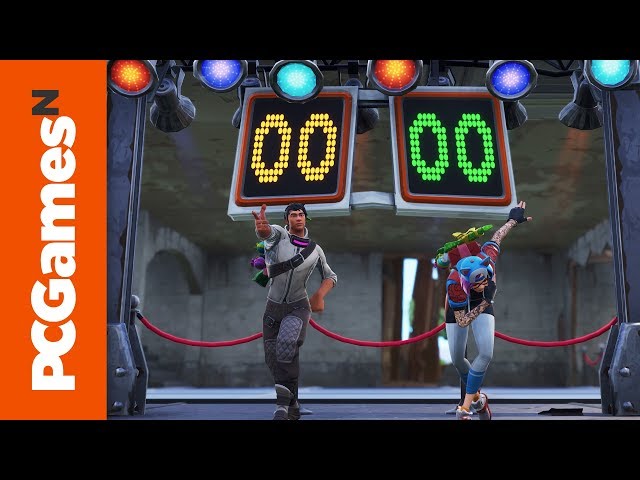 Now, onto the reason why you're actually here. Way back in season 4 we were given the task to raise the Fortnite disco ball near Loot Lake. For that you needed a full squad to stand in specific places in Loot Lake's factory building to raise the the shiny sphere to the ceiling. This time, however, it appears that you may only need one other person to dance with, so its best that you play in either duos or squads to make finishing off this task that bit easier.
The dance floor is split in two with a scoreboard facing each side. When part of the dance floor lights up you need to stand in that spot and dance for the most points. The one with the most is the winner. It seems that that is largely for bragging rights, though: you only need to complete a dance off at the abandoned mansion to get your reward. Also, remember the easiest means of getting to the dance floor is by the secret boarded-up entrance on the east side of the large house. We've pictured it above.
And that's where to dance off in the Fortnite abandoned mansion this week. There's more where that came from when it comes to Fortnite challenges this week, so make sure you've found and played the Fortnite Pleasant Park piano location and the Fortnite Lonely Lodge piano location for even more Battle Stars. And, if you missed out on last week, here are all Fortnite forbidden locations. For this challenge, we hope you have a blast channelling your inner dancing queen.