Where is Fortnite Fortbyte 34? The latest puzzle piece has gone live in Epic's famous ol' battle royale game, and you know what that means: another locations guide from us kind folk here at PCGN. Now that the latest collectable is here, we'll be showing you how to add it to your collection.
We hope you're hungry this time: there's a gastronomical feel to Fortnite Fortbyte 34, since you've got to find it between a Fortnite fork and knife. People who know the map like the back of the their hand will know automatically where this is, but we're here with this guide just in case you need a helping hand.
As ever, this is the latest hidden computer chip to go live in the game as part of the Fortnite Fortbytes locations challenges. Each and every day a new byte appears somewhere in the game, and your reward for getting it is a closer look at the game's lore ahead of the Fortnite season 10 release date. So, without further ado, here's how to get Fortbyte 34 in Fortnite between a fork and knife.
Fortnite Fortbyte 34: between fork and knife location
Just in case you're not sure where you need to be, the Fortnite fork and knife in question is northwest of Fatal Fields, which itself is roughly in the centre of the map. The clue describes the big hole in the ground shaped like the eating utensils – you can't miss it.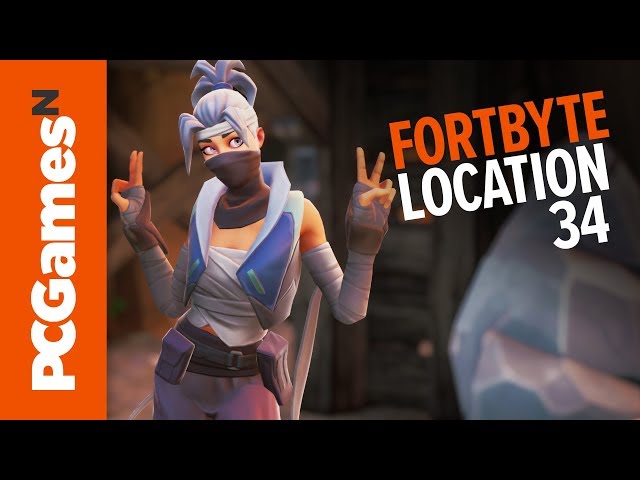 As you can see in the video above, Fortnite Fortbyte 34 is underground, not on the grass above it. Descend to the south side of the knife and fork shape and take one of the entrances underground by heading into the ditch itself. Then, smash your way through the ruined walls and head inside, and your desired puzzle piece will be there.
It's Fortbyte time:
Fortnite Fortbyte 37
Fortnite Fortbyte 40
Fortnite Fortbyte 83
And there you go, that's where to find Fortbyte 34 in Fortnite. We're certainly in the final stretch of these challenges, so you've only got a few more to go until you're all done. If you are for the moment and need more activities to do, make sure you've smashed up seven Fortnite grills, provided you have the right harvesting tool, that is. If they do get their BBQs up and running, at least you know where your knife and fork is.