Where is Fortnite Fortbyte 75? Yet another little collectable has found its way into Epic Games' battle royale arena of certain death, and we're going to help you get it. You don't need to grind for any specific cosmetics this time: you can be any level and you just need to follow our simple instructions.
Fortbyte 75 in Fortnite is the latest such puzzle piece to arrive in the game. We're into the dying embers of this ninth season and Fortnite season 10 is fast approaching, so you'll probably know how this works by now: each day we get a new addition to the Fortnite Fortbytes locations challenges, and each one successfully picked up reveals part of an image of Jonesy's exploits in the run up to this current season.
And since that's obviously what you're curious enough to see, we've done the searching to find the newest byte in a Fortnite airport hanger. There are a few spots in which you used to be able to find planes in the game, but there can only be one spot in the game you need to head towards: the ice biome. So, here's where to find Fortnite Fortbyte 75 in an airport hanger.
Fortnite Fortbyte 75: airport hanger location
So, as we've already mentioned. Fortbyte 75 in Fortnite can be found in the ice biome. To be more specific, it's found in Frosty Flights in the southwestern corner of the map. You can see the spot where it shows up in the video below.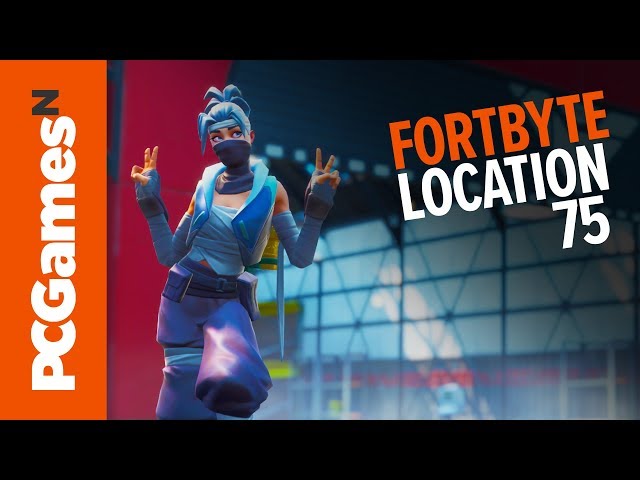 In other words, the Fortnite airport hanger is in Frosty Flights but, the thing is, there are two of them. Head into the western one all the way in to the end. You should see from racking on your right as you head in, and that's where you'll find your floating little item.
It's Fortbyte time:
Fortnite Fortbyte 63
Fortnite Fortbyte 53
Fortnite Fortbyte 62
And there you go, that's how to find Fortnite Fortbyte 75. If you're looking for some seasonal activities, we suggest that you have a crack at the Fortnite 14 Days of Summer challenges. You have a series of Fortnite beach parties to attend but, when that gets tiresome, you can be anti social and start bouncing off giant beach umbrellas in Fortnite. It'll be quite a shock going from the cold climes of the ice biome into the sun, but we think you can handle it.