Update – July 21, 2021: Patch 11.15 has headed to live! Check out the League of Legends patch 11.16 notes for what's next.
With League of Legends patch 11.14 having sailed onto live servers, Riot Games has now pushed the MOBA game's next major patch onto the PBE. With League's big summer in-game event, Sentinels of Light, kicking off this week, there's plenty more content themed around that on the way – so, let's see what's coming with patch 11.15.
The first headline news this patch is, of course, new League of Legends champion Akshan. He's a "midlane marksman with a grappling gun, stealth, and a revive", who'll bring some very new things to the battlegrounds – and a suave grin while doing it, too. You can check out his abilities, splash art, VO, trailer, and more in the New Champion section below.
The other headline news this update is also of course Sentinels of Light – League's big, month-long in-game event, which has just gone live! Bringing a new raft of Ruined, Sentinel, and Unbound skins, a new game mode called Ultimate Spellbook, missions to complete, and more, it's free for all players to dive into and runs until August 10. You can find the full rundown of details at the link above, but we've covered all the skins and a few extra bits coming in these and the 11.14 notes.
As for balance changes, there are now a whole lot to get a look at on the PBE, with nerfs coming up for champs such as Gwen and Aurellion Sol, and buffs for Blitzcrank, Caitlyn, Shyvana, and plenty others. Keep checking back on these notes over the next couple weeks to get an idea of what's coming next. Assuming you want to keep with all the changes and content headed to Riot's flagship MOBA ? Of course you do.
Without further ado, here are the tentative League of Legends patch 11.15 notes (cheers, Surrenderat20!):
LEAGUE OF LEGENDS PATCH 11.15 RELEASE DATE AND DOWNTIME
According to the League of Legends 2021 patch schedule, League of Legends patch 11.15 is due to go live on Wednesday, July 21, 2021. Maintenance times haven't yet been confirmed, but usually begin at 3am PT for NA servers, 5am UK time for EUW servers, and 3am CET for EUNE servers, and last for approximately three hours.
LEAGUE OF LEGENDS PATCH 11.15 CHAMPION CHANGES
Champion Changes
Annie – nerfed
Disintegrate (Q):

Ability Power ratio decreased to 75% from 80%
Aurelion Sol – nerfed
Starsurge (Q):

Ability cooldown has increased to 12/11/10/9/8 seconds from 11/10/9/8/7 seconds
Blitzcrank – buffed
Stats:

Blitzacrank's base armour has increased to 40 from 37
Rocket Grab (Q):

Damage dealt increased to 90/140/190/240/290 from 70/120/170/220/270
Caitlyn – buffed
Piltover Peacemaker (Q):

Attack Damage ratio has increased to 130/145/160/175/190% from 130/140/150/160/170%
Cassiopeia – buffed
Twin Fang (E):

Ability's bonus magic damage dealt increased to 20/40/60/80/100 from 10/30/50/70/90
Gwen – nerfed
Skip 'n Slash (E):

Attack Speed decreased to 20/35/50/65/80% from 40/50/60/70/80%
Irelia – nerfed
Defiant Dance (W):

Minimum damage dealt decreased to 10/25/40/55/70 (40% AD) (+40% AP) from 10/25/40/55/70 (50% AD)(40% AP)
Maximum damage dealt decreased to [10/55/100/145/190 (120% AD) (+120% AP) from 30/75/120/165/210 (+150% AD) (120% AP)]
Kayle – nerfed
Stats:

Base Magic Resistance decreased to 26 from 30
Kennen – buffed
Thundering Shuriken (Q):

Damage dealt by ability increased to [85/130/175/220/265 (+80% AP)] from [75/115/155/195/235 (+75% AP)]
Mordekaiser – buffed
Indestructible (W):

Ability cooldown decreased to 12/11/10/9/8 from 14/13/12/11/10
Stored damage dealt by ability has increased to 45% from 30%
Nidalee – buffed
Stats:

Base health increased to 570 from 545
Health per level increased to 95 from 85
Rell – buffed
Ferromancy (W):

Ability cooldown decreased to 11 seconds from 13 seconds
Rumble – changed
Junkyard Titan (Passive):

Duration of overheating decreased to 5.25 seconds from 6 seconds
Shyvana – buffed
Twin Bite (Q):

Ability Power ratio of first attack has increased to 35% from 25%
Ability Power ratio of second attack bonus damage has increased to 25% from 15%
Ability cooldown decreased to 7/6.5/6/5.5/5 seconds from 9/8/7/6/5 seconds
Sylas – nerfed
Chain Lash (Q):

Damage from detonation increased to [70/125/180/235/290 (90% AP)] from [60/115/170/225/280 (+80% AP)]
Kingslayer (W):

Healing decreased to [25/50/75/100/125 (+40% AP)] from [30/60/90/120/150 (+45% AP)]
Syndra – buffed
Dark Sphere (Q):

Mana cost decreased to 40/50/60/70/80 from 60/65/70/75/80
Thresh – nerfed
Flay (E):

Ability cooldown increased to 13/12.25/11.5/10.75/10 seconds from 11/10.5/10/9.5/9 seconds
Viego – nerfed
Blade of the Ruined King (Q):

Base damage dealt decreased to 15/30/45/60/75 from 25/40/55/70/85
Bonus damage dealt to monsters doubled to 20 from 10
Healing gained from minions decreased to 10% from 50%
Wukong – nerfed
Stats:

Health regeneration (HP5) decreased to 2.5 from 4
Xayah – buffed
Featherstorm (R):

Ability cooldown decreased to 140/120/100 seconds from 160/145/130 seconds
Here's Riot's patch preview:
Full Preview for 11.15 here!

Continuing to drop early sustain in a few places, and some buffs for champions in places that we think players will enjoy. pic.twitter.com/m2I2LPTgX1

— Jeevun Sidhu (@JeevunSidhu) July 13, 2021
---
LEAGUE OF LEGENDS PATCH 11.15 – NEW CHAMPION AKSHAN
Akshan, the Rogue Sentinel
AKSHAN, THE ROGUE SENTINEL

"Raising an eyebrow in the face of danger, Akshan fights evil with dashing charisma, righteous vengeance, and a conspicuous lack of shirts. He is highly skilled in the art of stealth combat, able to evade the eyes of his enemies and reappear when they least expect him. With a keen sense of justice and a legendary death-reversing weapon, he rights the wrongs of Runeterra's many scoundrels while living by his own moral code: 'Don't be an ass.'"
AKSHAN STATS
Base HP: 530
HP per level: 90
Base Mana: –
Mana per level: 40
Base Armour: 26
Armor Per Level: 3
Health regeneration: 3.75
HP regeneration per level: 0.13
Base Attack Damage: 50
Attack Damage per level: 3.5
Base MR: 30
MR per level: 0.5
Attack Range: 500
Move Speed: 330
Attack Speed per level: 2.5
AKSHAN ABILITIES
Dirty Fighting (Passive):
Details:

Every three hits from Akshan's attacks and damaging abilities deal a burst of physical damage. If the target was a champion, Akshan also gains a shield.
After attacking, Akshan fires a second attack that deals reduced physical damage. The second shot can be cancelled like a regular basic attack. If Akshan cancels the second shot he gains a burst of move speed.
Avengerang (Q):
Details:

Akshan throws a boomerang that deals physical damage and reveals enemies hit, extending its range each time it hits an enemy. Enemies can be hit once as the boomerang goes out and once as it returns.
Going Rogue (W):
Details:

Passive: When enemy champions kill one of Akshan's allies, they are marked as Scoundrels. When Akshan gets a takedown on a Scoundrel he gains bonus gold, all allies killed by the Scoundrel are resurrected at their base, and Scoundrel status is removed from all other enemies.
Active: Akshan becomes camouflaged for a short duration, or indefinitely while near terrain. During this time, Akshan can see trails leading toward Scoundrels and gains move speed and mana regeneration while moving toward them.
Heroic Swing (E):
Details:

Akshan fires a hookshot that embeds in the first terrain hit. While embedded, he can recast to swing around the terrain in the cast direction, firing physical damage bullets at the nearest enemy while swinging. While swinging, he can recast again to jump off in the direction of the cursor and fire a final shot.
Heroic Swing's cooldown resets when Akshan earns a takedown on an enemy champion.
Comeuppance (R):
Details:

Akshan locks onto an enemy champion and begins channelling power into his gun to store bullets. At the end of the duration or after recasting Akshan unleashes the stored bullets, each dealing physical damage based on missing health to the first minion, champion, or structure hit.
Akshan can move normally and cast Heroic Swing while channelling and firing Comeuppance.
AKSHAN VO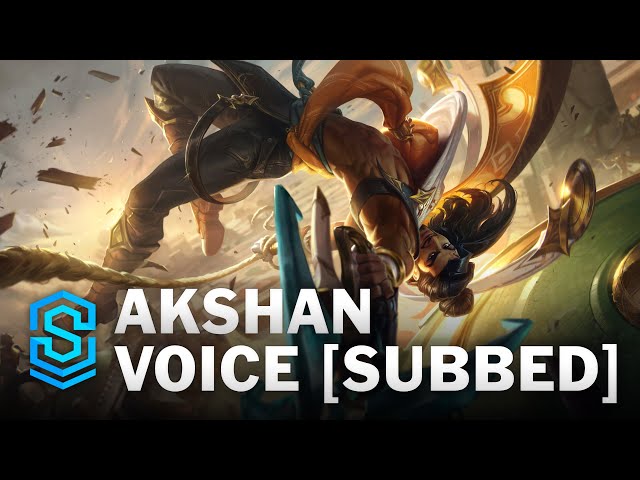 AKSHAN SPECIAL INTERACTIONS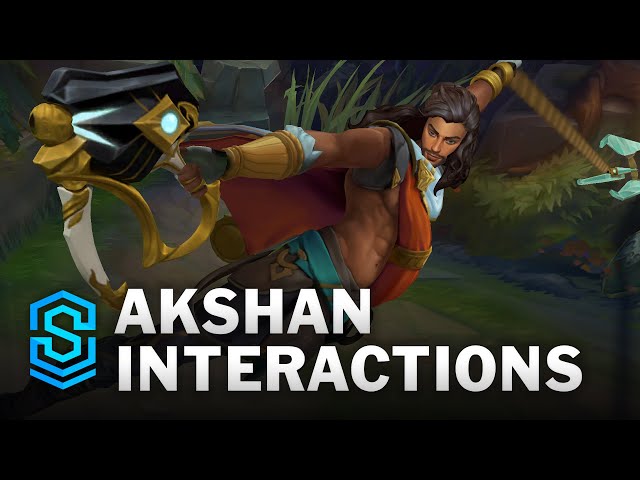 AKSHAN CHAMPION TRAILER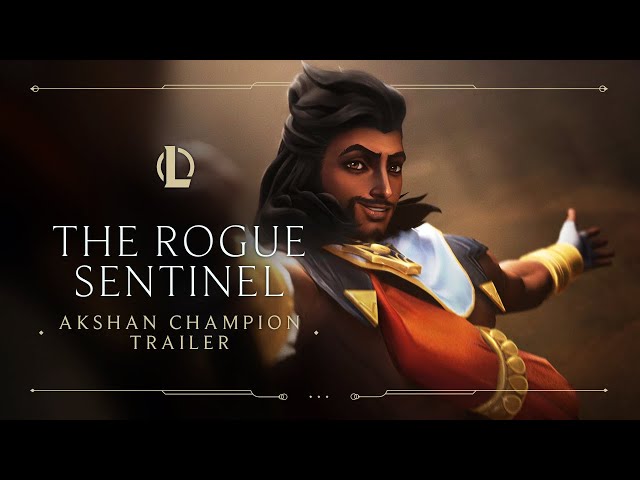 AKSHAN RELEASE SKIN
Akshan's release skin is Cyberpop Akshan – check out the deets and in-client bio:
1350 RP
"The Neon Rogue of Sound City has become the hero of the underground, largely due to his bravery, his wit, and his uncanny ability to sneak into highly-secure corporate buildings without being detected. Being charming as hell doesn't hurt, either."
---
LEAGUE OF LEGENDS PATCH 11.15 CHAMPION SKINS
Champion Skins
RUINED MISS FORTUNE – 1350 RP
"Miss Fortune thought that being the Pirate Queen of Bilgewater would be enough. Even with her revenge complete, her victory total, Sarah needed more. She needed power. Viego's arrival offered her the strength to crush anyone beneath her heel, and she took that gift willingly, altruism cast aside for a chance at complete and lasting control of her lawless pirate empire."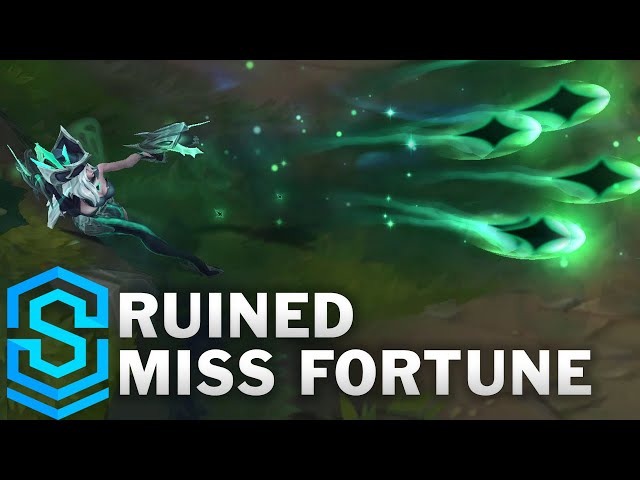 Here's the RUINED MISS FORTUNE splash art, as posted by Riot on Twitter:
UNBOUND THRESH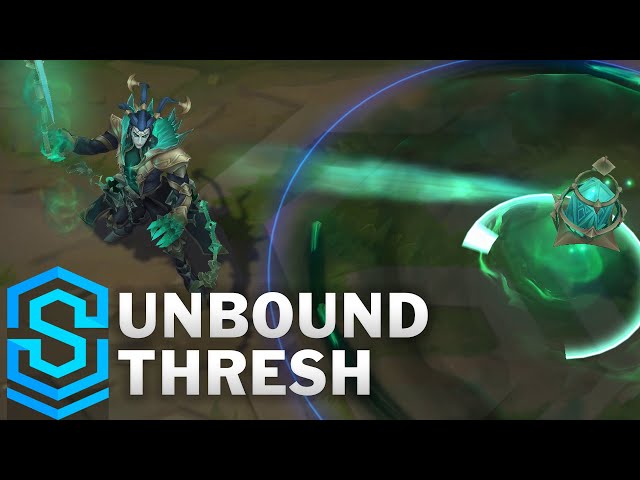 Here's the UNBOUND THRESH splash art, as posted by Riot on Twitter:
Here's Riot's PBE preview of UNBOUND THRESH and RUINED MISS FORTUNE:
#PBE Preview… Let the RUINATION consume you! 💚

Unbound Thresh & Ruined Miss Fortune! 🪝 pic.twitter.com/OEl0R3FbJT

— League of Legends // UK, IE & Nordics (@LoLUKN) July 6, 2021
SENTINEL GRAVES – 1820 RP – LEGENDARY SKIN
"Graves could give a damn about saving the world, but the Ruined King is getting in the way of his criminal undertakings, and that he cannot abide. When the Sentinels come calling, Graves reckons he can play the hero for once– long enough to make sure there's a world left to rob, anyway."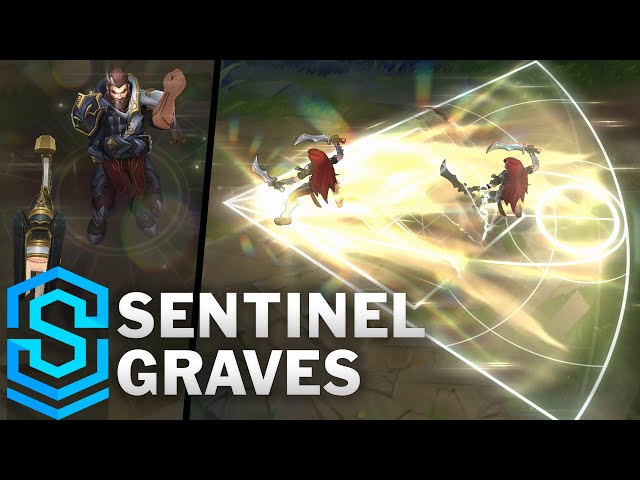 Here's SENTINEL GRAVES' new VO, as he's a Legendary skin: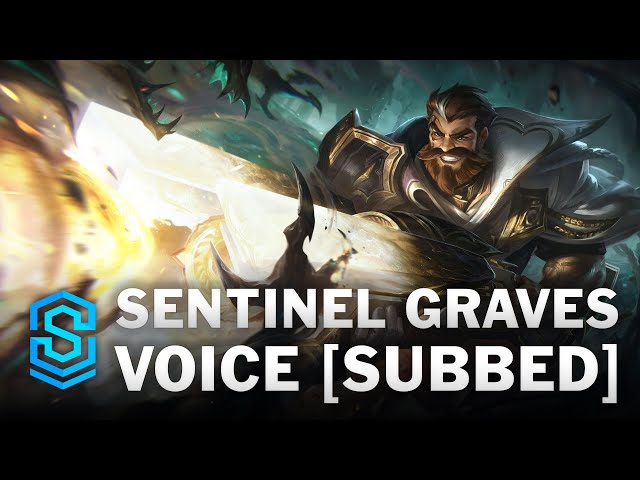 And here are his special interactions: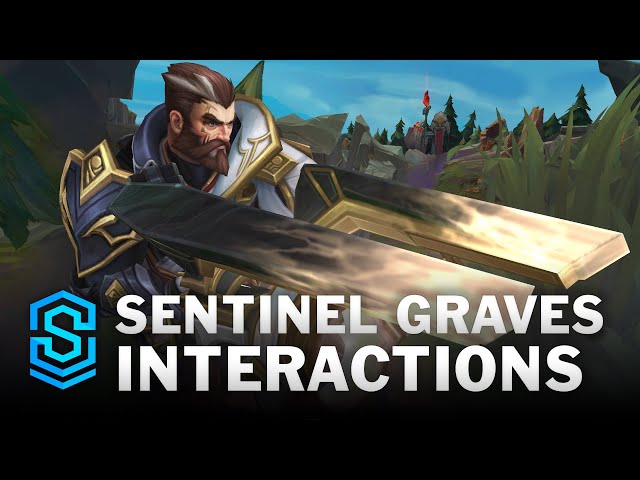 Here's the SENTINEL GRAVES splash art, as posted by Riot on Twitter (along with the art for Rengar and Pyke):
SENTINEL PYKE – 1350 RP
"Pyke may seem an unlikely Sentinel to take up the oath, but Viego's name is next on his list. Pacified – for now – by the influence of Nagakaboros, the real danger is that he might snap at any moment, killing allies and enemies alike."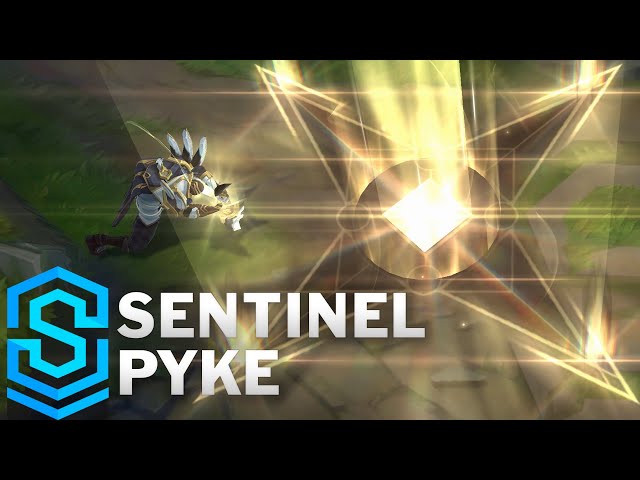 Here's the SENTINEL PYKE splash art:
SENTINEL RENGAR – 1350 RP
"What game is bigger than a King? As a hunter, Rengar could not pass up the opportunity to take on what would be his ultimate prey, and the ultimate trophy. Even with Sentinel weapons in hand, they will need the skills of a true apex predator to take Viego down."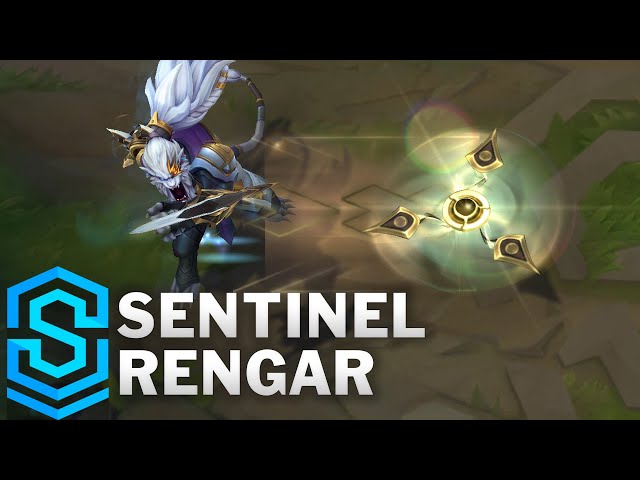 Here's the SENTINEL RENGAR splash art:
Here's the SENTINEL GRAVES, SENTINEL PYKE, and SENTINEL RENGAR preview from Riot:
#PBE Preview… Behold your new Sentinels! ✨

Sentinel Rengar, Pyke & Graves! 💫 pic.twitter.com/AgzVPmH4wA

— League of Legends // UK, IE & Nordics (@LoLUKN) July 6, 2021
And here's SkinSpotlights' PBE preview of the new skins in action: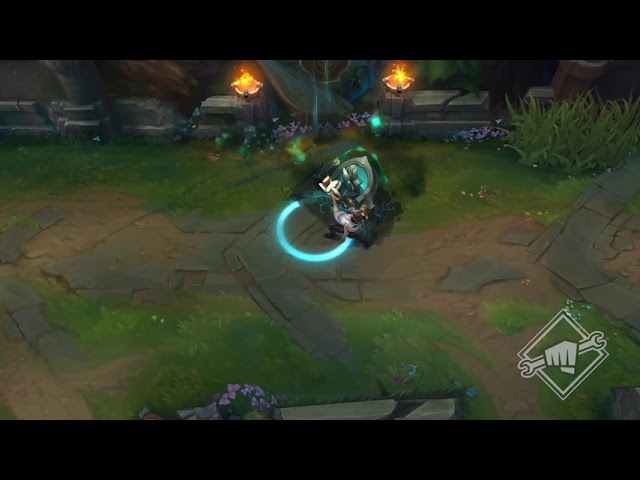 ---
SENTINELS OF LIGHT SUMMER EVENT
Sentinels of Light
League of Legends' big, 2021 edition summer event is called Sentinels of Light, and will drop on July 8 with patch 11.14. Riot recently gave us a flavour of what the event will bring in it's latest LoL Pls video update, and it looks like we can expect something similar to last year's Spirit Blossom event, with lots of interaction and immersion. You can read about the
LoL summer 2021 event here
.
Here's the event trailer: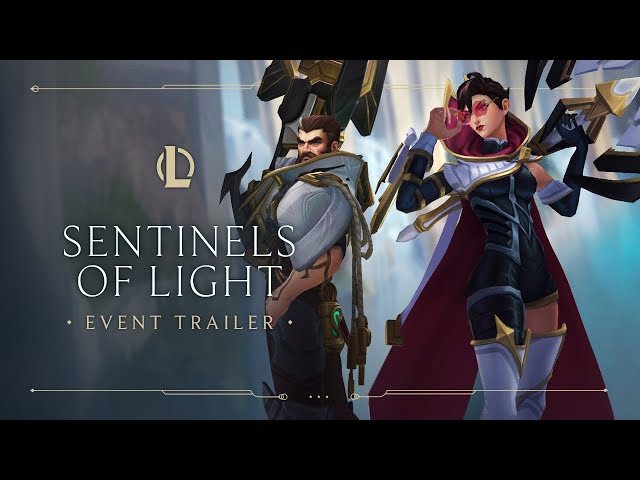 ---
Those are all the notes for LoL patch 11.15 right now, but keep checking back on this page over the patch's fortnight-long testing cycle as there'll be plenty more to eyeball as balance changes and other bits and pieces starting hitting the PBE.
If you're after some tips to improve your game, take a peek at our sister site The Loadout's League of Legends ranks guide for some pointers on how to work your way up those ladders.